Cutting Down on Waste in the Kitchen: Tossing the Paper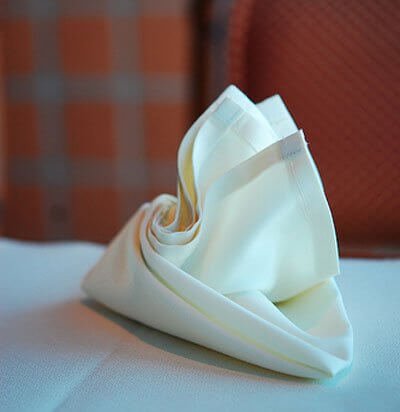 The kitchen is probably my favorite room in my house. I spend a lot of time in there every day. After all, with four kids, I have a lot of meals to cook, meals to eat, dishes to wash, and tables and chairs to wipe down. But one day a few years ago, I realized that food was not the only thing being consumed in my kitchen. With all that cooking and eating and washing and wiping, we were also using up a whole bunch of disposable paper goods!
To me, it just seemed to make sense to get away from using disposable paper goods because it would save a lot of money. (Have you seen how much paper towels cost?!) But eventually it struck me odd that our family used and threw away that much trash when there is a perfectly reasonable and easy way to avoid it—using cloth instead of paper. So, a couple of years ago, our family made the "conversion" to have a paperless kitchen. It was a process. I didn't switch everything over in one day, but once I saw how easy it was, I was eager to adopt more non-consumable alternatives to paper.
There are many ways to cut down on waste in the kitchen. Here are two of my favorite!
Use Cloth Dishrags Instead of Paper Towels.
My husband I both grew up in families where the weekly grocery shopping trip included buying a huge package of paper towels. And if you have grown up in a Western culture, chances are that you did, too! So, I thought that when we switched to cloth dish rags for washing dishes and wiping everything down, that I would find it very inconvenient. And I was sure that I would hear protests from my husband, as well. But I found out that using cloth rags is actually very easy as long as you have a good system for keeping up with them.
Our dishrags have come from all over. Some are old wash cloths from the bathrooms. Others are our daughter's old (and well cleaned!) cloth wipes from when we used cloth diapers. I have also knit and crocheted a whole bunch of dish rags in fun colors and designs. It just spruces up the dish washing experience.
I have a whole bunch of them, and I try to have enough so that I can use several per day and not have to constantly wash them or be tempted to reach for a paper towel. I keep them all in a pretty little basket under the kitchen sink. When I need a new rag, I just reach for the basket instead of the paper towel roll. So there is no extra effort needed.
When I am finished with a rag, I put it in a bowl that I keep on top of my dryer. All the dirty kitchen cloth items go in that bowl. Whenever I do a load of laundry, I just toss the contents of that bowl in the washer, too. (Note: This is okay for me to do because I use gentle, natural cleaners that won't hurt my clothes. But if you use harsher chemicals or anything with bleach in it to clean your kitchen, you're going to want to wash your rags separately!) It is really easy to keep up with cleaning my rags, and as a mother of four, I always have enough laundry to do, so I've never had to worry about the rags sitting for long periods of time and mildewing.
As a side note, I do still keep a roll of paper towels out for guests that come over—especially those who come over to babysit. A lot of people still feel insecure about using rags to clean up instead of paper towels, and I want to make them feel welcome. But, they are the only ones that use that roll of paper towels, so it takes us months to finish the roll. But I have felt that I didn't want to sacrifice hospitality just to prove that we could go completely paperless in our kitchen.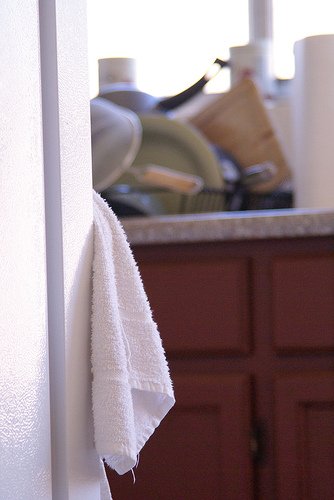 Use Cloth Napkins.
Again, this was something that I never grew up around as a child. For us, cloth napkins were for fancy restaurants and Thanksgiving and Christmas meals. But someone gave us a set of cloth napkins as a wedding gift, and that's what got the ball rolling. Whenever we were first married, I would lay out the cloth napkins whenever I would make a nice meal. All other nights, we would just use paper napkins.
But it was a lot of fun using the cloth napkins, so I ventured out and bought some more. I am ashamed to say, but I probably paid way too much for some fancy cloth napkins. But as our family has grown, I've started to understand that we don't all need matching fancy napkins to have a good meal. Now, I am always on the lookout for good napkin deals. I buy them on clearance, after holidays, at the Salvation Army, or wherever I can find a good deal.
I have lots of different patterns for our every day napkins, and I do have some nicer matching sets that I save for guests and holidays. We keep them all in a drawer next to the table, and when my kids set the table, they always compete to get their favorite patterns. I think it makes for a memorable family tradition. And when dinner is over, my five year old son's job is to clear off all the napkins and put them in the bowl on top of the dryer. It's as easy as that!
And I love cloth napkins because, not only does it cut down on trash and wasted money, but it adds color and love to our family table.
What ways do you try to cut down on waste in your kitchen?