Meal Plans from "100 Days of Real Food"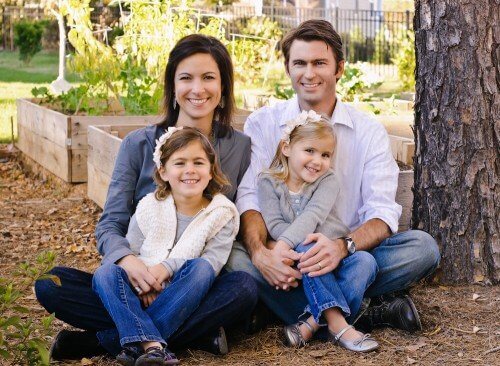 Written by Lisa Leake, Guest Writer
At the beginning of last year our eating habits were just like those of any other average family. We thought we were making fairly healthy food choices, although we certainly didn't mind the occasional fast food meal or bag of chips. Then came a series of events, including an Oprah show, a book by Michael Pollan, and the documentary Food Inc., which forever changed the way we looked at food.
As it turned out, a lot of what we thought were "healthy" food choices were actually highly processed and not the best choices at all. I felt compelled to make some immediate and drastic changes to our diet, but I honestly didn't know where to begin. I lost a lot of sleep over what I would feed my family if I could no longer rely on Goldfish, Suckers, Whitewheat Bread, and Fruit Snacks.
So, after some extensive research and a lot of label reading, my "all or nothing" personality decided to take my entire family, including my husband and our three- and five-year-old daughters, on the journey of our lives.
100 Days of Real Food
Beginning in May 2010, our family started a blog called "100 Days of Real Food" where we promised to go 100 long days without eating a single ounce of highly processed food or refined ingredients. We devised some basic rules to live by including no white flour, no sugar, and nothing out of a package with more than 5 ingredients. I started blogging about the highs and lows of our journey online in the hopes that we could inspire others to follow along.
The response from both readers and the media was amazing, but there was one piece of feedback we could not ignore. While everyone thought real, local, organic food sounded great they also thought it sounded too expensive. So once we completed our initial real food pledge we decided to take another 100-day pledge except this time we did it on a "food stamp" budget. For $125 a week our family of four survived on real food and real food only.
While our experience was of course difficult at times I just had to prove this could be done. What I did not expect were the amazing changes to our health or the profound and surprisingly permanent impact on our eating habits. After focusing on foods that are more the product of nature rather than, as Pollan says, "the product of industry" this new way of life has finally become our new normal.
I know there are many other families out there that want to transition from highly processed to real, wholesome, local, organic, fresh food as well, which is why I created three extremely detailed meal plans to help them get started.
Here's what you can expect from these FREE 100 Days of Real Food Meal Plans:
Three 7-day practical "real food" menu plans designed for busy families
Complete meals listed each day for breakfast, lunch, snack and dinner
Food quantities calculated for a family of four
Corresponding grocery lists showing what to buy (in order of the store) and total cost for each item
Budget-friendly prices compatible with what a family of four would receive on full food stamp (SNAP) benefits – $167/week – with additional cost saving opportunities because:

Coupons were not used
Sales prices were not used
Prices for organic items were used in most cases

All underlined recipes are available on 100DaysofRealFood.com – check out the Recipes & Resources Page for a full list
All recipes are working mom/dad-friendly, including tips on what to make in advance over the weekend
Almost every item listed follows our strict "real food" rules (including no white flour or refined sugar!), with just a few minor exceptions to keep the plan realistic for those busy working parents
Here's the scoop on how to download these three FREE meal plans:
Go to the "Meal Plans" link on the 100 Days of Real Food Facebook Page
Click "like" if you are not already a fan
Click on the image you would like to download. The top image is "Meal Plan 1," the middle image is "Meal Plan 2," and the bottom image is "Meal Plan 3"
Are there others out there who have also recently jumped into a "real food" lifestyle? What did the transition look like for you?