Holiday Blessings From Our Family to Yours!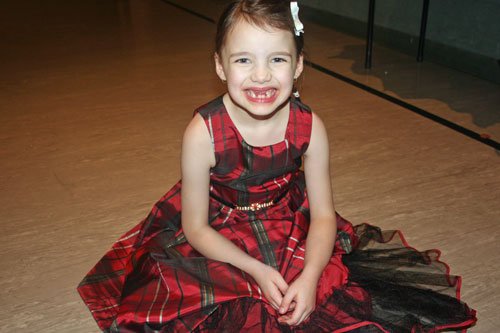 Abbie at just over 6 years old has a Christmas wish this year and she's been singing it to anyone who will listen,
"All I want for Christmas is my 2 front teeth, my 5 front teeth, my 12 front teeth!"
Her lovely toothless smile is now missing 5 teeth, with one more wiggly one, which could leave the poor girl with a gap of 4 missing teeth in a row! I keep telling her to stop losing teeth or she's going to have to subsist on yogurt and applesauce!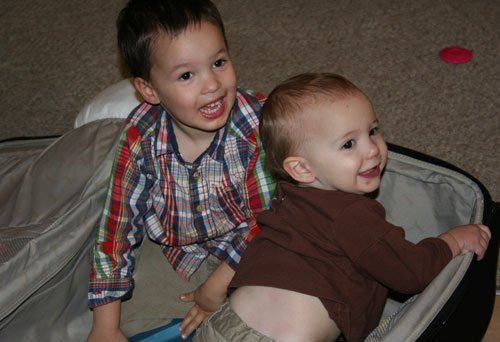 Caden, our busy 3 1/2 year old, is almost impossible to get a decent picture of but this is a recent one of him and Johanna playing together in a suitcase that happened to be in the living room. They had a blast, "hiding" from us all!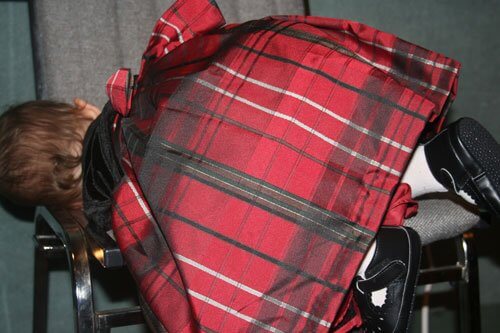 This picture of Johanna in her Christmas dress shows her doing what she loves to do best… climb. She's 16 months old now and that girl can get away from me (and get up to a high, dangerous place) faster than I can blink. Every parent has to have at least one child that gives them regular heart attacks, right?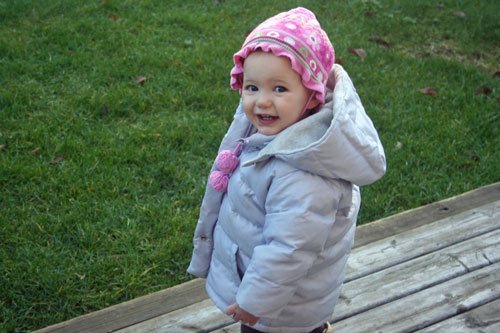 Lucky for her she's just so darn cute the rest of the time that we can overlook her heart-stopping antics!
No pictures of my husband or I to share, but he is doing incredibly well with his music school, Resound School of Music. The school has grown to over 120 students in one year and continues to grow. I'm so proud of all of his hard work, and grateful that God is blessing the work of his hands.
The Lord has richly provided for us this past year. It has been a difficult and draining year in many ways, and yet He continues to show Himself faithful to us over and over and over again. His mercies are new every day. We are so grateful for his care for our young family, and we are very much looking forward to spending some time together as a family this Christmas, celebrating all that Christ has done for us and resting as we look forward to what the New Year holds!
The Team Here at Keeper of the Home
It has been an eventful and very full year at Keeper of the Home as well!
Two new staff members have joined our team:
Abby W:: My faithful administrative assistant. She may answer one of your emails, she helps to maintain things like the Recipe page, she sends out the books you buy, and so many other behind-the-scenes tasks. I'm thankful to have her on board!
Kate Tietje :: Our newest addition, who came on board in October to work as our Advertising and Giveaway Manager. She also runs her own fantastic blog at Modern Alternative Mama and serves as a contributing writer here at KOTH.
We have also added 10 incredible writers who regularly contribute articles along with myself:
Shannon @ Nourishing Days
Beth @ Stewardship not Convenience
Sharon @ The Good Woman and Franziska's Pantry
Kate @ Modern Alternative Mama
Cara @ Health, Home, and Happiness
Emily @ Live Renewed
Meg @ Cracking an Egg With One Hand
Sherrie @ The Proverbial Woman
Stacy @ Delighting in the Days
Stacey @ A GOOD and SIMPLE Life
I am so delighted with the wide range of perspectives, knowledge and experience that we are able to offer with this array of different women and I hope that you have enjoyed the more varied content that the blog has seen over the past several months!
Thanks to Our Sponsors
One of the ways that Keeper of the Home continues to run day after day, putting out hopefully helpful and encouraging content for free, is through the sponsorship of the businesses that advertise both on the sidebar and in sponsored posts and giveaways.
Whenever you choose to visit our sponsor's site or make a purchase through them, you help to keep this site going, so thank you!
Thanks to this year's fabulous sponsors:
ListPlanIt
Fertility Flower
Steady Home Deals
GNOWFGLINS Sourdough eCourse
NaturoKits
Marie-Madeline Studio
FBS Books
Moody Publishers
Cupboard of Blessings
Just Bumming Around
Moukisac
Eden Sustainable Cloth Diapering
Enjoying the Holidays
This will be my last post from now until sometime in the first week of January, although there will still be posts from other writers in the meantime. My husband and I will both be taking a full week off from our businesses (much-needed!) to enjoy a blissful week relaxing, celebrating and having fun with family and friends.
Praying that you have a blessed celebration of the birth of our Lord this Christmas! Praise God for his magnificent gift of Jesus!
With love,