Nourishing Frugal Food Carnival- Sides, Salads and Desserts!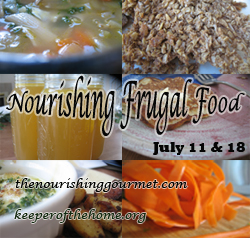 Welcome to the second edition of the Nourishing Frugal Food Carnival (if you missed the first week of main dishes at The Nourishing Gourmet, catch it here)!
This week I am honored to host the carnival, where we will focus on frugal yet nourishing salads, side dishes and desserts- yummy!
If you have a blog and would like to join in, please share with us some of your favorite recipes that fit the bill, and then add your name and brief description to the Mr. Linky below. If you don't have a blog, please leave your ideas and/or recipes in the comments section. For a bit more information, please read this post.
My contribution this week is a really yummy, healthy and extremely cheap salad that I discovered while pregnant with my first. It's from the What to Eat When You're Expecting book (I've adapted it slightly), which I don't entirely agree with nutritionally speaking, but it has many good things to say, suggestions and recipes regardless.
Bean and Brown Rice Salad
Ingredients
4

cups

cooked brown rice

1

can

16 oz dark red kidney beans, drained (I use dry beans and cook the approximate amount)

1

can chickpeas

drained (again, I use dry)

2/3

cup

finely minced red onion

1

large

diced red bell pepper (yellow or orange are nice, too)

1

large

diced green bell pepper

1/3

cup

coarsely chopped walnuts or whole pine nuts

I often use sunflower or pumpkin seeds

2

Tbsp.

Extra Virgin Olive Oil

1/4

cup

apple cider vinegar

1/4

cup

unsweetened apple juice

1/4

tsp.

dry mustard

Sea salt and pepper to taste
Instructions
Combine the rice, beans, chickpeas, onion, peppers and nut or seeds in a large bowl.

Whisk the remaining ingredients until well mixed. Pour the dressing over the mixture and toss until well coated. Refrigerate until cold, preferably overnight.
This lasts for many days in the fridge and still tastes great, although sometimes I need to mix up a bit of fresh dressing to add, as the rice soaks it all up. This is a great, frugal dish to bring to potlucks and it always goes over well- perfect for summer, too!
And a few previous recipe links…
Dijon Scalloped Potatoes (no cheese required, and they are still so yummy!)
Whole Grain Bread Recipes (the ultimate frugal side, perfect with soups, stews, etc.)
Amazing Greek Salad (well, this is only frugal in the summer when produce is cheap or the garden is bountiful, but it's so good, I just had to add it in)
Orange Creamsicle Smoothie (we drink smoothies for dessert all the time!)
Carob Delight Smoothie (chocolately banana taste- smooth, creamy and cold!