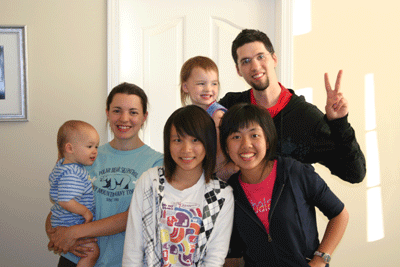 ;
After 3 busy weeks, we said goodbye to our students, Isabelle and Vivian (they have Chinese names, but we have no idea how to say them!). The kids and I attended a potluck to say goodbye, while Ryan went down to Seattle on Friday afternoon to pick up his new musical "baby", a Yamaha CP70. It is somewhat of a mini baby grand piano, yet not quite. It's somewhere between that and a keyboard, yet the sound is far more to the grand piano edge (except that it needs an amp to be very loud).
On his way back up on Saturday morning (he left at 5am, poor guy!), one of our tires blew on the I-5, leaving him stranded on the side of the road for over an hour. When he finally got the emergency mini tire on, it took him twice as long to get home because he had to drive so slow! He managed to get two new tires in record time once he crossed back over the border, and we began to get on with our Saturday.
I was so blessed to attend a morning women's meeting put on by my church, with Janis Shank speaking on Hope and Contentment. The contentment portion was particularly challenging for me and I may share some great quotes from it later on in the week.
Following that, we went home for a little while, to eat lunch, give the kids naps, etc. and then were off again. This time we were visiting the farm of our friend's parents, where we had been invited out to pick raspberries (unsprayed and FREE!), and to enjoy dinner with them. Dinner was wonderful, followed by a fresh raspberry pie and coffee, sitting around the pond, talking and laughing. We so thoroughly enjoy going out to visit, and just soak up that peaceful, relaxing feeling that seems to come with being on a farm out in the country.
Not only did I pick berries on Saturday, but I had also gone out there on Thursday to get a head start on picking. On Thursday I brought home around 20 lbs, and I believe that on Saturday we managed to pick another 30 lbs between the two of us!
So after doing this all Thursday night and Friday morning, this is what I began to do again Saturday night, this afternoon, and I will continue on with it tomorrow morning…
;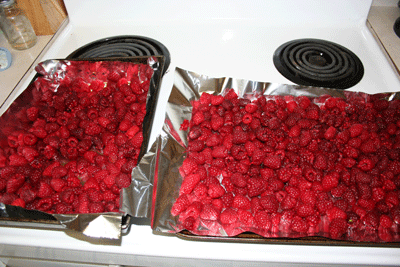 Our freezer is starting to look a lot more full, between some recent strawberries that were added, and now the bags and bags of raspberries going in, not to mention the couple of bags of organic blueberries that were given to us this morning! Wow!
I will work on freezing as many more as I can tomorrow, and then I think I will make a small batch of jam and syrup to can. Later this week I am going blueberry picking, and hope to get my 50lbs then, so I really have my work cut out for me this week!
This afternoon I also got out to my garden for a little while, and cleaned up the remnants of my turnip/radish patch, turned the soil and added a bit of compost and manure, and replanted it. I'm starting some broccoli for the fall, as well as a big patch of carrots. I've never done broccoli successfully, so I'm unsure if it will work straight from seed, so I am thinking of starting some seedlings indoors at the same time, so that I have a backup plan. Any thoughts? Can I just start the seeds in the garden and save myself the hassle?
We have new students set to arrive next Sunday night (yes, we've decided to do it again, crazy us!). My plans this week are to make a meal plan for the next month (which is why there is no meal plan up today), get my house really clean again, finish setting aside items for our garage sale (which has been postponed by a few weeks due to the busyness of having students), deal with all the berries, work on my garden some more and then start preparing for the new students- phew! It's gonna be a busy week!
One exciting bit of news is that through having all of these students, we have set aside some extra money to allow us to take a wonderful family vacation this September. We have chosen to go to Northern Arizona, to see the Grand Canyon and the many other incredible sights up in that area! Neither of us have ever been there before, and it is so fun to plan for our trip! If anyone has any tips for us on what to visit, cheap flights to Arizona (we're looking at flying into Phoenix, then renting a car), or doing the Canyon with kids, I'd love to hear them!