A free conference, $150 in free bonuses & 86 eBook healthy living library for just $29.97
Note- This sale has now ended. Hopefully we'll be doing it again next year! 🙂
If you are like me, as you go through different seasons of life, the needs of your own family ebb and change. You need answers for new questions, and a place to turn to as the next step in your healthy living journey becomes clear. Ready to start baking your own bread? Want to replace your conventional cleaners one by one? Preparing for a new baby and ready to give cloth diapers a try?
The past few years have witnessed an incredible amount of growth in the blogosphere, and in particular an explosion of excellent ebook resources to help you answer those questions. The only challenge is that it can be daunting to sift through them all to find the ones you're looking for.
Oh yes. And the pricetag. At $5-$15 each, ebooks aren't cheap, and the prices add up fast when you've got several of them on your wishlist.
That's why I'm so excited about this year's Ultimate Healthy Living Bundle! We've literally spent months putting together a massive library of top-selling ebooks, combined it with a mentorship program, and worked with top natural companies to equip you… all for a low price that any family can afford.
Here's what I particularly love about this year's bundle and why I think it's a perfect fit for you:
First, it's an incredible deal for frugal moms.
So many of the things out there for "natural living" are extremely expensive, but a healthy lifestyle absolutely does not need to cost a lot.
In fact, a major focus of the ebooks we've chosen is DIY tutorials, homemade recipes, and ideas for simple, sustainable and affordable living. The ebooks in the bundle will help you save money in areas like:
gluten or grain free baked goods (because the store bought ones are SO unaffordable)
healthy treats and kid-friendly snacks (again, have you seen the price on a box of health food store granola bars?)
short-cut recipes to keep you eating at home more often, even when life is busy (use your crockpot, freezer, meal planning, batch cooking, etc.)
homemade beauty and skincare recipes (for yourself, your family, even for homemade gifts)
simple, inexpensive green cleaning ideas (3 different books with every recipe you could possibly need)
home remedies to keep you out of the doctor's office and away from pricey prescriptions
gardening helps, whether it's pots on your apartment deck or a plot out back
ideas for raising baby on the cheap, including cloth diapering (or even early potty training), as well as a guide to making your own nutritious baby food
plus, my own 280+ page book on eating real, wholesome foods, on a single-income budget. It's possible!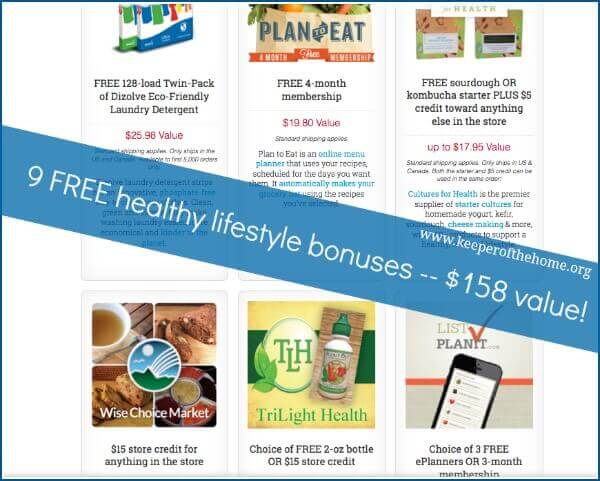 To get these sort of resources for less than $30 is just a crazy, no-brainer deal. Especially when you consider that 9 of our favorite companies have sweetened the pot with over $150 of free products and services you can really use, like:
free sourdough or kombucha starter, plus an extra $5 store credit from Cultures for Health
2 free months of mommy-friendly online fitness! (yes to working out in your pajamas, and good-bye baby pooch!)
$15 for liquid herbal remedies and supplements fro Trilight, $15 for organic soaps and skincare from Jenuinely Pure, and $15 for traditional foods from Wise Choice Markets.
and (my favorite!) a 128-load twin pack of eco-friendly laundry detergent from Dizolve ($25.98 value)!!! This one alone pretty much pays for the price of the bundle!
plus more (really- I only mentioned 6 of the 9)
Secondly, over the years that I've been running Keeper of the Home, my heart for the newbie has grown tremendously.
If you are among those that are just learning, exploring, experimenting and making small steps towards a simpler, healthier, more natural lifestyle, you are so very welcome in this online space.
You are one of my favorite demographics to write for, because I've been in that place and remember it well. I know how far helpful resources like recipes and tutorials, bite-sized amounts of information, and an encouraging voice can go to keep you moving forward towards your goals.
I and the writers here at KOTH are genuinely privileged that you come by and read our humble offerings. We LOVE you, and your heart to care for your family. We hope that we can be a part of your journey in some small way.
And that's why our team came up with the newest addition to our eBook bundle package, Coffee Table Conversations.
Have you ever wished while reading a book that you could just speak directly to the author, asking what they meant by this or that, or putting a real-life scenario in front of them to get their advice?
We know that sometimes, reading uber-helpful information by yourself isn't enough. You need to be able to talk to someone about it, hear a genuine discussion of how to apply ideas you're learning about, or ask specific questions to someone who knows. That's why we created Coffee Table Conversations.
For 12 weeks starting in January 2014, we'll offer a weekly one-hour live conference call, where you can join in and ask your questions on relevant and timely healthy living topics to a panel of eBook authors.
We'll look at topics like:
allergy-friendly cooking
fighting fatigue (and finding energy!)
eating well on a tight budget
an introduction to alternative health and herbal remedies
tips and tricks for making real food in less time.
see all 12 topics here!
You'll be able to listen to authors converse with each other on any (or all) of the 12 calls that you choose to take part in, and get answers to your questions in real time! We'll also provide a private Facebook group, where that week's "mentors" will pop in regularly and chat with you on the topics at hand. Talk about up-close and personal learning!
In a nutshell?
For less than $30, you can pick up your own bundle complete with more than $800 of ebooks, $67 of interactive "coffee table conversations" with their authors, and $158 of products and services to help you on your way toward healthier living. That's over a $1,000 value!
But you don't want to wait! This bundle is available for only 6 days, from 8 a.m. (EST) on Monday, November 4th to 11:59pm (EST) on Saturday, November 9th.
Get yours now for just $29.97!
What's Included in the eBook Library? ($800+ value)
Real Food Cookbooks
Allergy-Friendly/Special Diets
Menu Planning/Meal Prep
Natural Skincare
Natural Health
Healthy Lifestyle
Fitness
Gardening/Sustainability
Green Living
Special Health Concerns
Healthy Kids & Babies
Learning About Real/Whole Foods
PLUS Coffee Table Conversations ($67 value)
Remember that awesome 12-week series of conferences calls I mentioned above? Yes, you get that for free with the bundle!
PLUS the Healthy Living Bonus Offers ($150+ value)

Have questions? We've created a very detailed FAQ page with information about how downloads work, how to store your ebooks safely, how bonus offer redemption works, and much more. We've even added videos tutorials to talk you through some of the technical aspects step-by-step!
The fine print is also important. You can see that here.
We'll continue on with some fabulous content for the rest of the week, but we'll make sure to remind you as the sale begins to draw to a close. We'd hate for you to miss out! If you want to be reminded before the sale ends, just sign up by email and you'll receive a couple emails in your inbox towards the end of the week.
Like giveaways? Want to chat with me on Facebook?
We're excited to announce our first ever Facebook party, happening this Thursday evening!
We've got over $550 in prizes to give away, including the top prize of a 8 GB Kindle Fire HD ($154).
From 8pm to 10pm EST, you can join in with myself and Jami (our awesome community manager). In between giving away prizes, we'll chat about taking next steps in your healthy living journey, goal setting (and achieving), overcoming barriers to change, and any other questions you throw our way.
At the end, we'll announce all of the winners back on the blog so that you can check in and see if/what you won!
I hope you all enjoy the bundle!
Disclosure: This post includes affiliate links, and I earn a commission for each sale purchased through my links. Thank you for your support of this site!