Getting Things Done (Or At Least, Attempting To Do So!)
If ever there was a good time to get organized, this is it. I've already got two little ones, and only about 3 1/2 months until the third one arrives, a home to care for, mouths to feed, a business to run, a garden to tend, a church to take part in, people to know and love, and a God to serve… I feel like I've got a lot on my plate, and life just shows no signs of slowing down. 🙂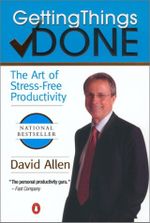 Yesterday, I began the process of completely revamping my system of organization, and honestly, it just felt so amazingly good! I'm using the book Getting Things Done: The Art of Stress-Free Productivity
by David Allen, which my husband read first and recommended to me.
At first, I wasn't completely sold on the idea, as the book is very business oriented, and not geared towards homemakers. However, the more that I read and got into it, I could see how practical and useful it would actually be for my situation as well.
He recommends setting aside a chunk of time to work on it, preferably a couple of days if at all possible. I decided to arrange a babysitting switch with a friend, so that I could have a full day, and next week she will get the same. I had from about 9:15 am until nearly 7pm yesterday (my husband took the kids out for dinner when he picked them up). I started out my day with a Staples run, choosing a file box, some in/out boxes for my desk, post-it notes, paperclips, and then later that evening, a digital labeler, to complete my list of the tools that he recommends for the job.
Then I got to work…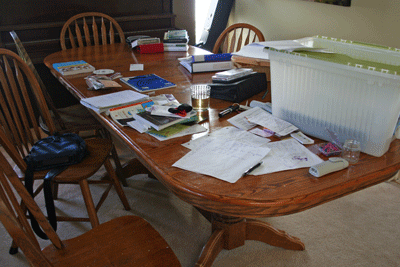 **I should have taken a picture earlier- this is after I'd already sorted through much of the "stuff"! The table was absolutely covered at first!
My first job was to go through the entire house, grabbing any sort of papers, items, photos, notes, business cards, receipts, anything at all that belonged in my "in-box". Basically, anything that was in one of my many piles (I confess- I'm a stacker because otherwise it's out of sight, out of mind), in drawers, in baskets, on the fridge, in my purse or wherever that was an unfinished or necessary reference item. There was some reason that it was still around and not in the trash, presumably, so I needed to collect it all and sort through it.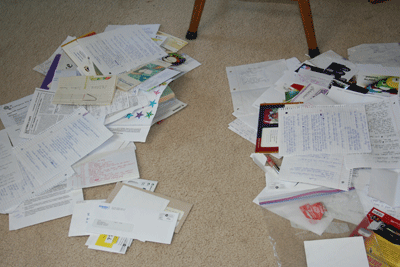 As I weeded through all of these random papers and other items, I began to make two piles. The one on the right was junk. Things that were no longer relevant, old, useless, or that could be discarded once I made a simple note of what they were or an action that needed to be done. The left pile is of important items that would ultimately be filed.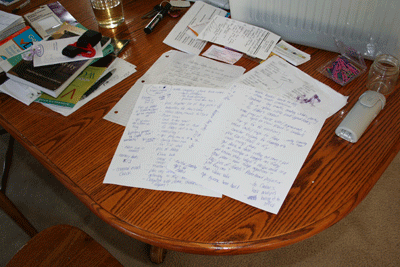 Sorting through everything was the first part of my "brain dump". This consisted of taking a stack of paper and a pen, and as I sorted through each and every item on that table, I made note of whatever it was that was important. Some examples of these were writing a letter to our new sponsor child, or returning a book to my midwife, or filing away the manual and extra strap for Abbie's new carseat, or saving a business card for a place that I might use for my husband's birthday present.
The second part of the "brain dump" was to also write every single loose end or to-do that came to mind during this process. As I would note the book for my midwife, I would remember another book that I needed to return to someone else. As I sorted through the mail that belonged to previous tenants, I remembered that we need to make sure we were registered for the upcoming provincial election. Dealing with some restaurant gift certificates we won reminded me that I had hoped to secure babysitting for an evening to use those certificates to take my husband out on a date.
He also includes in the book a long list of "triggers", which are both business and personal duties (calls to make, people to visit) areas of work (office, desk, garage, backyard), things to remember or do (upcoming birthdays or anniversaries, events you'd like to attend), etc. The idea is that as you slowly read through the list, more and more things will come to your mind, which you can then write down and forget about.
The idea is that once you have completed all of this, your mind will not be struggling to remember all of those little things that usually stay in the back of our minds, making it easy to forget them or remember them last minute, or to not properly prioritize, or to use our time unwisely. By creating a trusted system (his words, not mine) where you can record all of this information, you will free yourself up to be much more focused and efficient, and less stressed, knowing that you won't forget all of the things that are important.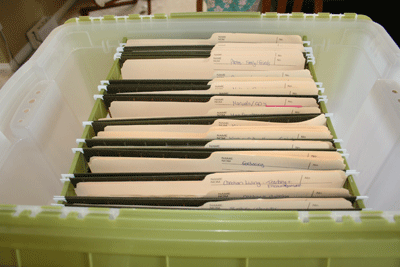 "Brain dump" complete, I settled into establishing my new file system. Keep in mind, this is not like our regular family filing system. We already have several boxes in my husband's office, which store important papers regarding insurance, taxes, warranties, medical expenses, birth certificates, etc.
This, however, is my very own box. (Oh, that makes me so happy!) It holds things like gardening records, my lists of needed children's clothing, encouraging handouts from women's caregroup, pregnancy 'stuff", parenting/child training resources, business cards of companies I like, as well as business files for Keeper of the Home (though this will likely need it's own box ultimately).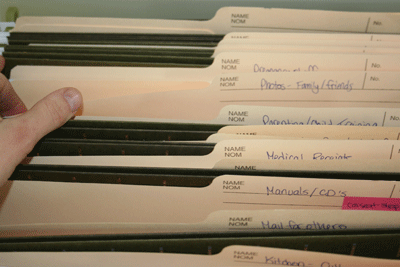 Here's a little glimpse inside…
Last on my list for that day (because I'm not finished yet- it' s a big job!) was to take my "brain dump" (4 double sided pages, absolutely covered in notes) and begin to process all of those "in" items.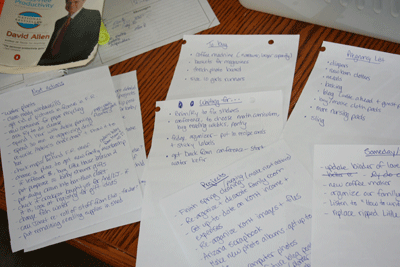 You can see my small pages, where I am sorting the "in" items into several categories: Next Actions, Waiting For…, Projects (items with more than one action necessary to complete them), Someday/Maybe (things I'd love to get around to, and don't want to forget about), as well as some lists I added in myself, To Buy and Pregnancy List (things to be done before baby). I also added dates and appointments to my calendar as necessary.
This part is not finished yet, but when it is, I will take these papers and transfer all of their information to a program on my computer called OmniFocus (a Mac only program- have I ever mentioned how much I love my Mac?). It uses the principles of Getting Things Done
, and allows you to process the contents of your "in-box" in a way that is very usable. Once I get everything in there, I can start to use it to determine my actions and goals for each day, manage projects I am working on, as well as add new items that get put in my "inbox" (which I will be setting up on my desk shortly- no more piles for me!!!).
I'd love to give you all an update once I get everything fully processed and begin to function within this new system! I'm really hopeful that it will help to keep me not only more organized, but also my house less cluttered with all of the things I am afraid to put out of my immediate sight.
Once this is really in place, I will move forward with one of the items on my "Next Actions" page, which is to create a new schedule/routine for the kids and I, as well as for household cleaning, until baby comes (because I know that everything will change after that!).
Has anyone else tried using the Getting Things Done system? If not, what others systems of organization have you implemented, and how have they worked for you?