What to Do With All Those Summer Berries!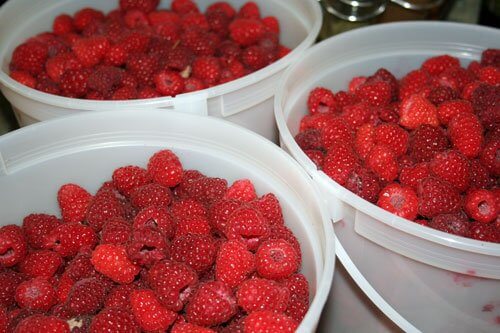 That is my challenge right now, and perhaps it's yours, too!
Yesterday we went to a berry u-pick farm, where we picked about 20 lbs of raspberries and bought another 10 lb flat. On our way out of the farm, we noticed a sign at the farm across the street, "$1 Jam Strawberries".
I've never been one to turn down a good deal. You better believe I drove straight up that driveway to find out what these jam strawberries were all about. A day or two old and just a teensy bit mushed up, they were a great price and just perfect for making jam or freezing for smoothies. I bought 30 lbs.
Then the fun began…
Have you ever tried to process 60 lbs of very ripe, red berries with a 5 year old, 3 year old and 11 mth old clamoring for your attention? Not to mention a hungry husband in need of help with a project, and 13 and 9 year old homestay students who suddenly decided that this was the day to ask you to do ALL their laundry? I laugh now, because I'm almost done. Almost. 🙂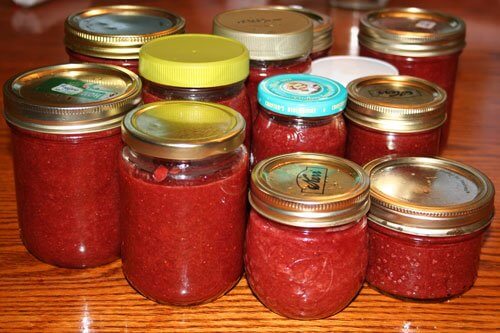 So far I have:
Washed and frozen about 12-14 (I've lost track) large Ziploc bags of both raspberries and strawberries. My method is similar to my blueberry freezing method, except that I pre-freeze on baking trays first. A photo tutorial is in the works and coming soon!
Made 12 jars of Raw Strawberry Freezer Jam (I made a hybrid of these two very similar recipes from Passionate Homemaking and The Nourishing Gourmet). Very simple and tasty!
Served pancakes with strawberry sauce for breakfast and used the leftover sauce to come up with delicious Creamy Strawberry and Coconut honey-sweetened popsicles to make my dairy-free boy happy– yes, recipe is coming!
The last batch of raspberries are in the process of being frozen right now… phew! Summer preserving can be a tremendous amount of work, but I try to keep it in perspective. It's really such a short season of hard work, with dividends that keep on paying back for the rest of the year in cost-effective, nutritious and delicious foods always ready when I need them.
I'll take a break for a few days this weekend so that I can gear up to get started on blueberries next week! And maybe more raspberries… and cherries…and the garlic needs to be picked, and then the green beans will be ready. My prayer this summer is "Thank you, God, for your bountiful provision. And please… give me patience and energy and a really good sense of humor!"
What kinds of preserving have you been up to so far this summer? What else do you have planned?