Healthy Creme Brûlée Recipe + Video #DIYFriday
My very favorite dessert is a special Valentine's treat in my house. I like to "set the night on fire" with this healthy creme brûlée recipe for two…my hubby and I. It's a great way to top off the best. date night. EVER. 
This year, Mark and I decided to save some money, so we're having our date night the day after Valentine's, to avoid silly mark-ups and pre-set menus.
That also opens up the opportunity for us to share this special day with our teens. I think I'll need to add a scoop of ice cream or a coconut brownie for them, but they enjoy this recipe and each of the boys will want a turn to set the sugar topping on fire (imagine that!).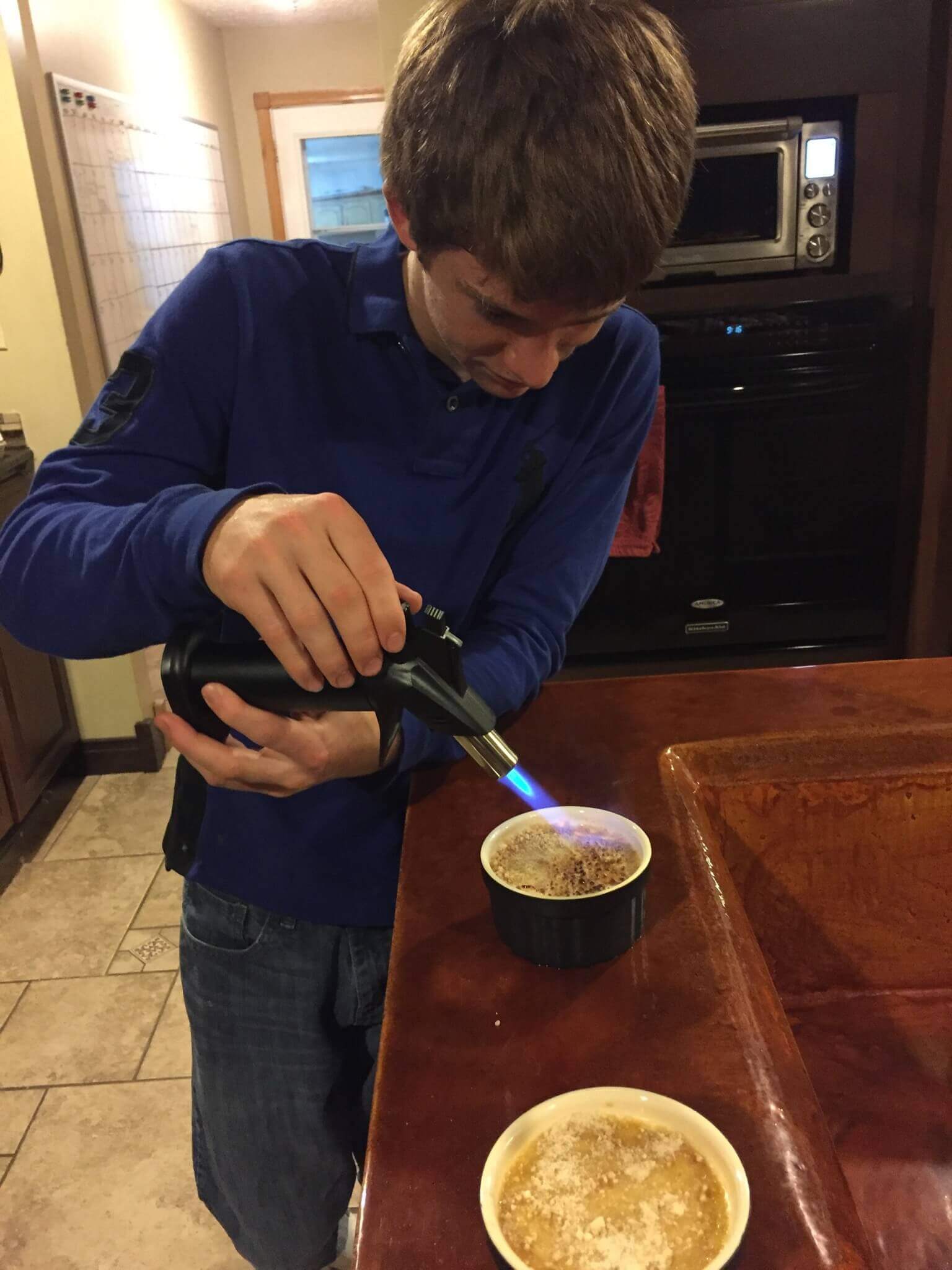 It's sad but true: I only made this two or three times during the whole of last year. This recipe is so so good for you it could be eaten weekly … or every day, if I had it my way! … but it remains a special treat that I will make again for this year's Valentine's celebration.
Healthy Creme Brûlée Recipe (for Two)
Ingredients (with benefits):
3 eggs (yolks only) (farm fresh is packed with benefits if you have access)
1 cup of cream (raw for the most benefits of good bacteria and digestive enzymes!)
1/4 cup pure maple syrup (packs a ton of antioxidants) (I'm super lucky to have a local sugar bush)
1/2 tsp vanilla
pinch of salt
sugar for topping (my favorite comes from the same sugar bush, maple sugar!) 
Directions:
Preheat oven to 300 degrees. Mix all ingredients together.
Pour custard into ramekins.
Set ramekins in a glass baking dish and add water to baking dish until water comes halfway up the ramekins sides.
Bake 1 hour or until custard is set.
Remove from glass baking dish and cool to touch.
Place ramekins in fridge to chill minimum 2 hours. I recommend making a day ahead.
5 minutes before serving add sugar to top and caramelize with culinary torch (or long handled lighter).
Let sit 5 minutes.
ENJOY!