Make Your Own Cloth Pads!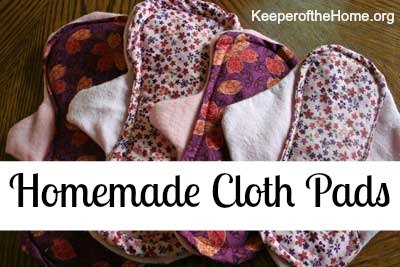 Cloth pads are something I've written about several times before (here and here). Not only are they healthier to use (avoiding toxic chemicals in regular pads and tampons), but they are much friendlier on the environment and the trash can, as well as on our wallets. Pads may not seem all that expensive, but they add up quickly over the course of the year!
Admittedly, I haven't had a whole lot of use for pads during the greater part of our marriage (yay for that whole pregnancy, breastfeeding, pregnancy, breastfeeding cycle!), save for a few specific seasons. However, I very much wanted to avoid using conventional ones during my post-partum weeks, and to be prepared to use cloth pads full time whenever my cycles chooses to return after baby.
These are the ones that I have just finished making myself (with just a little help from a friend, my Nana, and my Nana's lovely sewing machine). I wish I could share the actual pattern, but it belongs to my friend who has plans to start making her own to sell as a small business, so I'll have to keep it our little secret. 🙂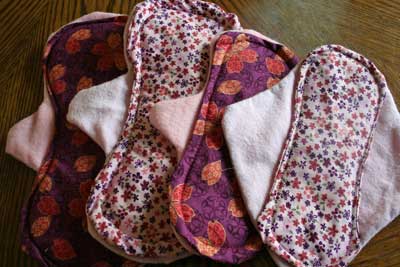 Aren't they cute? (I know, that sounds so funny, but I love the cheery fabrics I used!)
You can see that I've made two heavier duty ones, perfect for nighttime, and two lighter ones. My friend is also blessing me abundantly with a little starter pack that she's creating, so I should have enough to definitely get me going.
What's great about these (aside from all the reasons I already mentioned), is that you can make them so cheap! For my fabrics, I used:
old baby blankets (fleecy or thicker flannel ones are great for the absorbent middle layers). I also have an old towel set aside for this inner layer, for the next time that I make more.
some random pink fleece I just happened to have in my fabric box, for an outer lay with more grip than just cotton
old diaper covers, and the waterproof inner piece from a burping pad that I ripped open (both of these make a nice waterproof bottom layer)
any cotton print (the light pink floral was left over from a skirt I intended to make years ago; the dark purple floral I did purchase, but only from the clearance section during a member's sale at my favorite fabric store)
All told, I spent about $6 (including thread), and that was with plenty of leftover purple fabric that I made into a foldable diaper change pad for my diaper bag. The only thing I might still do is add either small snaps or velcro to the wings, but they can also just be used as is.
Here are a few online resources I found if you'd like to try making your own:
How to Make a Circle Pad (this is a neat design which I haven't seen before!)
Making Your Own Cloth Pads (this site has an abundance of patterns, and lots of detailed info on fabrics, etc.)
Make Your Own Cloth Pads (great photo tutorial)
How to Make a Pantyliner
Homemade Sanitary Pads (another detailed tutorial from Hillbilly Housewife)
Has anyone else tried making their own cloth pads? Any other resources to share?