Affording Cloth Diapers on a Low Income
After the recent series on cloth diapers, you may finally be thinking: Hey, I CAN do this! She makes cloth diapering seem so EASY!
But have the upfront costs of modern cloth diapers frustrated you?
I've been there.
And I found a solution.
My Story
It wasn't long after the birth of my second daughter when I realized my family would barely be able to afford diapers for both our children, since our 2-year-old wasn't potty trained. It was the perfect time to suggest cloth diapers to my husband.
He agreed that we could try them—but our compromise was that I would seek out modern cloth diapers , like pocket diapers.
So I happily set out to researching modern cloth diapers.
And I quickly became frustrated. The brand my one cloth diapering friend recommended cost $20 per diaper.
I realized I would have to spend money (money we didn't have) to save money, and it just didn't make sense.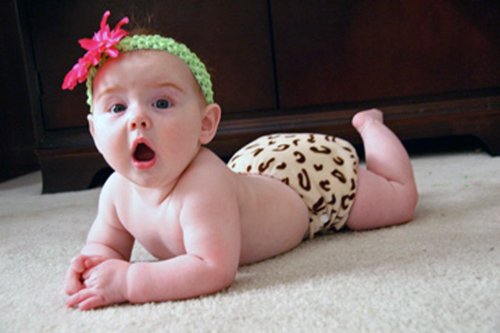 The Cloth Diaper Foundation
I set out to find a way—any way—my family could afford the start-up costs of cloth diapering. My search led me to The Cloth Diaper Foundation.
The premise of the non-profit organization is to provide diaper loans to parents who cannot afford the start-up costs of cloth diapers. The program is open up to anyone living within the continental United States who meets certain income qualifications.
Once your application is processed (including paperwork with your child's birth certificate and recent pay stubs), The Cloth Diaper Foundation will loan out 12 diapers per child for the cost of shipping. My family received 24 diapers—12 for each of our girls.
Sometimes the foundation will send new diapers, but they mostly send out gently-used diapers. They rely solely on donations from cloth diaper companies and individuals who want to spread "cloth love" to other mamas.
The goal of the program is that parents will use the diapers CDF loans out while slowly building their own stashes, as their income allows. Parents will then return the diapers to  CDF.
The CDF is currently in the process of transferring their location from Texas to California, so they are closed for applications, but they hope to re-open sometime in August.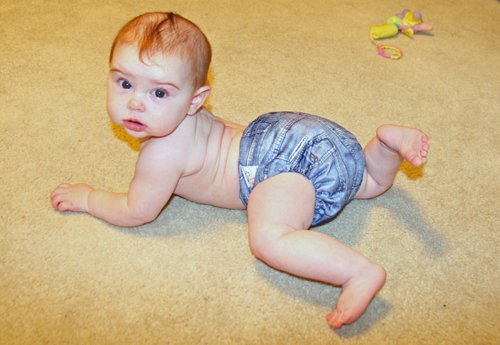 Giving Diapers, Giving Hope
As more people are finding out about CDF, other organizations like it are popping up all over North America.
Giving Diapers, Giving Hope started in early 2011 as another diaper-lending organization for low-income families. Cloth diapering mom Kristen McCarthy began the program after losing her job and house and finding herself in a tough financial situation.
"I started to think, what WOULD other people do if they were in a similar situation and DIDN'T cloth diaper? How would they diaper their children?" Kristen says on the Giving Diapers, Giving Hope website.
Like CDF, the program is open to anyone within the continental United States. Applicants must meet certain income requirements and pay for the shipping of the diapers. Recipients must return their diapers at the end of their loan.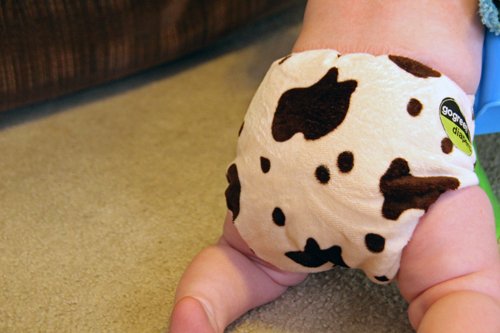 Local Diaper Lending Programs
The Cloth Diaper Foundation and Giving Diapers, Giving Hope operate on a national level, but many other communities offer smaller programs to local families in need.
Former CDF recipient Cara DeCoito recently founded Kaw Valley Cloth, a diaper lending program in her Lawrence, Kansas community.
Sweet Cheeks Diaper Kits is a North Carolina non-profit that makes, collects and distributes cloth diapering supplies in their area. Each kit contains everything a parent needs to cloth diaper one child full-time, including a diaper pail, handmade T-shirt diapers, donated brand name diapers and covers, handmade wipes, a spray bottle, detergent, diaper cream, stay-dry liners AND on-going support!
Volunteers from the community get together for a Diaper Derby each month, where they recycle old T-shirts to make the fitted T-shirt diapers for the kits.
But how do I build my own stash cheaply?
The point of a cloth diaper loan is to allow you to cloth diaper full-time while slowly building your own stash.
There are ways to build a stash of modern cloth diapers cheaply:
Buy used from cloth diaper companies, Craigslist, DiaperSwappers, your local Mommies Network, from Facebook trading and selling sites, etc. (Just exercise caution when you don't personally know the seller!)
Check out Re-Diaper. This company sells some gently-used diapers as well as new diapers for a lower price than some other stores. They also offer a small diaper assistance program.
Make your own. Cotton Babies has an excellent tutorial on making your own cloth diapers—even if you don't know how to sew!
Buy second-quality new diapers. Many companies will sell their slightly imperfect diapers for a fraction of the retail price. I bought several Bum Genius diapers for $8, and they work perfectly!
Buy off-brands. The bulk of my stash are Kawaii brand diapers, which cost about half the price of name-brand diapers. I have found them to hold up as well (or better!) than my more expensive diapers.
Are you a missionary? Cotton Babies offers a grant program for missionary families, providing gently-used (and sometimes new!) cloth diapers.
Remember: You don't need EVERYTHING. Stephanie demonstrated in her video last week that you can "swish" poopy diapers; a diaper sprayer isn't necessary. You can make your own stay-dry liners out of fleece remnants. You can use baby washcloths instead of buying pricey cloth wipes. If you get the diapers, you can be creative with the rest.
A Challenge for YOU!
If you have a low income, I hope this post has given you HOPE that there IS a way to afford the start-up costs of cloth diapering.
But what if you aren't low-income? What if you already have all you need to cloth diaper your babies? What if your babies are already grown?
I want to leave you with a challenge. Why not give to The Cloth Diaper Foundation; Giving Diapers, Giving Hope; or another diaper lending organization?
You can donate your gently-used diapers, new diapers or even monetarily.
Many mamas want to cloth diaper their babies and think that they can't.
Maybe you can help them out?
Or maybe…just maybe, God is leading you to take it a step further and start your own diaper lending program in your local community. The organizations I listed can only service so many families.
I was unable to locate any diaper lending programs in Canada. Does anyone know of one? Maybe a Keeper of the Home reader can start one?
How did you afford the start-up costs of cloth? Do you know of any other diaper lending programs? What are your ideas to afford the start-up costs of cloth?