Our Experience with Newborn Chiropractic Care and Why You Should Consider It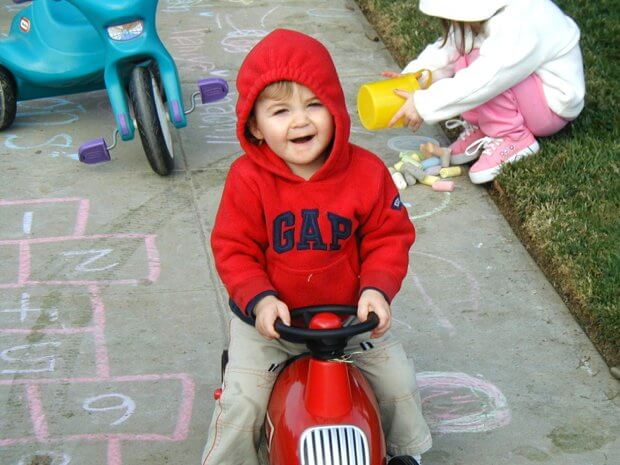 Guest Post by Wardeh Harmon of GNOWFGLINS
I gave birth to my son Mikah, my third child, at home in 1999. He cried quite a bit, so we wondered if he might be in some kind of pain. He had several issues from birth, which made things all the more confusing. One of them was itchy eczema from head to toe (that's another story for another day). But that seemed unrelated to a noticeable neck weakness. He couldn't hold his head up straight, nor could he turn it side to side.
Our pediatrician said he probably had torticollis, permanent nerve damage in the neck area, and he might not ever get better. She said, "Let's just wait and see."
Our midwife, who had been with us for two home births, suggested we see a chiropractor. She knew of one who believed so strongly in newborn adjustments that he did them for free! When I called his office and explained what was happening with Mikah, they gave us a next-day appointment. Mikah was 2-1/2 months old, much of which time he'd spent crying.
I remember the appointment day so clearly. It just so happened that we had an appointment with the pediatrician right before the visit with the chiropractor. By the way, I was the only one going to these appointments; my daughters stayed behind with my mother-in-love, while Jeff (my husband) was working.
I think I should tell you that I am the kind of person that tends to trust everyone and sometimes says too much. So, with my usual naive style, I told the pediatrician how we were going to the chiropractor next and why. She was already politely skeptical about our having had two home births, our resistance to topical steroid creams for eczema, and our hesitation to immunize. Her response surprised me, but it shouldn't have. She advised that we not go to the chiropractor because she didn't think it would do any good, and she even thought it could hurt Mikah.
I left her office and called my husband Jeff from the parking lot. I was ready to cancel the chiropractor visit. Jeff said, "You already have the appointment. Keep it. If you feel uncomfortable with something, you don't have to do it. But it won't hurt to give it a shot." Neither of us had any prior experience with chiropractors, so we had no idea what to expect, if anything.
I wiped my tears and went to see the chiropractor. I was afraid. The idea of a chiropractic adjustment sounded scary to me, and Mikah was so little and fragile. And hurting.
The first thing the chiropractor did was check Mikah's pain level by testing his gag reflex. How deep a finger can slide in the mouth before a person gags reveals the level of pain. The deeper the finger can go, the lesser the pain, and vice versa. Mikah gagged almost right away when the doctor put his finger to Mikah's mouth.
I can still hear the chiropractor saying, "This boy is in pain."
He examined Mikah very gently. He noted that Mikah's head was misshapen. He probed Mikah's head and neck, again very gently. My confidence was building. He figured out the source of the neck pain and limited movement. He stopped to explain what he was about to do and showed me how little pressure he would be applying. It was barely a touch! Then he applied that same gentle pressure to a place behind one of Mikah's ears and declared he was finished. He said he'd just released a nerve that was being pinched.
He told me that he believed Mikah's head would return to a fairly normal shape, although it would probably never be perfect. Mikah is now 11 years old and this is true. Though the asymmetry is slight, I can see it.
He told us that he expected Mikah to start getting better right away and asked us to come back for a probably unnecessary follow-up visit. We went home.
Within 24 hours, Mikah could hold his head up straight, he could turn his head all around, he finally rolled over, and he was no longer crying in pain. An amazing 24 hours. I am so thankful to God!
Within a few years of our experience,  friends gave birth to a little boy with the same weak neck and pain symptoms. I shared about our chiropractor, as our midwife had shared with us. They took their son to him, and their baby experienced a similar recovery, though it was not a 24-hour turn-around as Mikah's had been.
Why You Might Consider Newborn Chiropractic Care
Please understand that I'm not trying to be an alarmist here. I know and believe that birth is beautiful and natural.
However, birthing is potentially traumatic for a child, especially when modern obstetrical appliances are used. But even in a natural birth, there can be trauma. For instance, a baby experiences extra pressure when the mother is laying down while birthing; her pelvic opening becomes smaller plus she has to push harder to work against gravity. In Mikah's birth, I was laying down and he was a big baby at over nine pounds. I speculate those two things had everything to do with his pinched nerve and misshapen head.
Birth injuries can appear immediately or develop over time. Obviously the neck pain and reduced movement my son experienced was an immediate injury. This source shares that documented, immediate birth trauma results include: spinal cord and brain stem injuries, brain bleeding and swelling, neurological deficits, breathing problems and sudden infant death syndrome. Long-term problems could include: learning disabilities, headaches, visual and hearing problems, certain palsies and other immune issues.
Many parents take every baby to their chiropractor for a routine newborn spinal and nervous system check — just as most people do the pediatrician. If I'd had any more children, I'm pretty sure I'd be doing this, too!
Suggestions for Finding a Newborn Chiropractor
Perhaps you, like I did, feel wary of taking your newborn to a chiropractor. You might be worrying that the adjustment will injure your baby. This simply isn't true, at least not with a chiropractor experienced in newborn care.
If you're considering infant chiropractic care, I'd suggest these things:
Find a chiropractor who is experienced in working with newborns and infants, and preferably certified and trained through the  ICPA (International Chiropractic Pediatric Association). Ask for references.
Ask the chiropractor to explain to you and demonstrate on you whatever pressures he/she will be applying to your child. Pressure should be so gentle that a sleeping baby won't wake up.
Look for a chiropractor who moves slowly and gently examines your child, looking into the baby's eyes and speaking soothingly.
Choose a chiropractor who makes you feel comfortable, a doctor you feel you can trust.
I'd like to thank Dr. Hoopes of Fresno, California, USA, the chiropractor God used to heal my son. Also, big thanks to Dr. Matt Garofolo of Hands On Health Family Chiropractic in Toronto, Ontario, Canada, for reviewing the accuracy of this article.
Have you tried chiropractic care, either for your children or for yourself? What has your experience been?