More nutrition, less money!
If you've been wondering lately how you can squeeze greater nutritional content into your foods, without spending more money, then this excellent post is just for you!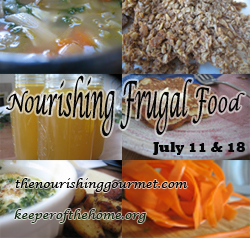 As somewhat of an introduction to the Nourishing Frugal Food carnival starting this Friday, Kimi has given a great list of 12 tips for squeezing the most nutrient rich food from your dollar. As always, her info and ideas are nutritionally sound and oh-so-practical!
And speaking of the carnival, just wanted to give you a heads up that it is just around the corner… this Friday to be exact! The festivities will kick off at The Nourishing Gourmet with frugal and nourishing main dishes (next week we'll move on to sides, salads and desserts at this blog).
You don't want to miss it! Start thinking of your favorite frugal (and healthy) meals and join us as we beat the rising food costs!