My family operates on a tight budget. And since having children, there hasn't been much–if any–room in that budget for adding to mine or my husband's wardrobe.
But just over a year ago I discovered a way to increase my wardrobe–without spending any money: a women's clothing exchange.
My Sister's Closet
A local church where I attend a weekly Bible study has hosted a women's clothing exchange called My Sister's Closet for several years. Although I never would have voiced that I didn't have the extra money for new clothes, the idea of the exchange excited me. It wasn't a program for a certain income level. My Sister's Closet is open to all women involved in the church's women's ministry–whether they be church members or Bible study attendees. 
And the atmosphere for the yearly event is like that of a girl's night out with friends. Women bring clothing a few days before and volunteers sort and hang the clothing. There are three rooms of clothing (sizes small, medium and large) and one room full of accessories and shoes.
Each woman is allowed to choose a certain number of items–depending on the amount of donations. There are even dressing rooms, so the ladies can make sure the clothing fits before they take them home.
I was so humbled and grateful after the first time I participated in My Sister's Closet. I was 9 months pregnant and felt very sure I wouldn't be fitting into my pre-pregnancy clothing any time soon. Yet, I knew I would need some clothes for the in-between stage. I walked away from the night with designer jeans, sweaters, blouses, a dress, and even some maternity clothes for my newly-pregnant sister-in-law. 

Starting Your Own Women's Clothing Exchange
Are you intrigued by the idea of a women's clothing exchange? Why not start your own?! You can form one with:
a group of friends
the women's ministry at your church (or combine several local churches)
a mom's group, or
even your co-workers!
While developing a program that will truly help you increase your wardrobe–without spending any money, keep these tips in mind:
1. Decide on participation requirements (if any).
Must participants donate clothes in order to receive them? If so, will you require a certain number of donations? Must participants be church/group members, or will you open the exchange to the public? Must participants serve volunteer hours in order to benefit from the event?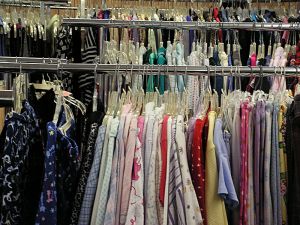 2. Secure a location.
If your church women's ministry is hosting the event, then the logical location will be your church building. Other possible venues could be your workplace, a school gym, a community center or even at a participant's home.
3. Organize the clothing and accessories.
Part of what made me feel so special was that My Sister's Closet was very attractively organized. Donations weren't just thrown together or scattered all over the floor like in a garage sale. Think about consignment shops or consignment sales.
Make each women feel as if she really is spending a day with friends shopping. My Sister's Closet organizes the clothes according to size and season. Designate racks for dresses, skirts, blouses, pants, coats, maternity, pajamas, workout clothing, jeans, etc.
4. Provide a dressing room.
Since the clothing is free, there are no returns. There will only be so many clothes to go around, so ensure that each woman leaves with items that she can feel confident will compliment her body.
5. Determine what to do with leftovers.
Will donors be allowed to reclaim their items, or will you pick a local charity to receive the excess?
What are some ways you have increased your wardrobe without spending any money? Have you ever participated in a women's clothing exchange?