Top 3 Ways to Use Essential Oils for a Healthy Home
Note from Ann: Essential oils are not only wonderful for adults but great for children too. Dr. Julie is a smart cookie when it comes to teaching us about oils and what works best. She always does a great job helping families learn how to use essential oils for any situation and or occasion. These posts are always one of my favorites because who doesn't love living a natural, healthy, and toxin-free life. Oh, and a friendly reminder: you don't have to be an essential oil whiz, in fact, this can help you start the natural living journey or get you back on track. New seasons bring new changes. 🙂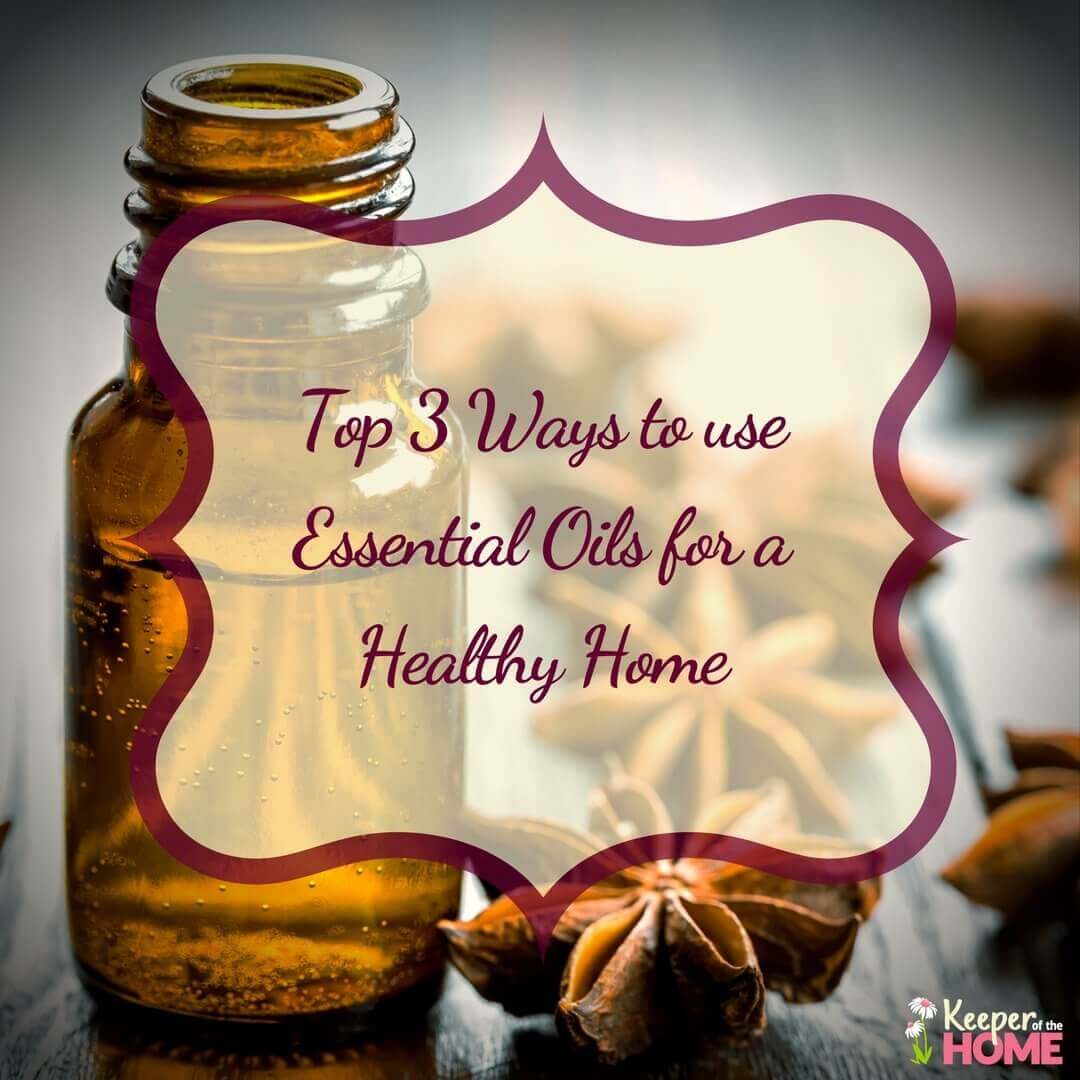 Fall is here! It is a wonderful time of year with changing seasons, fall leaves and cooler temps. Sadly, in numerous places, the weather is not calming down or cooperating. From fires in the west to hurricanes in the Gulf and east to earthquakes in the south. This leads to stress and tension which can impact our health and emotional functioning. And people in these areas are also struggling with basic needs, sanitary issues and cleaning nightmares. I love how essential oils provide natural ways to keep us healthy and balanced during these seasonal changes. 
Top 3 Ways to use Essential Oils for a Healthy Home
So, what is happening in your home?
Are you dealing with some of these weather nightmares and need support and extreme cleaning options in your home? Or are you in areas without the severe weather but ready to start protecting your home from winter bugs and fall-out?
How are the kids feeling?
Stress can break down our immune system which makes us more susceptible to bugs and dips in our coping. And have you ever considered how stressful school can be for your kids? Our systems need major support when going through stress which can include changes in our life, major events, and weather traumas. So what is the best way to do that? With essential oils, yay, and I am going to focus on a few of my favorites.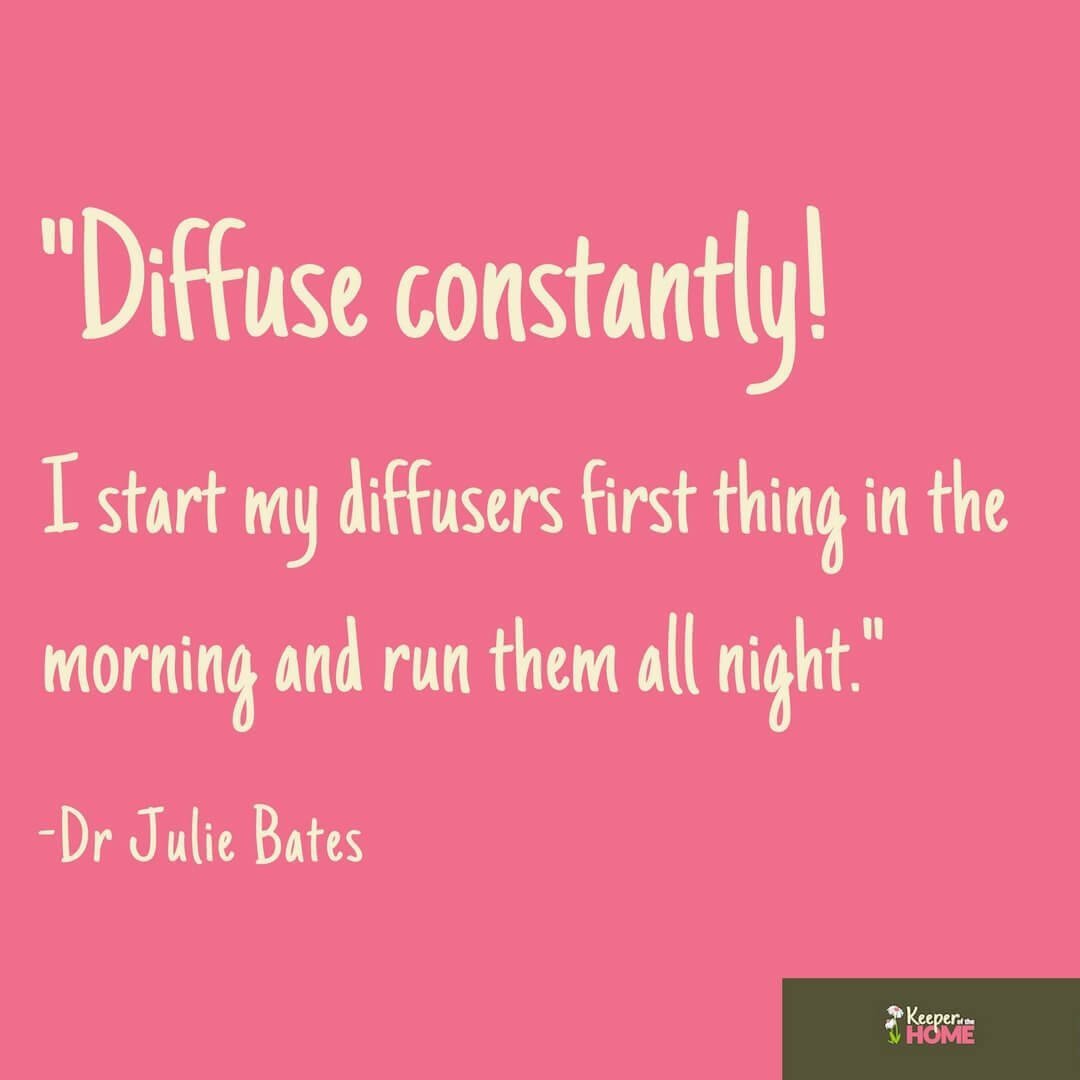 After one month of school, one of my kiddos has started the frequent complaints I hear from her. Her neck hurts, her stomach hurts…. Makes MY head hurt!! She is very sensory sensitive and overloads easily. The hardest thing is knowing when she is ACTUALLY under the weather and when it is a bit of attention needing? But here are where the oils are amazing. I do not have to know exactly what is going on, I can give her the attention she is needing (mom win), plus boost her immune system if there is a real issue.
New to oils? Be sure to check out Dr. Julie's essential oil safety tips, too!

Here are my three top tips:
1. Diffuse!
Diffuse constantly! I start my diffusers first thing in the morning and run them all night. My new absolute favorite diffuser will run 10 hours intermittent while putting out a LOT of mist and it has beautiful soft lights.
Here are my favorite recipes!

Shake it off:  3 drops Bergamot, 2 drops Geranium, 1 drop Frankincense

Immunity boost:  3 drops On Guard blend, 2 drops Peppermint,  2 drops Orange

Wind down:  4 drops lavender, 2 drops cedarwood, 2 drops wild orange, 1 drop ylang ylang (This is an important blend for my easily overwhelmed child)
2. Treat the gut!
As soon as school starts, I get my kids on a regular regimen of probiotics (love the powder sticks), On Guard beadlets, and good vitamins. Yes, I know we should be doing those things year round and I try, but I need just as much structure as my kids to stay on track! So getting back into a routine helps me stay on track. Treating the gut not only boosts our immune system but also helps us emotionally.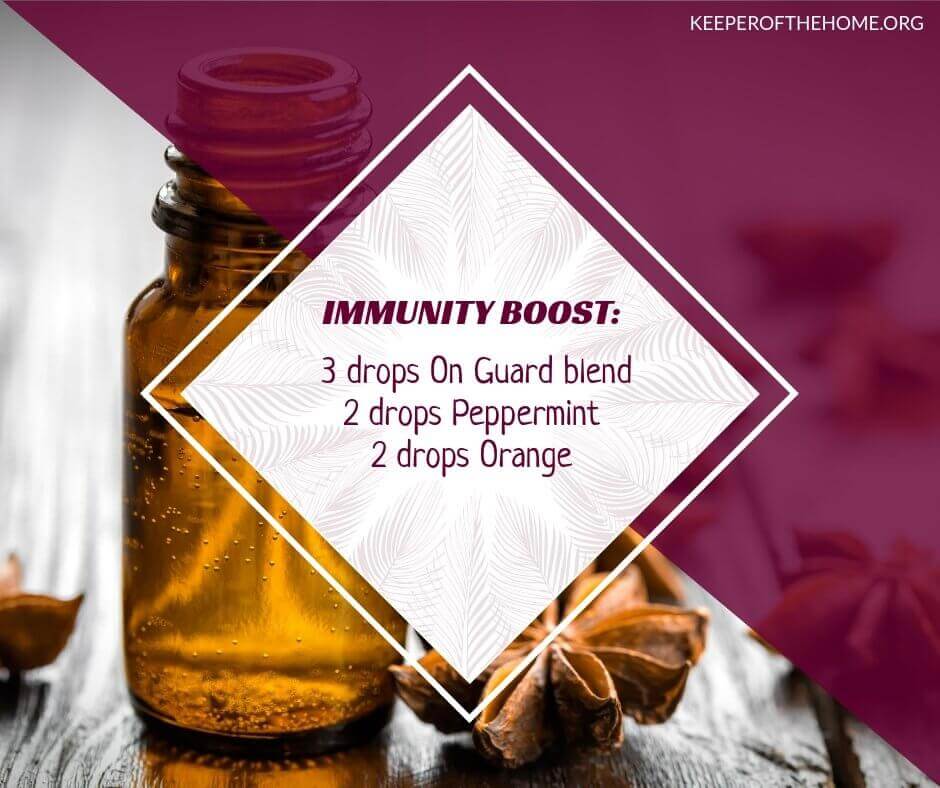 3. Finally, I spray everything!!
And I mean everything! I have hand sprays, counter sprays, bathroom sprays, and it is all safe, pure, and kills more of the bad stuff than anything else out there! My kids carry a protective hand spray and if anyone brings home an unwelcome bug, we can keep it from spreading by keeping the place clean.
HAND CLEANSING SPRAY 
8 drops On Guard Blend ESSENTIAL OIL
1 tsp Aloe Vera gel (e.g., Lily of the Desert)
1/4 tsp Vitamin E oil
1/2 tsp vegetable glycerin, optional
Do you have a good hand cleansing spray or sanitizer? I'm always creating new sanitizers (I might be super scared of germs, haha).
SOFT SCRUB
3/4 rounded cup baking soda
1/4 cup liquid castile soap, unscented
1 tablespoon water
1 tablespoon white vinegar
5-10 drops Lemon ESSENTIAL OIL

Combine soap and soda. Add water. Add ESSENTIAL OILS and vinegar. Make in small batches. Store in glass jar with lid. Apply and let sit 10-15 minutes. Scrub.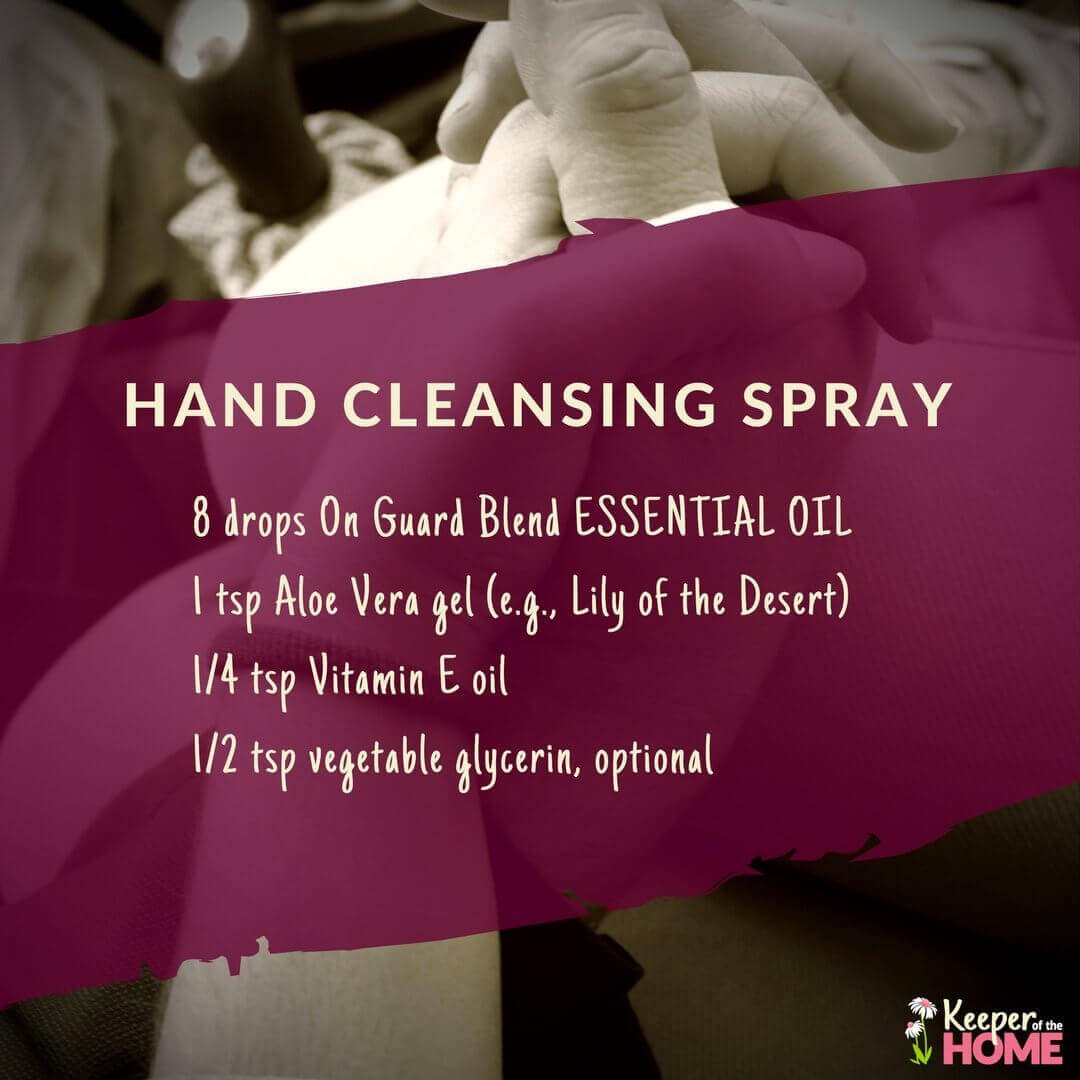 ORANGE KITCHEN CLEANER
Orange peels
White vinegar
8 drops Melaleuca ESSENTIAL OIL
8 drops On Guard ESSENTIAL OIL

Soak orange peels in vinegar in a quart Mason Jar with a lid. Add 5 drops of Melaleuca and On Guard. Let sit for 2 weeks. Drain peel oil into a 16oz. glass spray bottle. Add remaining ESSENTIAL OIL.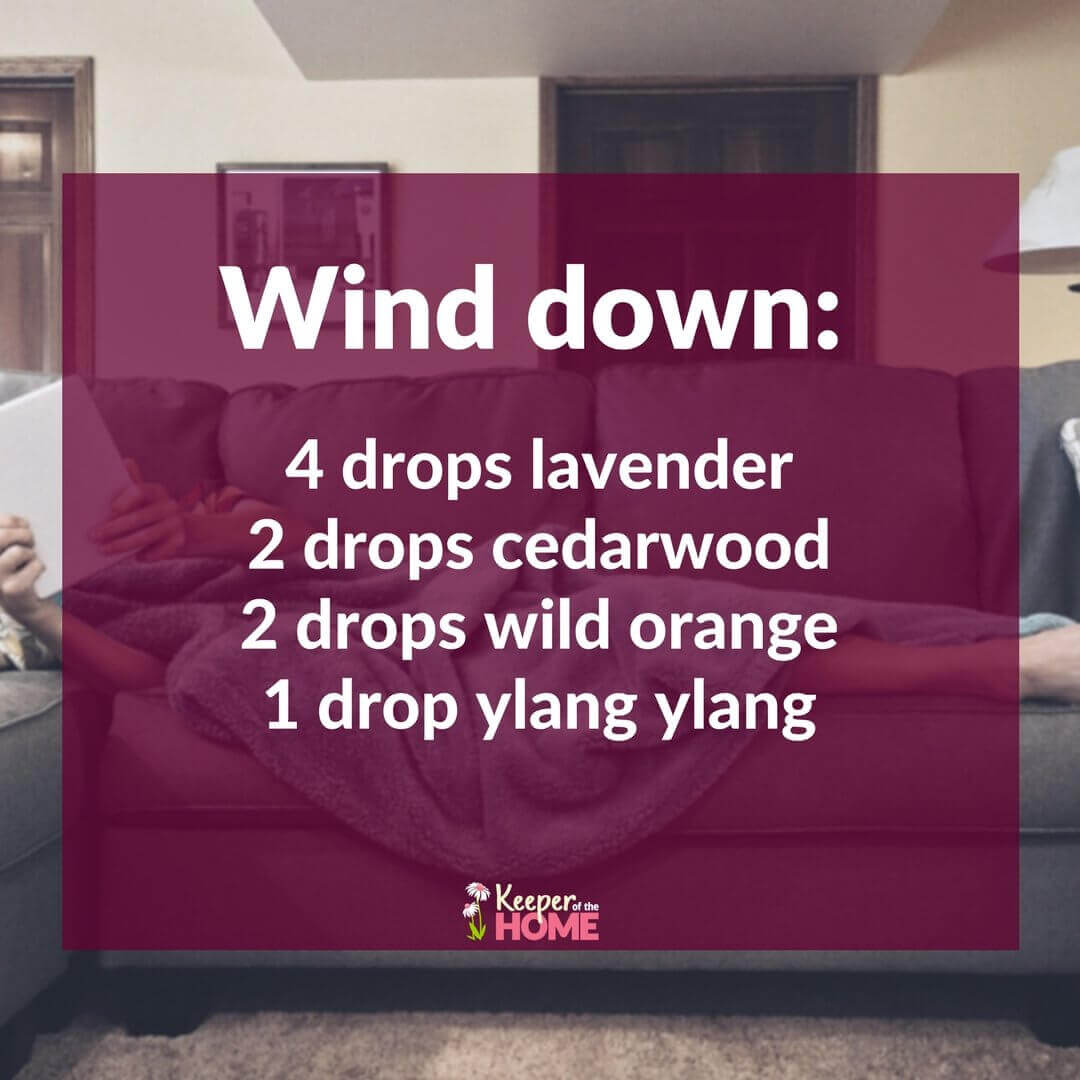 If you want to learn more about essential oils, be sure to check out all of our posts on essential oils!
Those are my favorite ways to use essential oils in order to keep my home healthy and happy during the Fall (and winter). I love chatting with people about getting started with oils and helping people find combinations for their specific concerns. I am also always looking for people interested in coaching others on how to uplevel their health.
If you would like information on my TOP 10 oils and how to use them, give me a shout in the comment section below and I'll get that right to you!
Need help getting your oils? I can help with that too! I have my oils out and now I guess I better go get my diffuser ready! Have a great day!
What are your favorite ways to use essential oils for a healthy home?

Disclaimer: Although all Keeper of the Home contributors are passionate about nutrition, natural living, and alternative health issues, we are not certified nutritionists, medical doctors, or practitioners of any kind. We are not licensed to counsel anyone in medical matters, nor may we be held responsible for any course of action that you choose in regards to your own health or that of your family. Please remember that what we are sharing is the result of our own experiences and years of study, but may not necessarily be the right course of action for you. We are advocates of becoming informed, knowledgeable, and responsible for one's own health, but our desire is not to be an authority on any matters of health for you, nor would we presume to have sufficient knowledge to do so. Our hope is that what we share may encourage you and start you on the road to doing your own research and seeking the opinions of professionals or others that you trust.
Disclosure: This post includes affiliate links. Thank you for supporting our work and mission!