Make it Yourself: Homemade Ricotta Cheese Tutorial
Written by Mindy, Contributing Writer
I have a strange fascination with making things myself. I'm one of those weird people who likes to make things like homemade peanut butter, homemade vanilla extract, and even my own deodorant.  I'm sure many of you are just like me when it comes making things yourself!
Homemade cheese is one area of "make-it-yourself" that I haven't researched too deeply yet. I don't have any special cheese making equipment, and I don't own any cows or goats (yet!); so, I haven't really spent much time or energy working on the homemade cheese thing.
There is a homemade cheese that I have made many times though – homemade ricotta cheese!  It is super easy to make, and it doesn't require any special equipment or ingredients. It's made using common ingredients that you probably have on hand, and a few simple kitchen tools that you most likely already own.
Besides being a lot of fun to make, homemade ricotta cheese tastes so much better than what you buy at the store. It's so sweet and creamy! You will love it.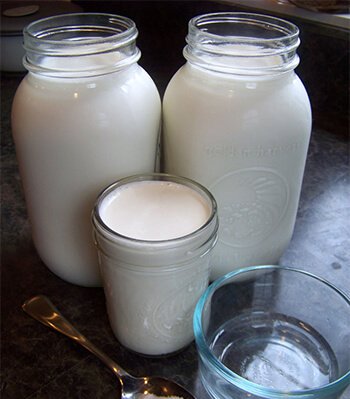 Four simple ingredients for homemade ricotta cheese: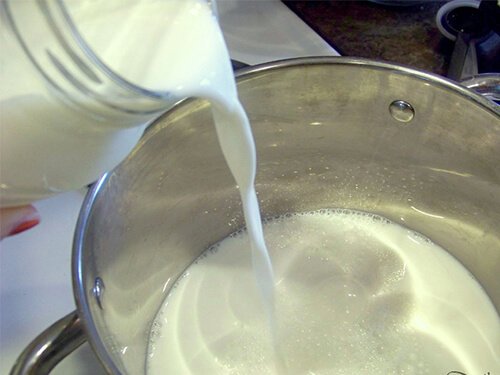 The simple process for homemade ricotta cheese:
1. Heat up the milk and cream.
To begin, combine the milk and cream in a heavy bottomed saucepan set over medium-high heat. Gently cook the milk and cream, stirring occasionally to prevent scorching. You will heat the milk up until it gets all foamy and frothy on top or until an instant read thermometer reads 185oF.  This should take about 10 minutes.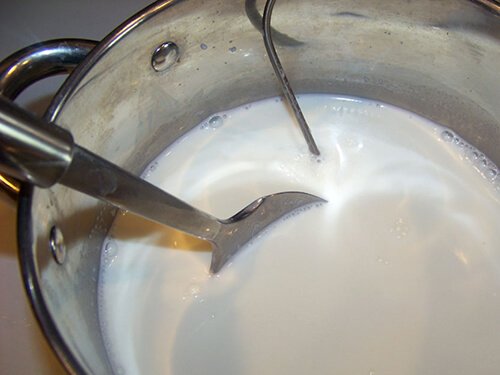 2. Remove from heat; add vinegar and salt.
Once the milk and cream are heated up to 185o remove the pan from the heat. Add the vinegar and gently stir for 30 seconds. The milk will immediately begin separating into curds. Add the salt and continue stirring for 30 seconds longer.
3. Cover and let set.
At this point, place a clean towel over the pot and let it set for two hours.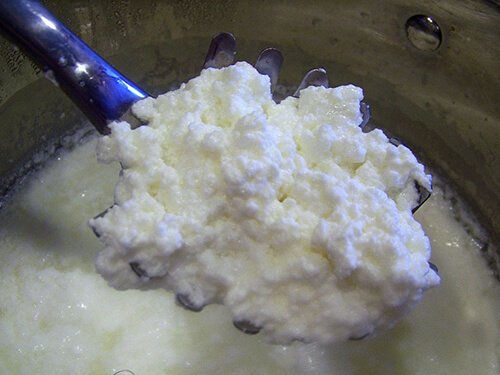 4. Strain cheese in a colander lined with cheesecloth.
Using a slotted spoon, gently transfer the curds from the pan to a large colander lined with cheesecloth.
Tip:  Clean white t-shirts cut into smaller sections make a great, tight "cheesecloth".  You can wash them and reuse them when you are done and they will last a very long time.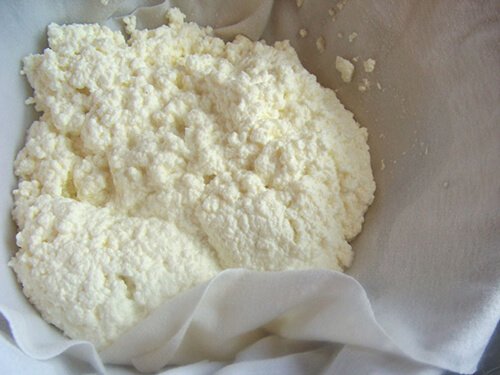 Bring up the edges of the cheesecloth and fasten or tie them together. Set the colander over a bowl and let the whey drain off of the ricotta for 30 minutes.
You can adjust this time to get the cheese to your desired consistency. Drain longer for a firmer cheese and less for a looser cheese.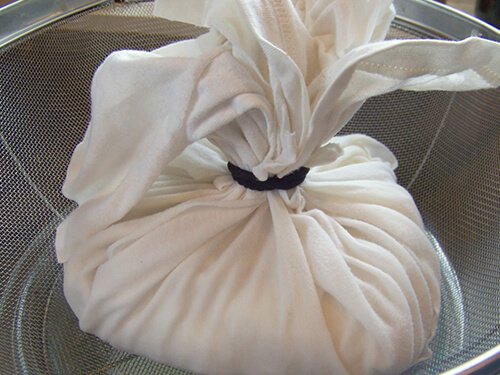 5. Place in clean container and enjoy!
Transfer to a clean container and use immediately or place in the refrigerator.
The yield is around 1 1/2 pounds or 3 1/2 cups. It will stay good in the refrigerator for up to four days, but it will probably not last that long. At least, it never does in our house!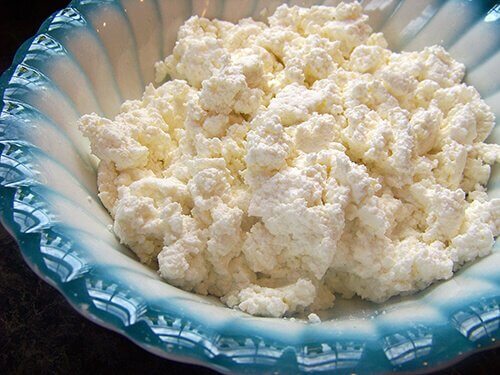 What to do with your homemade ricotta cheese:
Eat it plain with a spoon!
Mix it with fresh herbs and spread on crackers
Use it along with mozzarella for topping homemade pizza (so good!)
Make amazing homemade lasagna
Make a delicious Spinach Ricotta Pie
Drizzle with a little bit of honey and top with fresh fruit
The possibilities are endless!

Have you ever tried your hand at homemade cheese before? Do you think you will give homemade ricotta cheese a try?
Disclosure: This post includes affiliate links.