Everyone Eats, Everyone Cooks (and Why My 5 Year Old is Now an Egg Cracking Pro)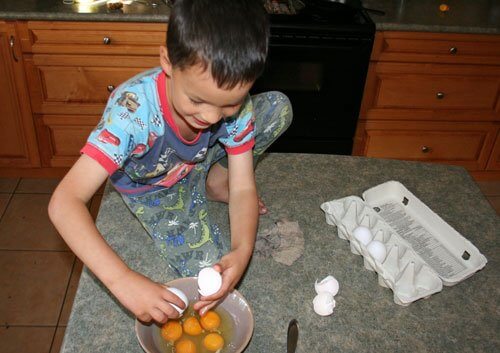 Recently I realized that I hadn't been involving my kids in the kitchen as much.
I've always been a big advocate of it, but somewhere around the time that I was pregnant #4, I began to want to keep things simpler by just doing it myself most of the time.
My goal was to make things more convenient and fast. After all, this is something I've been doing for years. I know the shortcuts, I have the methods down pat, and I can eyeball measurements without needing to dirty extra dishes. Having the kids play or be otherwise occupied while I cooked meant no extra messes, no one to step over, no recipe mishaps (curry instead of cinnamon, anyone?). Just me, my efficient little self, and I.
However, what I prefer isn't always the best option.
What would actually be better is to have my children (especially my 5 and 7 year olds) involved in the preparation of our food, honing their kitchen skills, learning more about nutrition, and growing in confidence at their ability to be a part of the food culture in our home. I do already get them cleaning up after each meal, but they could grow in that area as well.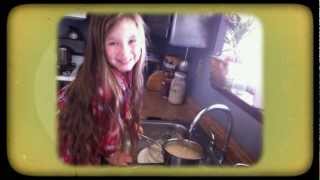 Many months ago, I had agree to review the eCourse Real Food Kids: In the Kitchenfrom GNOWFGLINS, and this, I figured, was the way that we were going to work towards these goals.
I love the motto of this course:
Everyone eats, everyone cooks.
It's true! Every person, whether male or female, young or old, does their fair share of eating (and some more than others!). If they eat, shouldn't they also know how to cook and be a part of the meal-making factory that happens in our home three square times a day?
In addition, I had another (rather humbling) motivation for doing this course with my kids. In the makings of this course and preparations for marketing it, Jami put out a survey to a number of us "real food" bloggers. I was one of them, but the survey wasn't for me. It was for my 7 year old daughter. It asked questions like:
What is real food?
What are some foods that you should not eat? Why should you not eat them?
Do you find it difficult to make good food choices away from home? Why or why not?
Although my kids and I talk about food choices and nutrition frequently, I was surprised to find that she couldn't answer the questions nearly as well as I would have liked. That surprised me (and frustrated me a little, if I'm being honest), and it motivated me to find new ways to teach her.
Keep in mind that this is a kid that already knows how to prepare a simple breakfast of toast, yogurt and granola, or even scrambled eggs for her family. She's helped me with plenty of different recipes and kitchen projects over the years, and she's also capable of cleaning the kitchen fairly well.
In other words, she has some sense and ability in the kitchen. What I realized, though, is that she needs me to intentionally take the time to explain it to her, show it to her, allow her a chance to try it for herself and become successful and confident. The videos inspired my daughter to want to step up to the plate more in the kitchen. She saw other young children cooking and taking charge, and she was freshly inspired to do the same.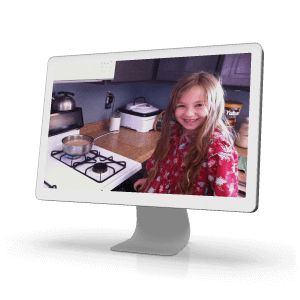 One thing I was reminded of is this… it takes time to teach a child to cook. As you watch the videos of Jami's daughter cooking (and she does a wonderful job!) you'll notice a theme. Slow. Careful. Tedious at times. Kids don't know how to beat eggs rapidly like moms do, their whites and yolks melding as they literally fly all over the bowl at warp speed.
They can't just grab handfuls of cookie dough that are approximately the right size with just a quick feel for the task, and then roll and slap them on a tray. No. They use their spoon and carefully scoop some up, take it out into their hands, roll it up into perfect little balls, then place them precisely on a tray. Then rearrange them. Twice.
It's almost painful just to write about it. The fact is, what we already know how to do (and do with speed and finesse) they are just learning, one painstaking, methodical step at a time.
But they must learn!
We've just been going through the course in bits and pieces over the past couple of weeks, and I've already noticed some changes in two major areas:
1. My attitude
Being reminded of just what it takes to intentionally train little ones has caused a shift in my thinking and actions. I'm finding myself more patient with the kids in the kitchen, and more purposeful about stopping to show them what I'm doing and let them learn to do it themselves.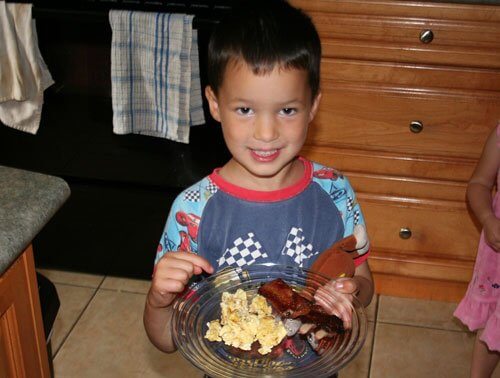 A good example happened two mornings ago. I was about to make scrambled eggs for breakfast and my early-bird 5 year old son sauntered into the kitchen. Remembering the video where Jami patiently taught her daughter (probably similar in age) to crack eggs and beat them, I decided it was time for an egg-cracking lesson.
Following Jami's example, I showed Caden how to hold the egg, how to crack it on the bowl just right, how to use his thumbs to open it up and dump it neatly in the bowl, then mix it up carefully until "the white and the yolk become the same color" (what a brilliant description!). He picked it up perfectly by the second egg, then proceeded to do the entire task of cracking and mixing eggs for me, while I did something else (yes!). He was beaming by the time we served our breakfast to Daddy, and I felt so rewarded for having taking those few minutes to teach him and let him join me in the cooking.
2. My kids are eager and motivated to cook.
Not only that, but they love to imitate the careful, precise steps that are shown in the videos. Each time they've attempted something after I have taught them or after having watched a demonstration video, I've been amazed at just how well they've performed a task or followed a recipe.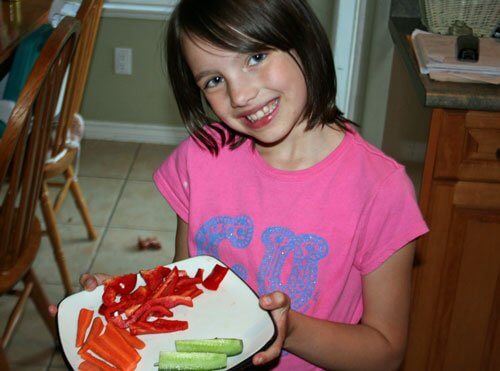 My 7 year old daughter has been particularly inspired, and keeps wanting to make things she's seen, like veggie crudites to go with our dinner, or peanut butter cookies to share with her siblings. When I see that sort of enthusiasm, how can I say no? I love it. I love watching her bloom before my eyes, and it is so good for her to realize that she is capable of making real food, just like mama.
One of my favorite aspects of the course is how they've organized the kids into swing cooks (age 3-6), line cooks (7-11), sous chefs (12-15) and head chefs (16-18). This really helps you to see the different tasks that they can master at each developmental stage. Particularly for my little ones, to watch another child demonstrating these skills in a video gives them confidence as they try it, and gives mothers encouragement that our children can master those skills as well.
Interested in signing up or learning more about the eCourse?
This Real Food Kids eCourse is actually part of a GNOWFGLINS Online Cooking Classes Membership. The amazing thing about these memberships is that you get access to not just course, but actually ALL of the eCourses that they offer… sourdough A to Z, fundamentals of traditional cooking, lacto-fermentation, cultured dairy and cheese!
Memberships start as low as $8 per month, which is very well worth it for anyone really want to dive in and learn more about cooking real and traditional foods. I highly recommend these courses for anyone just getting started, or who really wants to delve in and go beyond the basics in their cooking. You'll get to watch a ton of videos showing you exactly what they're talking about, many family-friendly recipes, and practical tips for putting it all together, plus discussion forums, monthly bonus videos and more.
My friend Wardeh at GNOWFGLINS is the woman behind these courses, and as a mom of three teens and a homesteader herself, she really knows what she's talking about (in fact, she just had a book published on fermenting foods, which Diana will be reviewing here at KOTH in November!).
How do you feel about having your kids in the kitchen? What ways do you teach and include them in your cooking?
Disclaimer: I have received a membership for the purpose of review. I am a proud affiliate of the GNOWFGLINS courses, which means that I earn a small percentage if you sign up through my site. You aren't obligated to use my links, but when you do it helps to support this site, so thank you!