Blueberry Maple Coconut Dairy-Free Ice Cream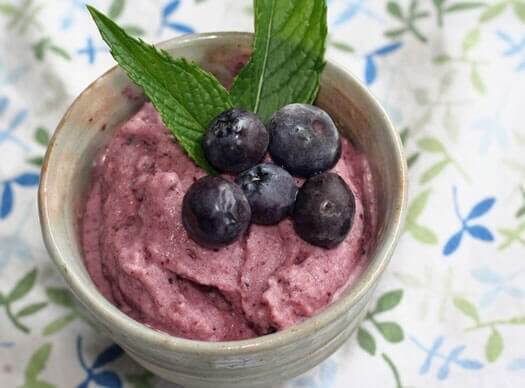 Summer wouldn't truly be summer without homemade ice cream. This dairy-free recipe is delicious for those who eat dairy AND for those who don't. We all love it!
Here's an excerpt from my post today over at Simple Homemade:
This recipe came about when we were first learning to eat dairy-free for the sake of two of my children. I was sorely missing ice cream, but was worried that anything I tried to make would be dismal failure and wouldn't come close to satisfying. I am so glad that I was wrong!

Coconut milk is our preferred choice for a non-dairy option and its smooth, creamy texture makes it a perfect ice cream base. We've served this to friends who eat on the less-healthy side and they still loved it. The fruit flavor comes through much more strongly than the coconut and the finished product is lovely. It does melt a little bit faster than store-bought ice cream, but that aside, this ice cream has no faults that I can find.

The recipe itself whips together in 5 minutes flat. You'll have to wait the standard 25-30 minutes while it freezes in the ice cream maker, but I like to time it right by putting it in just after we finish dinner so we can eat it shortly after clean up is finished and our stomachs are ready for it.

Additionally, it's a frugal make-it-yourself option. Coconut milk ice cream at your local health food store is usually about $4-6 per pint (sometimes more!). This recipe makes almost double that amount, and I figure my costs come in at about $3 total.
Read the entire post and find the recipe here.
Do you make your own ice cream? What are your favorite dairy-free dessert options?