"Seasons Greetings" Homemade Gift in a Jar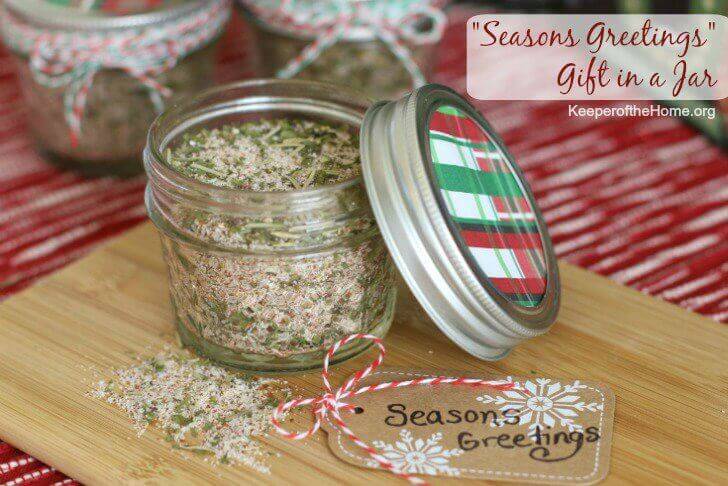 By Kelly Smith, Contributing Writer
When it comes to holiday gift-giving, there are few things as special as receiving a gift handmade with love. It's a simple, thoughtful way to show you care, and really expresses the true spirit of the holidays – giving from the heart!
Of course, there are all kinds of gifts you can make from scratch – from crafts to candles to body care – but my family's favorite Christmas tradition is to select a few of our favorite recipes and turn them into Delicious Homemade Holiday Gifts in a Jar.
One of the gifts we're excited to share with our friends and neighbors this Christmas is a flavorful All-Purpose Seasoning Mix that's perfect for seasoning poultry, seafood and veggies. In fact, the recipe is based on the seasoning I use for my Savory Slow Cooker Roast Chicken.
How to Make "Seasons Greetings" Homemade Gifts in a Jar:
This All-Purpose Seasoning Mix is a super simple gift to put to together. [Tweet "This mix is a fun way to teach your children how to make gifts from the heart."] All you'll need is a few herbs and seasonings, some 4-ounce size mason jars
, and of course, an assortment of festive ribbons and tags. Plus, I'm sharing some printable recipe cards you can also include with this gift as well. (See Step Four below.)

Step One: Make the All-Purpose Seasoning Mix
To make four 4-ounce size mason jar gifts, combine the following ingredients in a small bowl:
• 2/3 cup Fine Sea Salt
• 1/3 cup Dried Parsley
• 3 tablespoons Paprika
• 3 tablespoons Onion Powder
• 3 tablespoons Garlic Powder
• 3 tablespoons Dried Rosemary
• 3 tablespoons Freshly Ground Black Pepper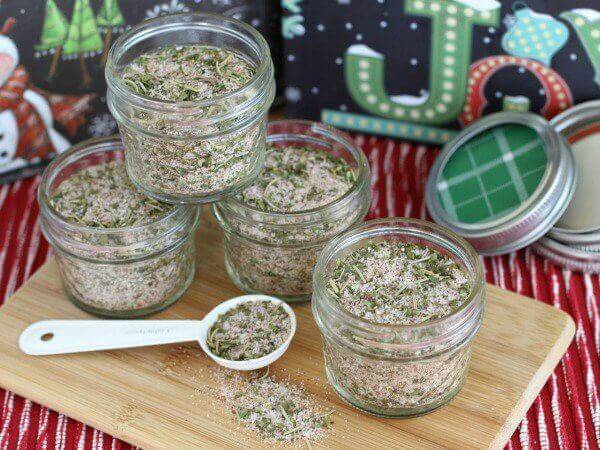 Step Two: Add the Seasoning Mix to Mason Jars
Using a tablespoon, evenly divide the all-purpose seasoning mix among four 4-ounce size mason jars.

Step Three: Decorate the Gift Jars
Cut out holiday-themed paper in circles the same size as the mason jar's lid. Then, place the paper on top of the lid and seal the jar with the ring. To make it even more festive, add a decorative ribbon and gift tag. A few jingle bells also add to the fun and festivities!

Step Four: Spread Some Delicious Holiday Cheer
My favorite way to give this gift is to include a recipe that uses this savory all-purpose seasoning mix. That way, my gift recipients have a delicious recipe for putting this seasoning mix to good use!
To make it easier for you, I'm providing free recipe cards that you can include with this homemade gift in a jar. I like to tuck the recipe card into our family greeting card, and then place the jar of seasoning mix into a recycled gift bag along with our holiday card to make it easier to transport the gift. Then, we have fun delivering this delicious gift to our friends, neighbors and family.
Looking for more homemade holiday gift-in-a-jar recipes and ideas?
Then be sure to check out "The Best Homemade Holiday Gifts in a Jar" and "Delicious Homemade Holiday Gifts in a Jar."

What are your favorite homemade gifts to make or receive?