Living Simple Saturdays- From Clutter to Clarity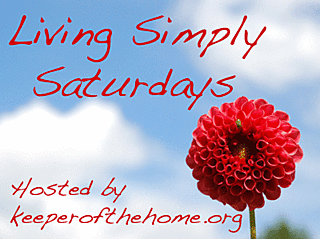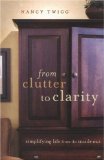 Beginning this week, I'm excited to take a closer look at a book that I've been working my way through the past month or two, From Clutter to Clarity: Simplifying Life from the Inside Out. Though I read much of it while on vacation and haven't yet been able to put a lot of the principles into action in my life, I've begun to reread it with the goal of examining some of these areas in my life, step by step.
If you've read or are reading the book, feel free to work through it along with me (though I won't cover every single thing, only those that feel the most relevant to me). If you're not reading it, I hope that you will still follow along, as the principles are excellent whether you've read the whole thing or not.
This week, I just wanted to take a look at the opening chapter, where the author gives us a new definition of clutter:
From now on, think of clutter as any possession, habit, thought pattern, attitude, or activity that 1) you don't need or use anymore, 2) doesn't fit or work for you like it used to, or 3) doesn't add value and meaning to your life as it once did.
This definition surprised me. I've always viewed clutter as physical, tangible things. An overflowing closet. A garage full of junk. A kitchen cupboard with tupperware bottoms and lids that don't match. Extra "stuff" that I just don't really need, but am hanging on to anyways.
Bringing the concept of clutter into the realm of attitudes, habits, activities and as she goes on to talk about, our hearts and our relationship with Jesus, was a new idea for me. I think, though, that's she's right. There are so many elements of how I think about things, how I function in day-to-day life, in the activities I crowd my schedule with, and even in the sin that I let entangle me, that clutter up my life, so to speak. I'm eager to examine them further, and see which things I can do away with, to free me up to spend more time and energy on those things that really matter.
Have you ever thought about clutter in this way? What do you think of this definition? What does clutter mean to you?