Learning with Preschoolers: Activities to try!
Guest Post by Faith
(This is the continuation from her wonderful post last week, Learning with Preschoolers. If you haven't read it yet,  why don't you do that first? Then take a good look through this inspiring list of ways to really get involved with your preschooler in the process of learning and exploring! I know that my kids and I will be trying out several of these suggestions ourselves!)
Here is a list of ideas and suggestions. I included activities which require little preparation.
1. Read with your child everyday.
2. Stop and Play:  Take 30 minutes a day and be purposeful in playing with your child!
3. Write with them. (Grocery lists, cards, letters, signs, to do lists)
4. Praise their efforts with reading and writing. Example:  Abigail learned to write her name two     weeks ago. However, she writes it backwards with some of the letters turned around. I praise     and celebrate this accomplishment with her even though it is not right! Why? Because the     more excited she is about writing, the more she is willing to try it. I have started to correct her a little at a time, but at first it is often inappropriate.
5. Make mini books together. Take turns being the author and illustrator. Use stickers if you or your     child doesn't like to draw. You may be surprised with the ideas they come up with.
6. Make alphabet books
(My favorite idea)
7. Talk and listen to your child.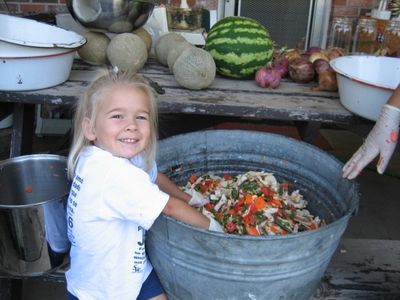 8. Describe what you are doing or seeing as you read, play, work and drive.
9. Have a box of scrap paper and scissors that your child can take out and cut, cut, cut that paper!
10. Make snow flakes. Point out the shapes when you open it up.
11. Make an alphabet matching game out of felt. Cut a matching pair of shapes each time you work     on a new letter of the alphabet. Let your child cut the shapes out. You can match colors and upper and lower case letters.
12. Handwriting Practice:  http://www.first-school.ws/theme/handwriting.htm
13. Have a box of rice or beans for your child to play in! Just make sure to explain the bean box rules     to your child and other children that come to play. Like the beans stay in the box! I once neglected to tell our bean box rules to visiting cousins and found our basement completely covered in a layer of beans.
14. Make homemade play dough! It takes 5 min! I'll post the recipe in the comments!
15. This idea may be a challenge for some. I haven't been brave enough to try it, but you may be. Get colored painter's tape and tape a box on your wall. The box becomes an impromptu white board for your child. Use crayons or markers to write. It all wipes off with a Magic Eraser. The person who uses this idea has never had a problem with their nieces/nephews writing anywhere else. I would do a test on your walls to make sure it will come off for you.
16. Check your local library for a kindergarten readiness calendar put out by the local library system or school district. I often see free calendars available in libraries and preschools. Each month has a focus and the weekly activities usually match the focus. Activities are simple but purposeful!
17. Play "I Spy" with colors (or "I Spy" with numbers/letters for a more advanced version).
18. Counting games:  How many squares do you see in this room? How many blue cars can you     count on the way to the store?
19. Make Ice Cream in a Ziploc bag. (Recipe posted in comments).
20. Do alphabet aerobics. Make the alphabet with your bodies.
21. Make numbers, letters, or shapes in the dirt. Walk on the lines like a balance beam.
22. Play hopscotch. They can help draw the squares and the numbers.
Faith is a preschool teacher, mother to Abigail, and wife to Eric. She
loves engaging with the preschool age through play and learning times.
She will soon be starting a blog where she will dialogue about how God
transforms lives, including her own, at .
Any other ideas for encouraging learning and development for your preschool aged children? What are some of your (or your childrens) favorite activities?