First harvest of the season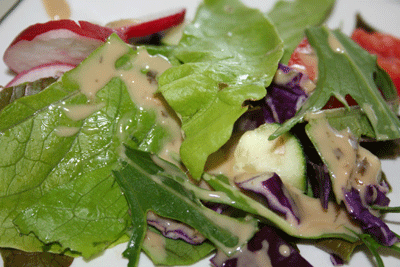 Mmm… the first salad of the season, made with a lettuce blend from my backyard! I'm using a nice heirloom lettuce blend, as well as a romaine called Olga and some oriental greens called Mizuna.
Is there anything more satisfying than eating what you've grown? (Okay, the answer is yes, but it sure does rank up there somewhere among wonderful things in life!)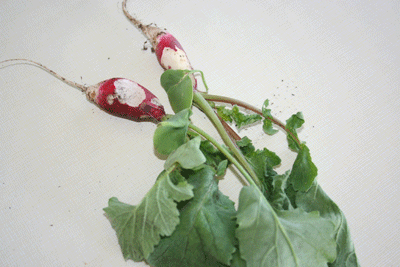 Apparently the bugs in my garden are also enjoying the first of the harvest… behold the sad state of my radishes.
For some reason (heavy, clay soil? weird type of radishes?) they've been growing above ground, and as a result, are being munched on by the insect world's equivalent to Peter Rabbit.
I had hoped to be able to share a bit of produce with the neighbors, but this wasn't really what I had in mind!
My turnips are also ready to eat, and Caden had his first one for dinner the other night, steamed and mashed with a bit of butter. He told me to tell you how delicious it was (I tried a bit- it was good!). It feels so great to feed my baby naturally grown food, right from my backyard!
Next up, I'm looking forward to harvesting some carrots, young onions, parsley, and I should have peas and strawberries within a few weeks as well!
How are your gardens coming? Most of you are so much more Southern than I am (and doubtless getting more sun than the Northwest has had in June!). What have you harvested so far this year?