Living Simply Saturday: Do we own our possessions, or do they own us?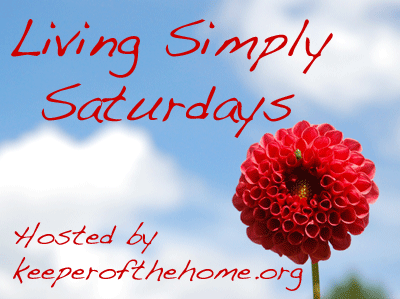 It was just too perfect when I saw this weeks chapter in From Clutter to Clarity
… "Making Peace with our Possessions".
Living in a somewhat messy, disorganized house while puttering through morning sickness and fatigue these past two months, and now beginning to scan the wreckage as I get closer to that light at the end of the tunnel has had me realizing that something has to give (and go!). We've also been trying to contend with the mountains of toys that continue to grow with each birthday and Christmas, despite having put more of them down in the garage in storage.
It's been bringing me back to the way that I felt last year, when I posted this out of frustration. I did take the opportunity to go through the house and have a garage sale last summer. It felt good to clear things out, but it wasn't enough. I only scratched the surface and mere months later felt that nothing had changed at all.
Enter Crystal's excellent challenge to join her (see Week 1) as she review's Simple Mom's ebook "Spring Cleaning for Normal People". It was the next push that I needed to really decide that it's time to make some serious changes!
I decided to go ahead and purchase the ebook (and I'm so glad I did- it is so thorough and really challenged me to think through the stuff that we have, what it means to me, and the value of continuing to keep it (or the value of getting rid of it and gaining space, peace and simplicity!).
In the book, Simple Mom talks about their move overseas, and how they learned to do with much less. It brought me back to our year in Japan, where we lived in a teensy, tiny apartment (certainly no more than 650 sq ft), and owned very little. We not only made do, but we were actually fairly satisfied with the little we had (though I would have really enjoyed owning a couch towards the end of my first pregnancy, rather than little chairs only a foot off the ground!).
Why couldn't we go back to owning much less, and in turn, being much less owned by our possessions?
Allow me to share a few great quotes, from both books:
"Whether something is clutter depends on what you get out of it."
"Space promotes peace."
"If fear is at the root of your hoarding things away, ask him (God) to reveal this to you and show you ways to replace that fear with confidence in his provision. If unhealthy emotions keep you tied to things, request that give you strength to confront the past and settle any unfinished business so you can move on."
(quotes found in From Clutter to Clarity
)
"Now, more than ever, we live as though we need a lot of stuff, a lot of space, and a lot
of luxury.  What we own is ultimately owning us."
"Let's do one more example. You have a china collection that you've had since your
wedding. You've used it twice in ten years, but you hold on to it, because it's expensive.
Understandable. But there's still a price to keeping it in your home, and it just might be
higher than the price of letting it go. You're not only missing out on some decent money you
could get by selling the china, but you're also paying for less room in your cabinets, more
dishes to pack with you as you move, more things to dust, more areas off-limits for the kids.
More clutter. More stuff. The china could be worth those things. But it might not."
"I'm not telling you to sell your possessions and go live in a cave. All I'm asking is that you
make the choice to have what you bring into your home, so that you truly love everything
you own. You find it useful, or you find it beautiful.
And the surprising effect to getting rid of the things that you don't love is that you grow
deeper in love with the things you choose to keep. Your kids love every toy they own. You'd
gladly wear every pair of jeans in your closet. You like all the music in your CD collection."
And my favorite quote:
"Have nothing in your house that you do not
know to be useful or believe to be beautiful."
– William Morris
(quotes found in Spring Cleaning for Normal People)
These quotes are all well and good and inspiring, but they're nothing without action. I'm going to join in to the challenge on Biblical Womanhood (starting a week or two late, as I build up my energy again, but better late than never!), and follow along carefully with the ebook.

What about you? How have you or how do you intend to bring more simplicity into your home, by decluttering your possessions and assessing the things that you own? Is it time for you to make some changes too?
____________________________________________________________
Living Simply Saturdays
are an opportunity to share what is bringing more simplicity and
purposefulness to your own life, and to glean from the lives of others.
To join in, post your contribution on your blog, then come back
here and add your link below. Please make sure that you link to the
specific post, and not to the homepage of your blog, and make sure that
you include in your post a link back to this post. Thanks so much!
If you don't have a blog, I welcome your thoughts and suggestions in the comments section!