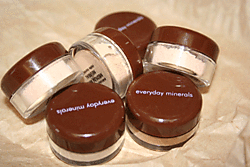 Look! My free mineral makeup samples!
Although it took me a while to choose my colors, I am so happy with what I've received! The makeup goes on quite nicely, although it will take a little while to adapt to using loose powder as opposed to pressed powders and liquids. I need to take a read through their forums to get some tips on how to use the makeup, and how best to apply.
But, it feels so nice and light, blends in well, and has a really nice sort of glow or shimmer to it. I'm a very minimal makeup kind of gal, and this really suits me. I'm using the foundations and concealer, and then I chose my free blush in a color that I thought would work on my eyes, and then also purchased (for $2.50) a sample of a complimentary eye color to wear with it.
If you haven't checked out the site and received your free sample yet, I highly recommend that you do! It's wonderful to find an alternative to conventional makeup, with a great selection and reasonable prices. Huge hat tip to Lindsay for turning me on to this stuff in the first place!