Dark Chocolate Flourless Pudding Cake Recipe
This ooey, gooey cake is a chocolate lover's dream – specifically a dark chocolate lover's dream! It's light and airy, but oh-so rich all at the same time. A perfect ending to a lovely Valentine's dinner at home.
The key to this cake is using a very good quality chocolate.  If it's fair-trade and organic that's even better! With so few ingredients, choosing the very best quality you can find will guarantee that this cake will taste amazing.
I included orange zest as an optional ingredient in this recipe, because I LOVE chocolate and orange together. If you do too, then I highly recommend that you try it with the zest. It's very yummy and the flavor is terrific!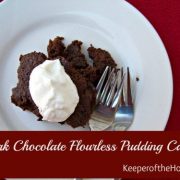 Print Recipe
Dark Chocolate Flourless Pudding Cake Recipe
Ingredients
1/3

cup

powdered sucanat + 1 TBSP for baking dish

6

large eggs

separated

6

oz.

very good quality dark chocolate

melted

1/2

tsp

salt

1/2

TBSP

orange zest

optional

Freshly whipped cream for topping
Instructions
Preheat oven to 350 degrees F. Butter a shallow 2 qt. baking dish and coat with the 1 TBSP powdered sucanat. Set aside.

Get out a roasting pan that is big enough to hold your 2 qt. baking dish. Fill a tea kettle of saucepan with water and place over high heat to bring to a boil.

Combine egg yolks and 1/3 cup powdered sucanat in a mixing bowl. Beat vigorously with a wire whisk for one minute. Mixture should thicken and get lighter in color.

Whisk melted (not hot) chocolate into the egg mixture and set aside.

With an electric mixer, beat egg whites with salt until soft peaks form.

Whisk 1/3 of the egg white mixture into the chocolate mixture. (If using the orange zest, add at this time.) Fold the remaining egg whites into the chocolate mixture just until combined.

Transfer the batter to the 2 qt. baking dish. Place the baking dish in the roaster and then fill the roaster with the boiling water so that the water comes 1 inch up the side of the baking dish. Be careful not to pour any water into the cake pan itself.

Bake 25-30 minutes or until just set. The middle should still be slightly jiggly. Allow to cool for 5 minutes.

Remove the baking dish from it's water bath in the roaster and serve immediately while warm or allow to completely cool and then serve chilled from the refrigerator. Serve with freshly whipped cream.
What are some of your favorite desserts for Valentine's Day?