A little bit of Sweet, a little bit of Spice: Gingerbread Recipes
As you well know, it's Christmastime! Your music is playing, the stockings are hung, your tree is decorated and it's time to get baking!
When I think about baking during this season, my first thoughts are about gingerbread houses and cookies. I love the spicy, sweet flavor. They are adorable, although they are full of white sugar and decorated with artificial flavoring and color frosting usually.
Did you know that it is possible to make these little guys while removing some of the bad ingredients?
A few things about ginger. Ginger is anti-inflammatory and has immune boosting powers. Ginger also aids in gas relief as well as motion or morning sickness and has many more healing effects to take advantage of. Eating gingerbread or gingerbread cookies will probably not give you the exact same health benefits as eating ginger raw but  it's a lot more fun, especially this time of year!
Instead of the typical white or colored icing to decorate your gingerbread men, why not a chocolate icing?
If cookies aren't your thing, how about some bread?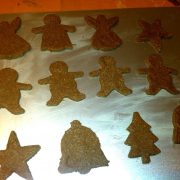 Print Recipe
Gingerbread Recipe
Ingredients
Instructions
Preheat the oven to 350 degrees.

Combine dry ingredients except for sucanat in a medium bowl, mix and set aside.

In a large bowl, cream butter, sucanat. honey, pumpkin puree, and egg.

Fold dry ingredients into wet a little at a time.

Pour in your greased baking 9x9 pan or 9x5 loaf pan. Mixture will be very thick!

Bake for 45-50 minutes or until done.

Cut a slice and enjoy!
Notes
To reduce sugar, use apple sauce in place of one or both sweeteners or check out this recipe, you could just add a few teaspoons more of ginger and cinnamon.
All of these recipes are super simple and won't take too much time to make in your already busy holiday schedule. You could add a few gingerbread cookies in a clear festive bag or make some bread in mini loaf pans for frugal gifts.
Here are some Gingerbread activities I found:
What's your favorite gingerbread recipe? Do you plan on making any gingerbread cookies or bread this year?