How to Do a Facial Steam with Essential Oils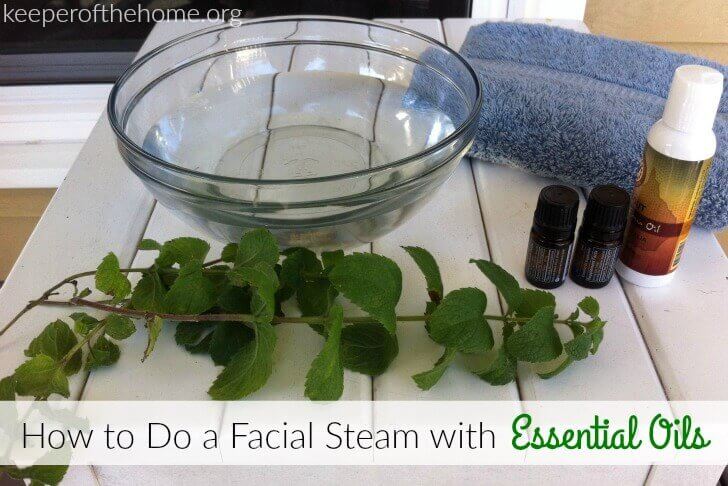 By Elsie Callender, Contributing Writer
Ever since I was a little girl, I've enjoyed giving myself the occasional "spa night." I would pick a night when I didn't have any lingering chores–or competition for the bathroom–and set the scene for a relaxing, pampering experience. Spa night usually involved a bath with some special bath salts or sugar scrub I'd received as a birthday gift, plus an edible treat, a good book (usually an Agatha Christie mystery), and perhaps toenail painting afterwards.
I also liked to do a "facial" before soaking in the tub, although now I cringe to think what chemicals must've been in those little packets from the drugstore!
In the last couple of years I've strayed from the practice of spa night, so now it's my goal to re-instate them! I've also learned a lot about using natural products, (and what skincare ingredients to avoid), so spa night looks a little different now. The relaxing bath is still a must, although now I'm more likely to make my own bath salts and sugar scrub (like this honey vanilla body polish).
For the facial, I'll skip the store-bought masks and peels and use a simple, natural facial steam, instead!
Making your own facial steam
Making your own facial steam with essential oils is easy, and actually, it's great to do on its own–even if you don't have time for a full spa night! An essential oil facial steam opens your pores to release dirt and oil, and helps to lift and balance your mood. Choose one essential oil to use solo (like one of these basics), or create a blend with your favorites. I recently did a facial steam using peppermint essential oil because I wanted to clear up some congestion. If you're just doing a steam for facial cleansing, however, you might not want to choose peppermint–it is pretty strong!
To enjoy your facial steam, I recommend picking a time when you won't have distractions, and when your children are out of the house or asleep! You'll be using hot water, so it's safer not to have little ones around, anyway. Also, you'll want to do this sitting down, with the steam bowl on a table in front of you. It's not very relaxing to be hunched over the counter!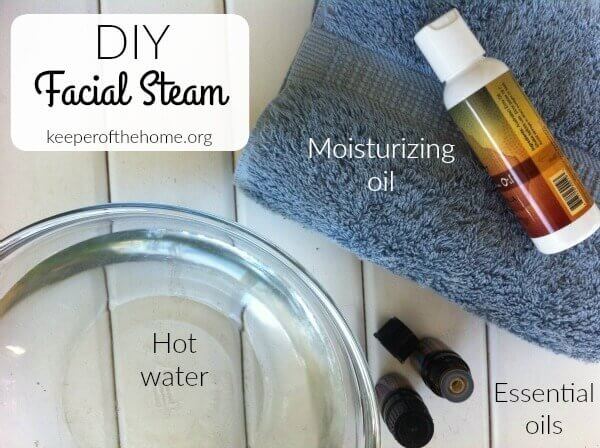 Here's how to do a facial steam:
Wash your face using your normal method.
Boil 3 cups of water; pour into a glass or ceramic bowl.
Add 5 drops of essential oil to the water (no need to stir).
Drape a towel over your head and lower your face until it's about 12 inches above the water. The towel will create a tent to trap the steam.
Close your eyes, breathe deeply, and enjoy the steam for 10-15 minutes. If the steam is too intense, raise your face a few more inches from the bowl, or remove the towel for a few seconds. If the steam becomes too cool, lower your face closer to the bowl.
When you're finished steaming, splash your face with cool water, pat dry, and apply your favorite moisturizer. (I'm loving just a couple of drops of emu oil, but jojoba oil, argan oil, or sweet almond oil are also great picks!)
That's it! A DIY facial steam is very easy, and will leave your face feeling fresh and clear!
What do you include in your at-home spa nights? Have you ever done a facial steam?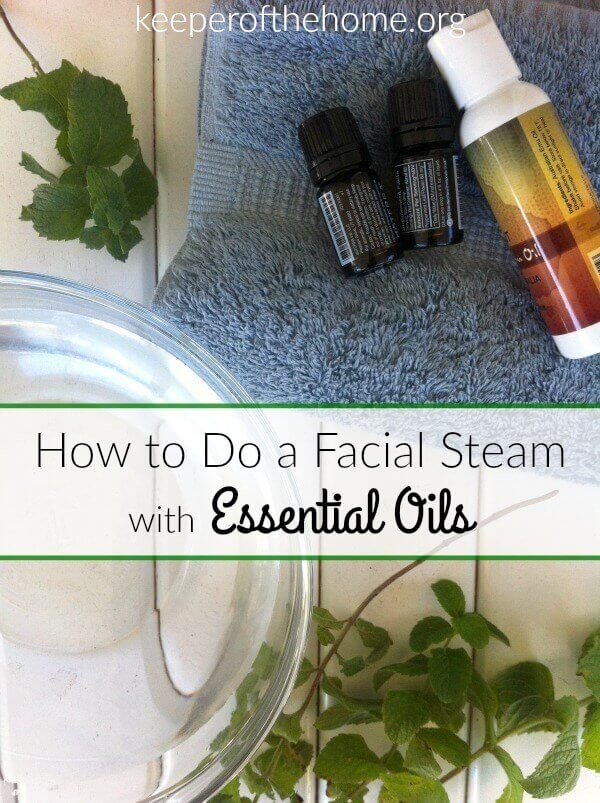 Disclosure: This post contains affiliate links. When you buy through our links, we earn a small commission, which helps to keep this site going so that we can continue to offer free and useful content, so thanks!