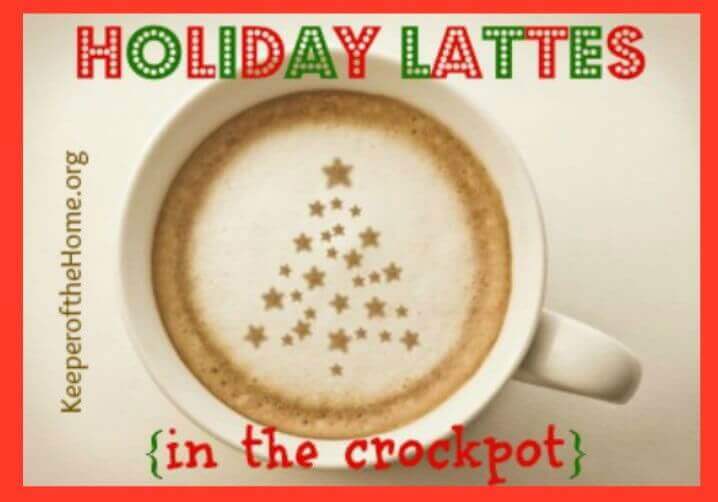 This post was originally published in December 2012–but we thought you would love a reminder about these delicious holiday lattes you can make in your crock pot! 
By Rachel, Contributing Writer
There is just something about the holidays that seems to make people want to warm up to a piping hot latte. Did you know you can actually make holiday lattes in the crock pot?!
My personal latte favorites are gingerbread, eggnog, peppermint mocha and pumpkin spice.
These really are very simple to make at home, and you'll know your delicious hot beverage is made with real ingredients.
The basic ingredients for all of these crock pot lattes are the same:
coffee (or you can use green tea)
milk (dairy, coconut, almond, etc.)
sweetener (stevia, honey, maple syrup, raw sugar, etc.)
Just add spices to give them each their individual flair!
Check out these holiday lattes recipes:
The directions are the same for all of them and are found at the end of the recipes. You can use more or less of the sweetener or spices depending on your taste.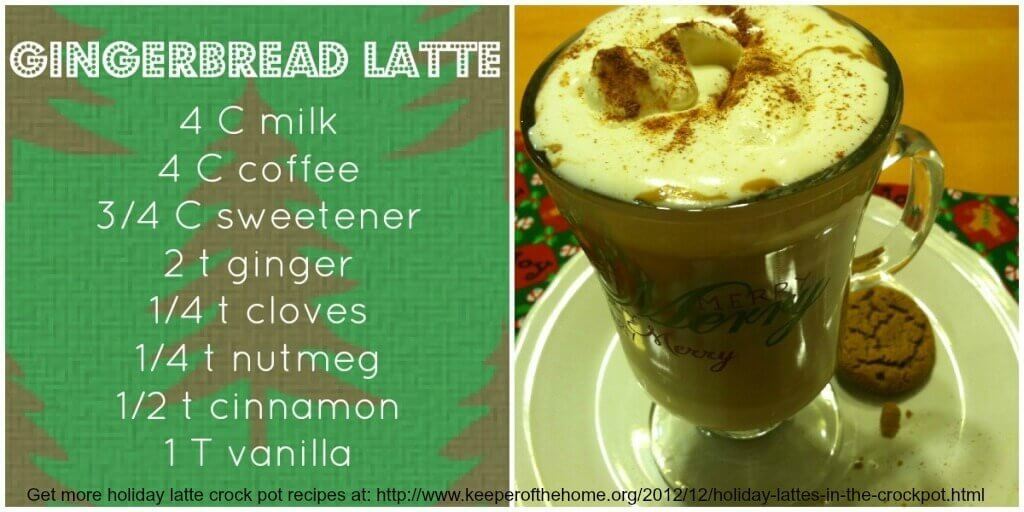 optional: top with whipped cream, cinnamon and gingerbread cookie crumbles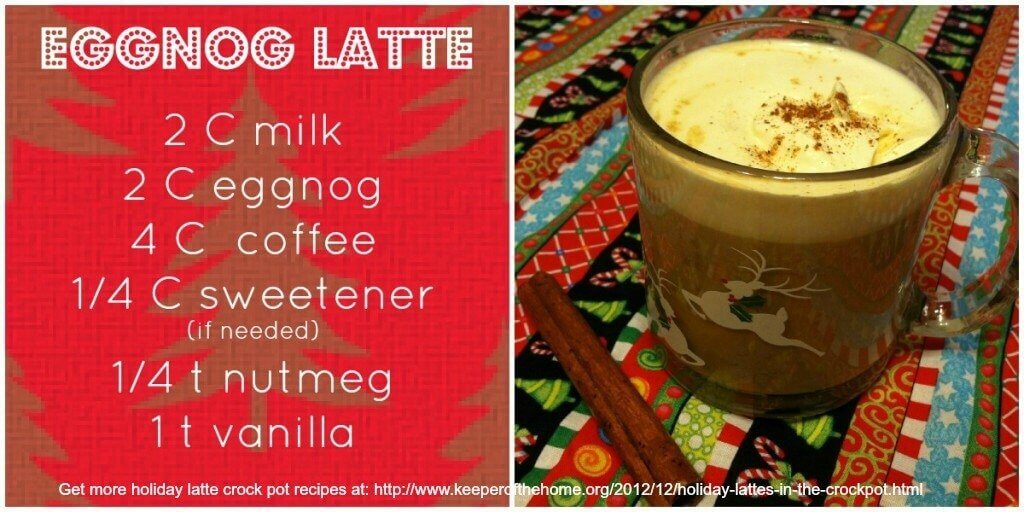 optional: top with whipped cream, cinnamon or nutmeg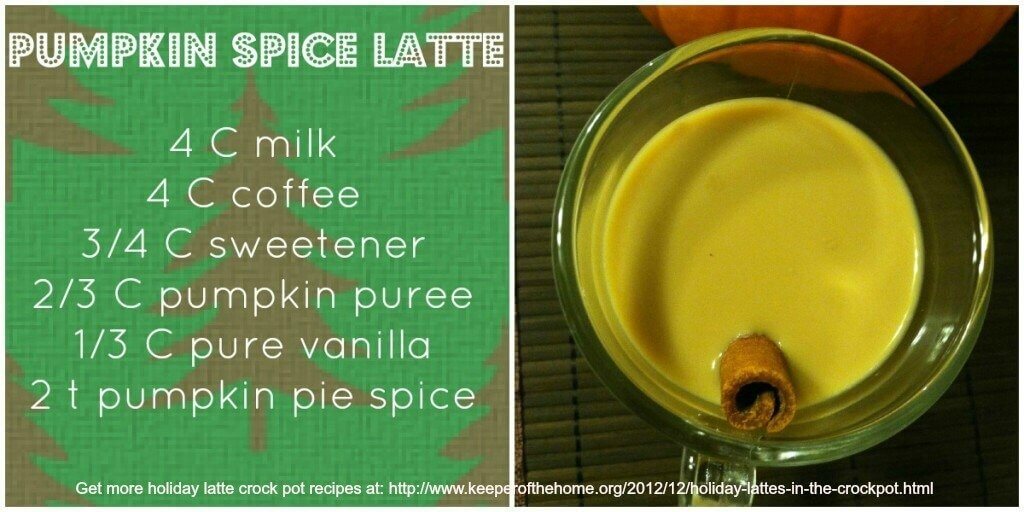 optional: top with whipped cream and a sprinkle of nutmeg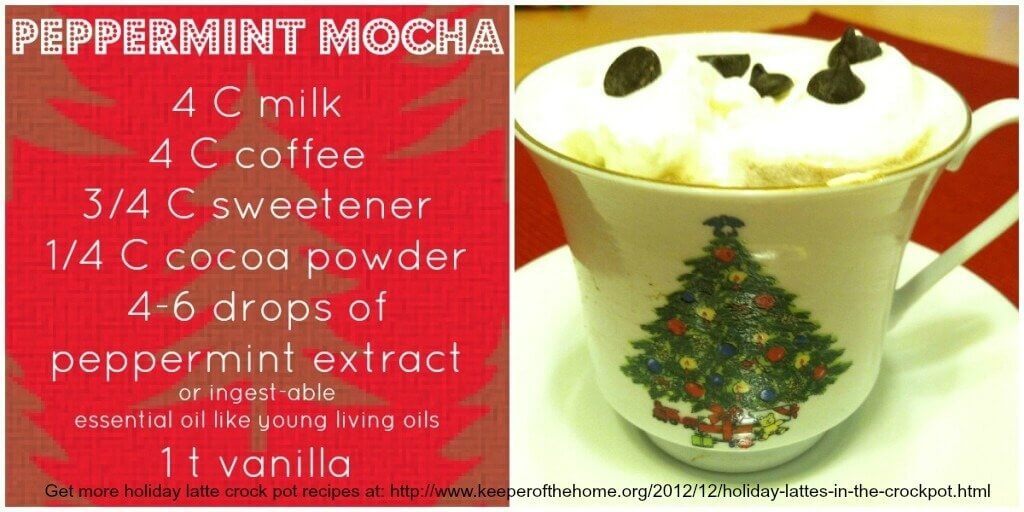 optional: top with whipped cream, chocolate chips or broken pieces of candy cane
Optional for all lattes: a cinnamon stick and a sweet treat
Also, if you want to make these favorites fast, you can always warm them in a pot on the stove, or if you are really fancy, you could use an espresso machine.
How do you make these holiday lattes in the crock pot? Here are 4 simple steps:

Gather ingredients and plug in your crock pot.
Put all ingredients into the crock pot; mix well.
Cook on high for 1 hour or low for 2 hours; be sure to check & stir from time to time.
Enjoy these holiday favorites!

When using the crock pot, don't let this brew all day. Use within 30 minutes or so of "cooking." Store leftovers in a glass container with an airtight lid in the refrigerator.
Want to try one more variation? Check out this honey-spiced latte in the crock pot from Keeper of the Home contributing writer Stacy!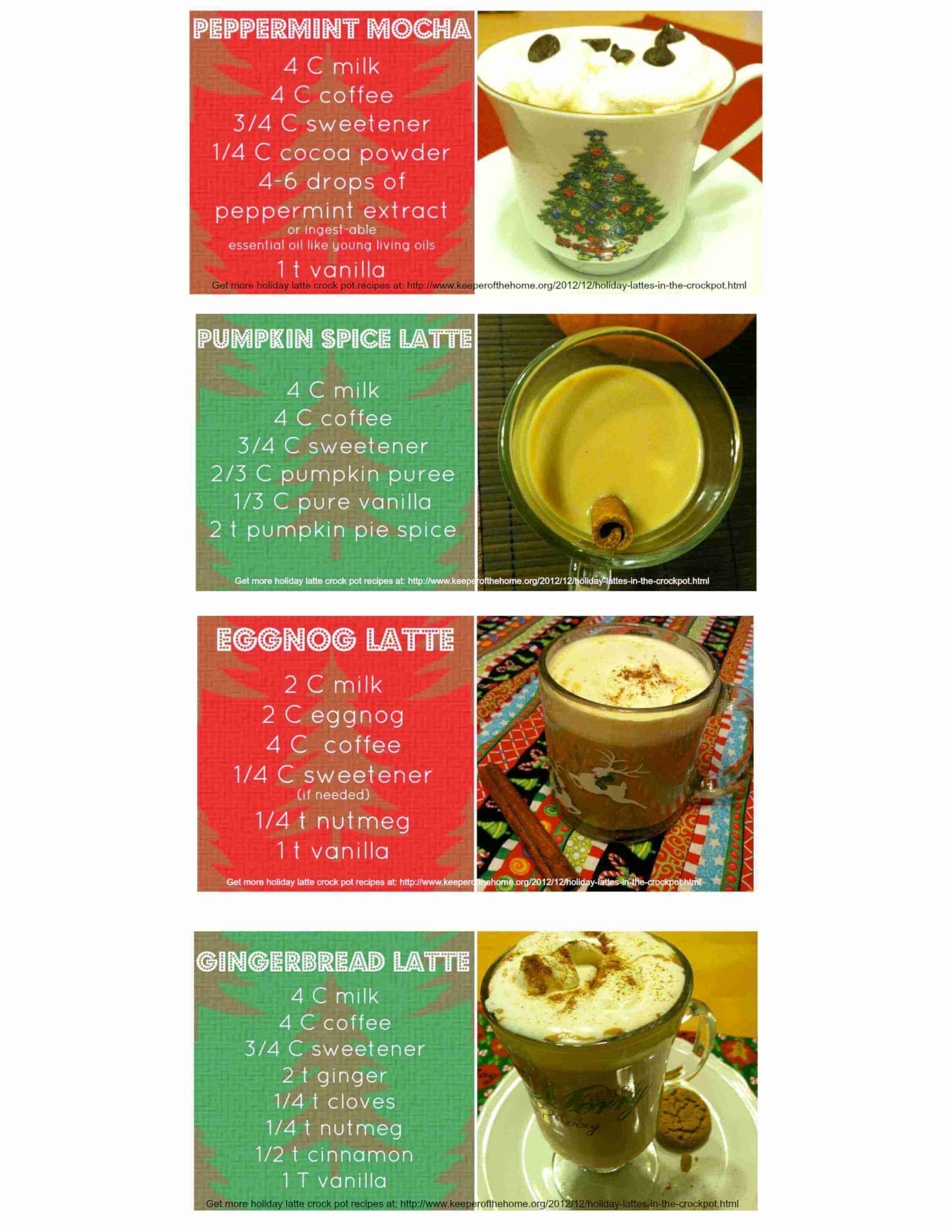 Free Printables!
Give the gift of a warm holiday beverage this Christmas! Print recipe "tag" cards for all four of these holiday lattes and attach them with ribbon to a pretty mug. Hand deliver your neighbors, friends or family members their lattes!

(Alternately, you can print these out for yourself and stick them in your recipe box/book!)
Note: If you're looking for more crock pot recipes, check out Stacy Makes Cents' eBook–Crock On! The book even includes crock pot desserts–like chocolate lava cake and pumpkin apple cake! Pair one of these with one of the holiday lattes above, and impress your guests with treats that literally cooked themselves!
What's your favorite holiday beverage? Have you ever made a latte in the crock pot?
Disclosure: This post includes affiliate links.