How My Garden Grows: July
It's been awhile, so I thought it might be time for a quick photo garden tour! These pictures were actually taken a week ago, so just imagine everything a little bit bigger!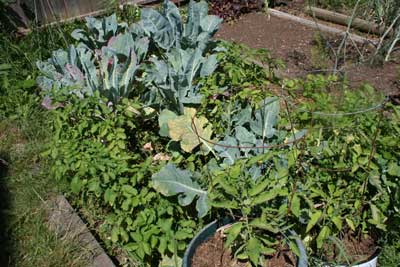 This patch is a mix of cauliflower to the far left, potatoes in the center and front, a bit of broccoli to the right, and a couple of tomatoes in pots on the end. The broccoli was great while it lasted, but we didn't get too much and it's finished now. The potatoes are finished flowering, and honestly, I'm not sure how much longer they need- it's my first year growing potatoes! These tomato plants are struggling behind my other 6, and I'm not quite sure why.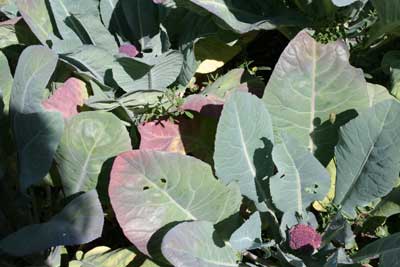 This is some of the cauliflower up close. It's purple!!! It's an heirloom variety called Purple of Sicily. These heads are just coming up, but I've already picked 3 or 4 heads that were a nice size and have lots more coming. We found they tasted a bit like a cauliflower/broccoli cross, but definitely yummy!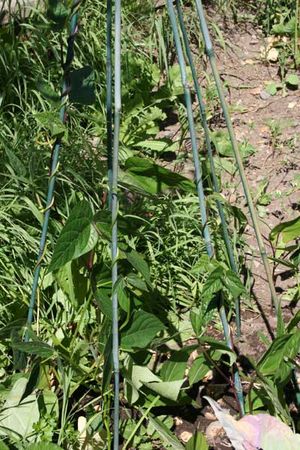 Here's a bean teepee I've got going. I started it a bit late, and it's only just starting to take off now. It's a mix of three different colors of heirloom string beans. I imagine it'll start to put out beans in a few more weeks.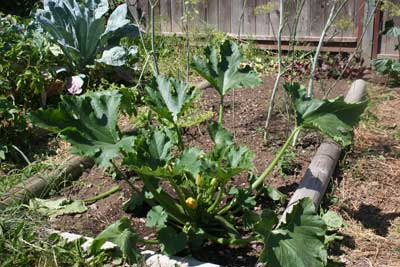 This is my lovely zucchini plant. I find that one plant is plenty for our little family, although this year I've been taking them off the moment they're large enough to eat! It's a Black Beauty and I grew it last year as well, and still love it. Behind it are some basil plants, as well as tall dill plants, and then a patch of newly planted carrot seeds where my peas used to be (I just pulled them last week- so sad!). Beyond that are some beets, and the turnip patch that I just finished pulling and preserving this week.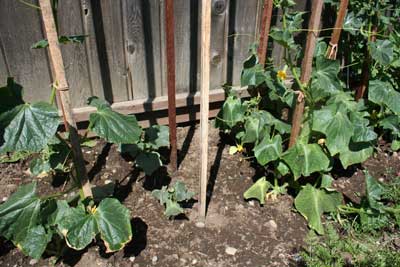 Here are my 8 cucumber plants. 5 of them got off to a good start, and 3 didn't germinate well and needed to be re-planted so they're a little behind. I like to grow my cucumbers up wooden stakes to save space and keep them up off the ground. It works well for me! I've got quite a few little pickling cucumbers starting to grow (yay for pickles!), and just a couple of larger slicing ones growing as well. My lemon cucumber plants are the small ones, and I am a bit impatient for them to start flowering!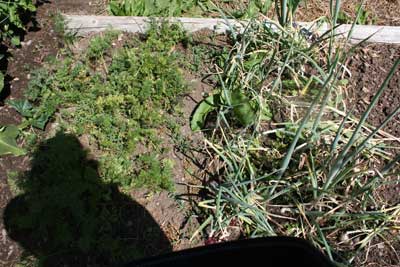 Pardon my shadow! The left is my carrot patch that I'm digging into several times a week, and the right is onions whose tops are just starting to fall over.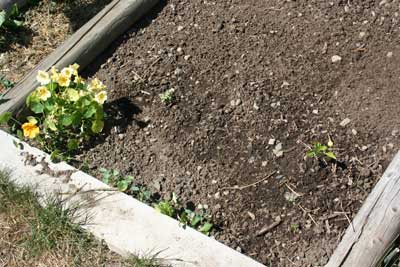 This is further down in the carrot/onion row. This lower spot had spinach up until recently, and now I've got a little watermelon and pepper plant in there, but they're still quite small. Not sure if they'll make it this year or not as I got them in a bit late while I was waiting for space to open up. Just above them is a newly planted patch of spinach, where my lettuce used to reside. The lettuce started to bolt, so I replaced it with the spinach seeds. I don't like repeating a crop so close to where I just grew it, for the sake of depleting the nutrients in my soil, but I didn't have any other logical places available, so this is where it ended up.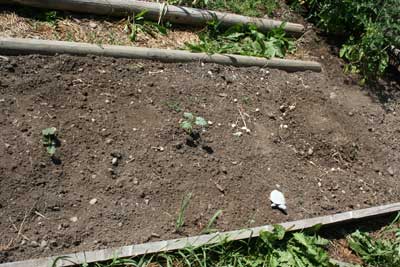 As you can see, there are lots of new things just starting out in my garden, despite the fact that it's late July! As soon as I get my spring crops out, I like to get new things going while I enjoy my summer crops. I am all about succession planting! These little seedlings are both Delicata Squash, and there's a little mound to the right where I just planted pumpkin seeds. It's a bit late, but I had the space and the seeds, and it's a hot summer, so I'm going to give it a shot and see if I can't get some pumpkins going still! (And a week after this picture was taken, all of the squash plants have really started to grow well, including the new pumpkin seeds, so they're much bigger than what you see.)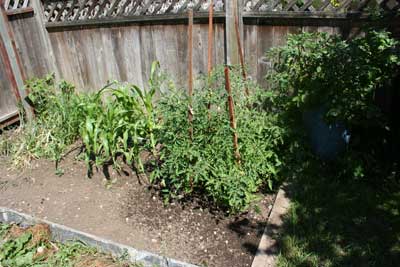 My last row. You can't see the kale still growing valiantly down at the end. There's a small corn patch in the middle, with a bit of onions to their left. To the right of the corn are 4 tomato plants that are doing really nicely. And in the shade on the right is my overgrown garbage can, full of potatoes! I've also just put in a new patch of lettuce to replace the one I just took out. It's right in front of the tomatoes, and I'm hoping the tomatoes will offer the lettuce just enough shade to let them grow nicely even in the heat. The patch in front of the corn is waiting for some peas to be replanted, but it's just too hot for peas right now, so I'm going to wait a few more weeks.

So that's what I've got growing right now. How about you? How are your gardens doing?