Keeping a Morning Routine During Busy Seasons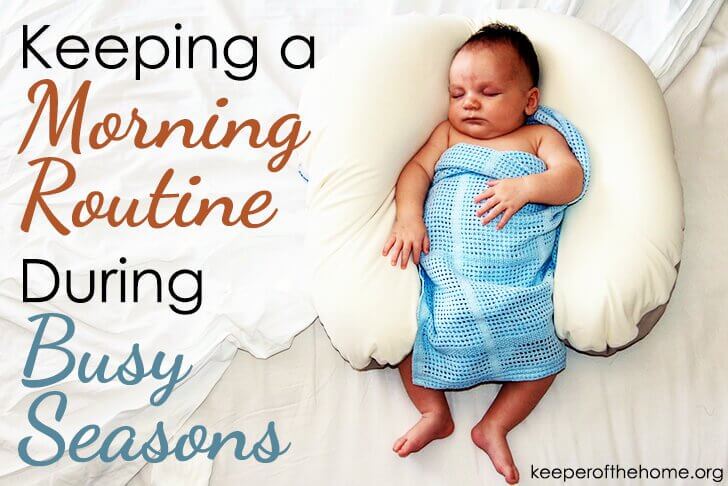 By Kate Tietje, Contributing Writer
I just recently had my fourth baby. My oldest turned 5 a couple of months ago.
As you can imagine, it's pretty busy around here! I have been lucky enough to have my husband stay home for two weeks (as he has after each baby), and my mother came to stay for two more weeks. So I had help from at least one other adult during the first month.
I know a lot of moms don't have that kind of support. It certainly does make it easier! By the end of this time (it's not over yet), I'll be ready to get back to "our" routine, though, and feel normal again, even though I won't have the help anymore. It's like coming home at the end of vacation…it was fun, but you're ready for "normal."
Although I haven't been on my own with four yet, I did make it through the last stretch of pregnancy with three active little ones without any major issue. It's possible — even ideal — to keep some form and normalcy to your day, even when you are very busy or have an unusual situation. It really helps the kids and you, too!
Our Morning Routine
The first thing to know is that our morning routine was similar each day but I built in a lot of leeway, depending on what each of us needed that day. That is so important during busy seasons. Build in lots of extra time, give yourself (and your kids) some grace, and prepare for unexpected needs.
7 a.m.: Everyone wakes up (this could happen anywhere from 6:30 – 7:30). Snuggle time in bed with Mommy.
8 a.m.: Get dressed and ready for the day. (Sometimes I turn on the TV in my room and sneak a bath at this time, when I was still tired or sore at the end of pregnancy.)
8:30 – 9 a.m.: Breakfast (and sometimes on a lazy morning this stretches out to 10 or so), followed by morning chores (dishwasher, ice trays, wiping down counters, sweeping floor, starting laundry).
9 a.m. – 12 p.m.: Play time/work time. (I have a babysitter come in two days a week.)  Or, outing, if we're up to it.
12 – 2 p.m.: Lunch time, then play. (Kids have to clean up their playroom before lunch, so sometimes lunch doesn't happen until 1:30.)
2 – 4/5 p.m.: Quiet Time (all kids have to be in their rooms; older ones can read books in bed if they prefer). Sometimes I nap, too.
5 – 8 p.m.: Daddy time, dinner, bed.
Simple, flexible, with lots of leeway and play time built in. It seems ridiculous that we could wake up at 7 but not have breakfast until 9 or 10, but sometimes that happens. And other days we're all fed by 8 and ready to go somewhere. Sometimes we get a lot of chores and activities done; sometimes not. Sometimes we are on top of everything and out the door by 9 and run lots of errands; sometimes we barely get out of our PJs by nap time, and we watch a lot of TV.
Our homeschooling takes place usually in the 9 – 12 window, and our 5 year old reads with Daddy in the evenings.  We don't spend a lot of time on it yet and we don't do it every day, but the kids have folders of activities from which to work when they want as well as their own notebooks. Their notebooks are for drawing pictures, writing letters, or whatever it is they want to do.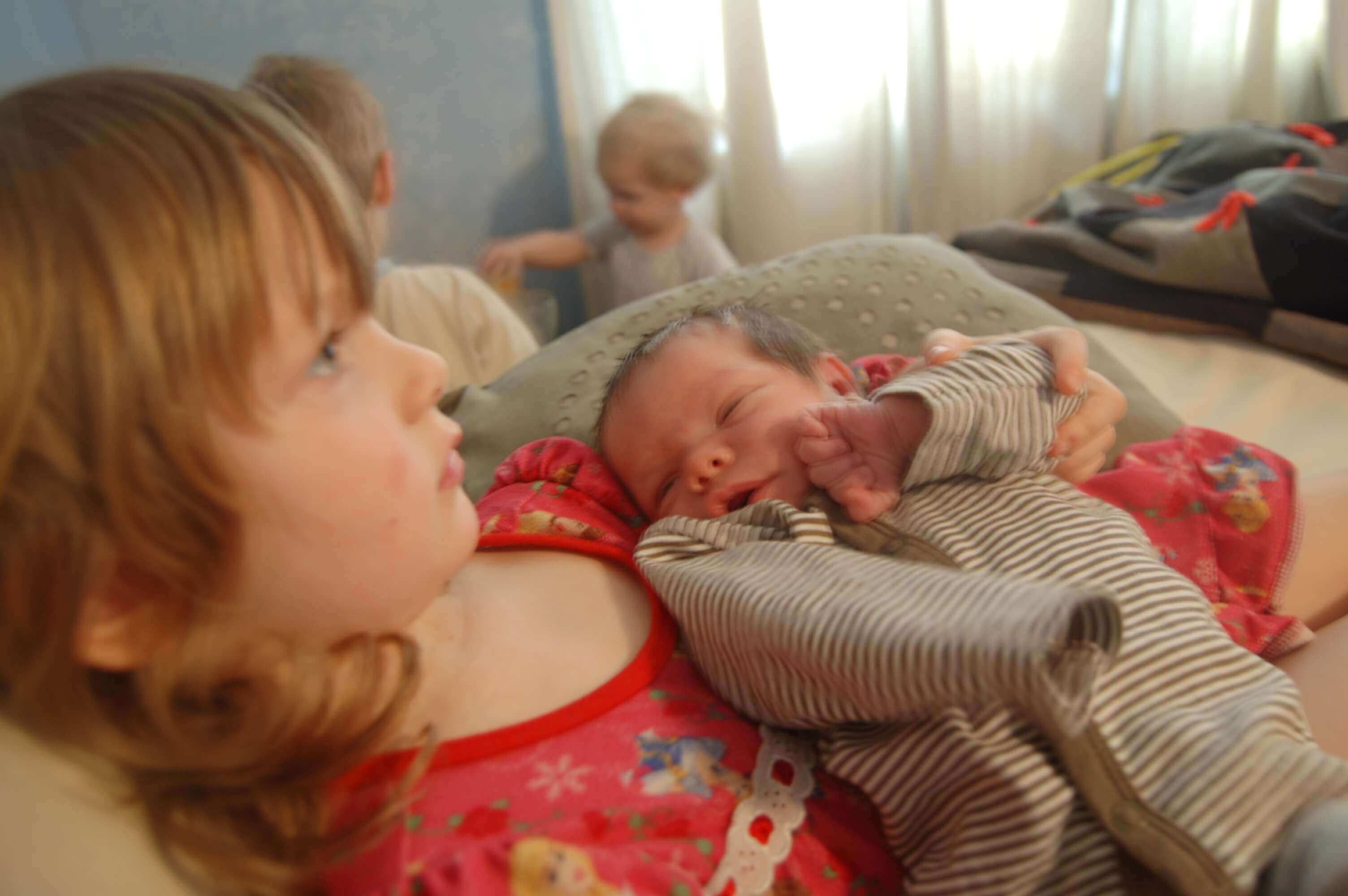 Tips on Making it Work
Everyone's morning routine will be different depending on their situation and needs. During busy seasons, though, it's especially important to set up some guidelines.
Say No or Maybe to Activities
I didn't promise anyone anything and still won't for awhile. I didn't schedule play dates in advance or agree to regular mommy group meet ups. I let them all know that in this season, I'm always a "maybe."  I also stopped going to my evening activities and clubs in the last several weeks of my pregnancy because I knew my focus wasn't there, and I was needed at home. I do not feel guilty about taking a break when I need it, and once things are settled I will go back to it all and be more reliable in what I promise.  You shouldn't feel guilty for saying no either!
Keep Your Boundaries
Don't let others make you feel guilty for needing to say no. There was a woman at my church who was due with a baby (also her fourth) a few weeks before I was. She never missed a single meeting until the week she delivered, she never had to sit down and rest, she never seemed to slow down. That was her experience. Mine was different and sometimes I did need a break or to sit down (we were volunteering in a preschool ministry so there's a lot of chasing/playing with kids). Do what is right for you and don't worry about what others are or aren't doing. Now is not the time to "Keep up with the Joneses."
Move at a Slow and Steady Pace
There are no prizes for keeping up the pace or looking like Super Mom. If you are feeling really good one day, maybe you do get up early and get a lot done — that's great! But maybe another day the kids kept you up half the night or you don't feel well and you are dead on your feet. Snuggle in, watch TV, eat easy foods for breakfast….Who cares? The most important things will still get done (caring for and loving on your family), so ignore the rest. Most of the time it will fall in between, so build in a good hour or two to get things done.  If you have several small children or are pregnant or have something else going on, it's probably not realistic to get out the door 30 minutes after waking, so don't plan on it. It's okay.
Keep Things Simple in the Kitchen
I bought a lot of fresh fruits and vegetables and no-junk cereal (something I don't typically buy) in the last weeks of pregnancy. The kids ate these and a lot of cheese. I also fried up potatoes and sausage quickly, served a lot of plain steamed veggies, pan-fried chicken breasts, etc. I often made double batches of anything I did cook, so we'd have leftovers.  Brown rice pasta was another quick favorite, sometimes served with fresh veggies and plain ground meat. I stocked my freezer about 6 weeks before my due date so that we would have food to eat after baby arrived. I used my pressure canner, too, for soups. It was not fancy. But it was reasonably healthy, and they had enough to eat.
Ask for Help
If you need someone to come watch your kids so you can shower, ask them. If you need someone to bring you a meal, ask! Many communities and churches have a way to ask for these types of things. Don't be a hero and think about how you can get along without the help. If you're in a busy season, ask for help. When you're feeling stronger again, offer to help others. (I know I often personally find excuses for why I don't "really need" help. Lots of people have it harder than I do. But still, it's okay to ask.)
Everyone has busy seasons. Sometimes they last longer than others — really, any time with mostly or entirely littles is busy! And that's okay. It's about doing what works for you and not worrying about what other families are doing.
How do you keep a routine during busy seasons?