1000th Post Party Giveaway: Wholesome Family Skin Care Gift Basket Giveaway ($140 Value)
I've talked many times about the importance of using natural skin care products, because the toxic chemicals used in conventional products absorb through the skin and into the blood stream.
Many of you have already made the switch over to name brand companies making more natural/organic products, which is fantastic. Did you know, though, that there are many smaller companies making equally amazing (and sometimes even better!) products that are completely pure, wholesome and even luxurious?
Graham Gardens is one of these diamonds in the rough. Many of you may not have heard of them (yet!), but they are a family-owned business with an extensive lineup of completely wholesome, high quality skin care products that really, truly work!
Their products are made entirely with ingredients like beeswax, organic shea butter, extra virgin olive oil, organic cocoa butter, organic jojoba oil, sweet almond oil, along with several other lovely oils, as well as herbs and essential oils. They never use cheap filler ingredients, so each and every product is 100% full of natural, effective ingredients that are completely safe and non-toxic.
They aren't listed in the Skin Deep database yet, but from what I can tell of their ingredient lists and how they rank in the database, their products would rank extremely well (with a low hazard rating). You can see the list of their ingredients here. Isn't it refreshing to find a company so upfront about their ingredients and so committed to using only the best?
They carry a wide range of lotion bars, salves, bug block (natural insect repellent!), lip balms and body oil. They have also just come out with a Grease Monkey soap for Father's Day, and I hear they're working on a line of baby products!
Today I have an absolutely incredible gift basket from Graham Gardens to giveaway. Seriously. You want to win this!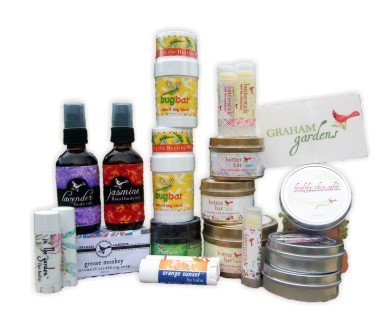 The gift basket has a value of $146! Here's what it includes:
1 Large, Sweet Butter Bar
1 Small, Fresh Butter Bar
1 Small, Natural Butter Bar
3 Buttersticks (Sweet, Fresh & Natural)
2 BugBars
1 Small Creature Comfort Salve
1 Large Healthy Skin Salve
1 Large Rugged Relief Salve
1 Large Pure Plantain Salve
2 Premium Lip Balms (Peppermint Candy & Orange Sunset)
2 Healing Lip Balms (Bright Day & In the Garden)
1 Jasmine Body Oil
1 Lavender Body Oil
1 Bar, Grease Monkey Soap
Product Inserts (Information on how best to use each product)
Handful of Yummy Earth Candies (these go in all our outgoing orders!)
Would you like to get entered to win this Graham Gardens giveaway?
Instead of leaving a comment, you can enter by clicking the link below. We're trying out something new this week where you simply complete one survey form, rather than leaving a separate comment for each entry.
Giveaway ends Thursday, June 24th. Good luck! Giveaway has now ended.