Winners of Healthy Snacks to Go Ebook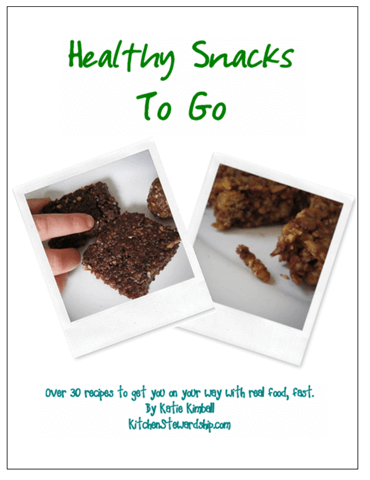 I know you've all been waiting patiently to find out the winners of the 5 copies of Healthy Snacks to Go. Here they are:
1. Lindsey (lindsey.rene.@)
"I'm so glad I stumbled across your site! It's become such a foreign and unappealing concept today for women to place such a high importance on serving their husbands, as though it makes them inferior. I'm thankful to have found someone who understands the importance of our God-given role and gifts as keepers of the home. I'm newer to the whole foods lifestyle, but am excited to keep learning from your wisdom. )"
"My biggest struggle right now is being pregnant! I get hungry often!….and don't feel like cooking…so it's easy to eat junk…except that I try not to keep it around. My options seem so limited. One can only eat so much crackers and peanut butter!"
3. Amber at Berlinswhimsy (Berlinsmith@)
"I try to have healthy snacks around for my kids and I, but I would say that my biggest challenge is continuing to make them to have on hand!"
4. RaisingZ (mrsjessika26@)
"My biggest challenge over the last 6 months of moving to a whole food diet has been the on the go snacks…..we can only eat so many muffins and cookies. I think this book might help me to get out the rest of the packaged food out of my house."
5. Kerri (kjpechin@)
"The hardest part is finding a REAL healthy recipe to begin with, and then having the time to put it together. With six kiddos, time is not abundant "
Congratulations, everyone! Katie will get in touch with you soon to get your ebooks to you!
For everyone else, make sure to grab your copy of Healthy Snacks to Go! I made yet another version of Larabars from the book tonight, and my husband said it was his favorite (he's said that with each new version I've made), which means we love this book and I think you will, too.