Limeade Popsicles: Easy and Refreshing!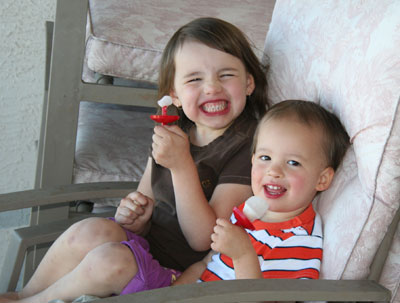 Who doesn't love limeade or lemonade in the middle of a hot, sunny day?
The other week, I picked up a bag of discounted limes from the produce market, and had sort of forgotten about them. In the midst of "one of those mornings", I decided that the kids and I just need to just stop doing our cleaning chores, have a little fun and enjoy hanging out together. I remembered the bag of limes sitting in my fridge drawer and was suddenly inspired to create a recipe for Limeade Popsicles, instead of our standard yogurt/fruit smoothie ones!
Limeade Popsicles Recipe
Ingredients
1/4

cup

fresh lime juice

1/8

cup

raw honey

or to taste, depending how sweet you like it

Enough filtered water to make 1 quart or 1 litre
Instructions
Blend ingredients together.

Pour into popsicle tray and pop the tray into the freezer. Wait impatiently for several hours. Dum, da, dum, dum...
This would have made 2 or 3 trays of popsicles, but I only have 1 tray. So… we made a tray of popsicles and Mommy enjoyed iced limeade while she blogged! 🙂 It you only have 1 tray like me, definitely cut these amounts in half or simply do as I did and drink the yummy excess.
(Or make a fun craft while you wait- we decided to make these cute and simple binoculars! The idea came from Camp WannaLaffaLotta at Life as Mom, which is a great source for fun things to do with your kids this summer!)
Enjoy! And drip sticky juice all over the patio (and kitchen floor) and do a whole lot of delightful slurping! 🙂
What types of popsicles do you enjoy making?