How I Connect with My Husband Through Love Language & Creme Brûlée
Perhaps the best gift of love is speaking the language of your loved one. Do you know your husband's love language? What's your love language?
My husband and I speak completely different languages. No, he's not speaking Klingon! Yes, lol, we both speak English, but I'm talking about a more intimate language.
For me to feel loved, I need physical touch: I need my husband to hug me and hold my hand, to rub my back or just cuddle. That's how I most feel that he loves me. It affirms to me that we are a fit, that things are great between us, that love the verb is well in place.
However, NONE of those things say to my husband that I love him. He needs words of affirmation and acts of service to know that he is loved. He needs to hear that I appreciate him and for me to tell him in words that I see all he's doing for our family. And like most men, homemade food goes a long way too! See the dessert recipe that I made for my love at the end. 😉
It's taken time for each of us to learn and understand what the other needs, but it's been a priority in our marriage to be intentional at love.
If you don't know what your significant other's love language is or if you're not sure how to 'speak' their language, I would encourage you to read The 5 Love Languages, by Gary Chapman. It might be the best Valentine's Day gift you could ever give and it will keep on giving year after year.
(And yes, this is the book that inspired us in our Christmas gift-giving adventures in the last few years!)
Some people actually speak the love language of gifts. I have a son whose love language is gifts and it's not about the cost. It can even be handmade, but the act of gift-giving, to him, is the ultimate act of love. If this is your man's love language or if you are just wanting to gift him a Valentine, here are some manly gifts to consider.
We have found that it's so easy to get caught up in our kids and businesses that we don't take the time to connect and really care for us.
The first couple of years were probably the same for you as they were for my husband and I. We were all goo-goo eyed for each other and deliberately made time to get away frequently. But routine and the busyness of life with kids got in the way and we slowly forgot. We're still lovey dovey on a daily basis (and all too frequently if you ask the kids!), but we always seem to be with the kids.
To make it even more challenging, we are a blended family so my hubby and I are both on second marriages. We understand what it feels like to have had relationships that failed and appreciate what we now have with each other. Making time and connecting is important.
Last year when we read The 5 Love Languages together, we decided to be intentional about loving each other all the time. Valentine's Day serves as a great reminder to be intentional about your love for each other. If you've gotten out of the habit, use this season of love to boost your romance and get intentional about each other all year.
Learn each other's love languages. Make time for alone time. Be intentional about loving each other.
I love dating my husband. He's quite a gentleman, plus he's smart, funny, and always up for trying something new. It's not often that it's just the two of us: we have to make it happen. So on those lucky nights, I get dressed up a little fancy. I'll put on a dress and the heels I never get to wear and attempt to do something with my hair other than my usual ponytail.
It doesn't matter if we go somewhere fancy or even if we stay home when we have the house to ourselves. The point is we make the most of our time.
The best gifts are the ones that keep on giving.
One of the best, most intentional activities we have ever done towards being intimate and showing each other love has been through massage.
My love language is physical touch and I love to hold hands and cuddle. When we first married, my husband showed me love through words of affirmation and acts of service, his love languages.
These were wonderful, but they weren't exactly filling my love tank. On the flip side, my husband wasn't quite sure what to make of my constant hand-holding and cuddling! And I wasn't filling his love tank with what he needed!
Massage has been the best of both worlds for us. It fills both the physical touch and acts of service tanks and promotes lots of good conversation! Plus, there are so many health benefits and we feel amazing after a wonderful massage.
Feel like you couldn't give a good massage? That was me!
Before Melt, my husband wasn't quite sure where to start and he would use a bit too much of his muscle for my comfort. And my hands would hurt after just five minutes, but now I am married to quite a skillful masseuse and I know the proper technique to giving a lengthy massage that makes him melt! Pair these skills with the wonderful intimacy of your marriage and the experience is sure to be one you won't forget!
When we were first introduced to the Melt video series I was sure it was going to be something sketchy that might be embarrassing and uncomfortable to watch. I was genuinely surprised and pleased to find that it was far from that. The videos are very classy and tastefully done in a way that allows you to be comfortable and teachable so that you can learn how to give the most amazing massages right in your own home.
We felt a little silly at first, but that just added to the fun! Now that we have practiced a few times we are able to fully relax under each others hands and enjoy the benefits of the learned techniques and the intimacy it has brought. There are some amazing benefits to speaking each others' love languages!!

Because I can't resist sharing, here's a favorite recipe that I made for my hubby, it's sure to light up your night together.
Tip: Let him melt the sugar. 🙂
It's a dessert with benefits and made with love. Go ahead and print it out: it's easy and you probably already have most of the ingredients on hand!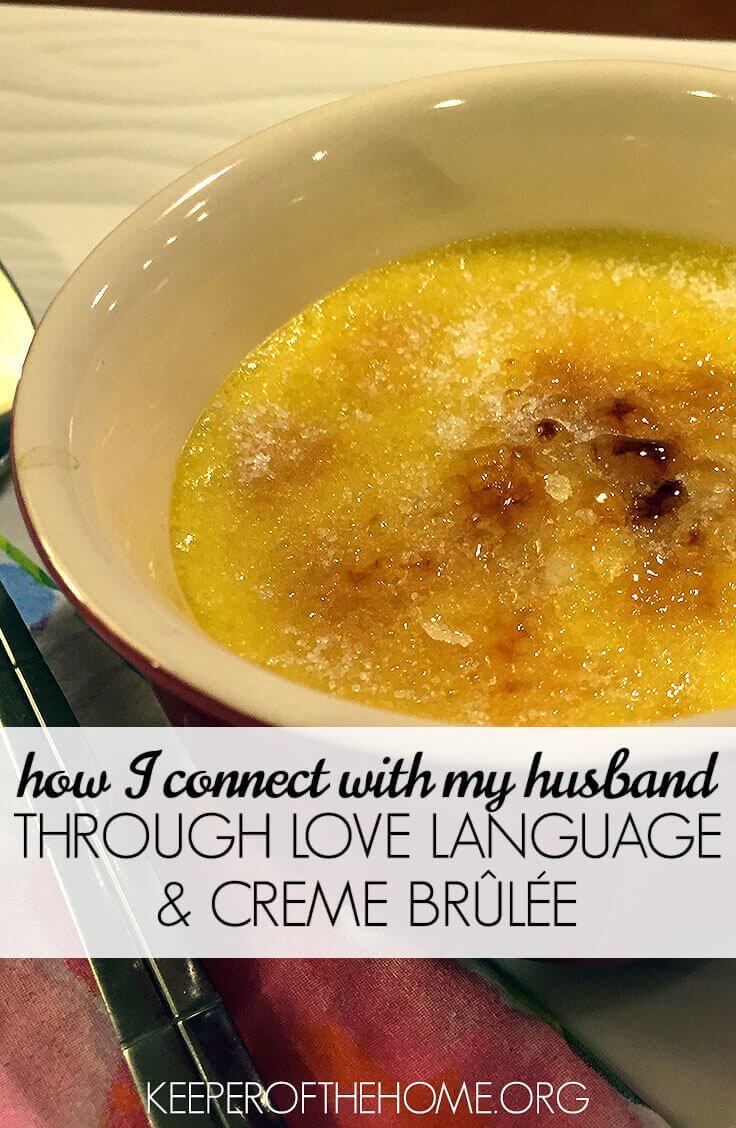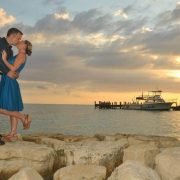 Print Recipe
"Set the Night On Fire" Creme Brûlée (For Two)
Ingredients
3

eggs

yolks only (farm fresh is packed with benefits, if you have access)

1

cup

of cream

raw for benefits of good bacteria and digestive enzymes!

1/4

cup

pure maple syrup

packs a ton of antioxidants (I'm super lucky to have a local sugar bush)

1/2

tsp

vanilla

pinch

of salt

sugar for topping

my favorite comes from the same sugar bush, maple sugar!
Instructions
Preheat oven to 300 degrees. Mix all ingredients together.

Strain custard mixture through a fine mesh sieve (see above if you don't have a sieve).

Pour custard into ramekins.

Set ramekins in a glass baking dish and add water to baking dish until water comes halfway up the ramekins sides.

Bake 1 hour or until custard is set.

Remove from glass baking dish and cool to touch.

Place ramekins in fridge to chill minimum 2 hours. I recommend making a day ahead.

minutes before serving, add sugar to top and let your man caramelize with culinary torch (or long handled lighter). 😉

Let sit 5 minutes.

ENJOY!
If you think you might make this recipe make sure you have on hand:
-a fine mesh sieve or if not you could try coffee filters in a strainer (that's what I did!) or cheesecloth or you can get a set of three from Amazon for less than ten bucks.
– a culinary torch or you can get a whole creme brûlée set (including the ramekins! if you want to be really fancy and impress your man. I just used a long-handled lighter that I already had, it took longer, but it worked!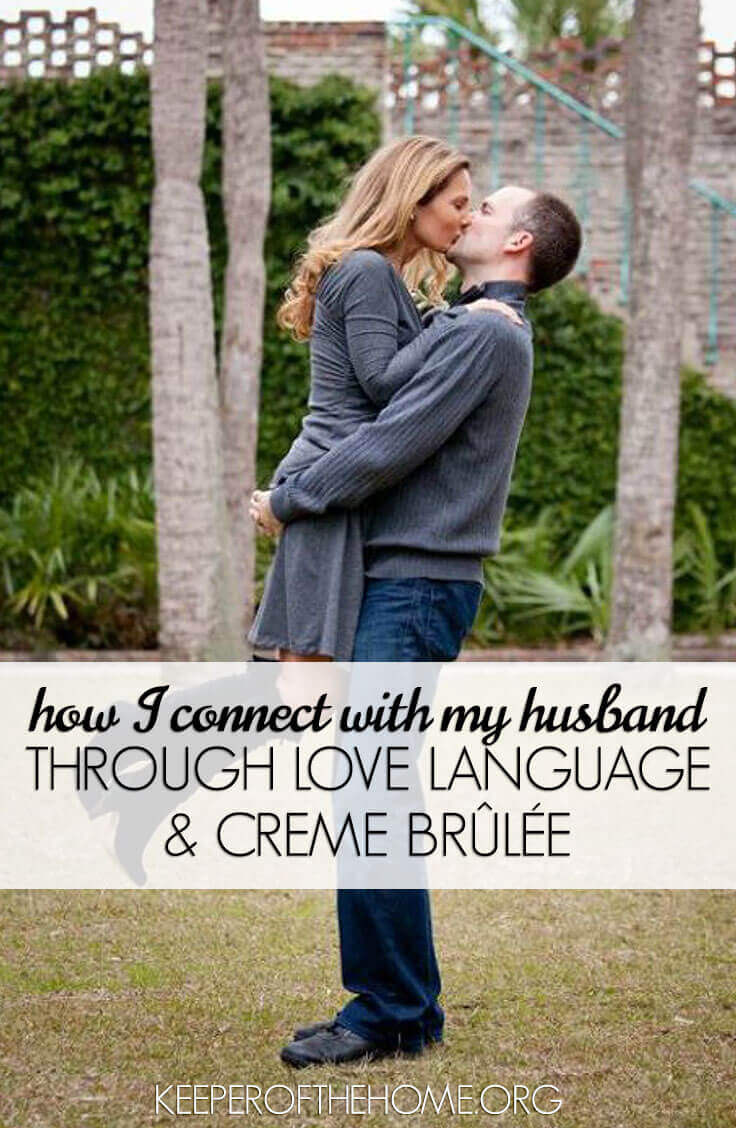 How do you connect with your husband? Have any tips or ideas to share?
*Affiliate Disclosure – I love these products, both The 5 Love Languages and Melt Massage so much that I have been wanting to share them with you for some time. They have both made such an incredible difference in our marriage that I have been wanting to share and what better time than now? Whether you celebrate Valentine's Day or roll your eyes at all of the fuss, there is no better time than the present to say "I love you" and start being intentional about it! Happy lovemaking! 😉