Simple Freezer Cooking for the Freezer Cooking Failure
Here's how you can use freezer cooking to reduce meal prep time, without spending extra hours in the kitchen. It will also save your sanity, time and money!
By Meg Bateman, Contributing Writer
I'm going to come right out and say it – I'm a horrible freezer cooker.
I've tried many many times to put together several full meals and freeze them, but they honestly never got much further from being aspirational. Well, I was successful getting full meals into the freezer a few times – but then got discouraged when a few bags would get the tiniest of holes and leak all over the place in my meat drawer.
However – I did finally figure out a form of freezer cooking that still allows me to save time in the kitchen, money by buying in bulk, and my sanity with no more messes in the fridge! My simple freezer cooking method has greatly reduced my meal prep time by allowing me to get key elements of recipes done in advance without any stress.
Here's how it happened. I'm slightly obsessed with Julie & Julia, the movie based on the book about a woman who cooks through Julia Child's cookbook in a year. Julie talked about reading a collection of letters between Julia and her pen pal – so I just had to read that book too! In one of the letters, Julia shares what is probably the first ever modern-day freezer cooking trick…
Freezing mirepoix!
What's mirepoix? It's basically the base of soups and sauces we all use – but probably don't realize it's a "thing" – onions, celery, and carrots! As soon as I read that, I started to make triple the amount needed for a batch of soup, and freezing the other two portions for later.
What?? That's right – I NEVER load up my cart at Costco and spend an entire day just chopping, cooking, and freezing – yet at least half of our meals have some sort of "freezer cooking" component to them. We still buy in bulk – but not enough to last an entire month – just enough for me to be able to cook or put up before the food goes bad.
The Basic Method
Prepare your favorite meal or side dish.
Make extra of whatever components will freeze well.
Freeze.
It goes so far beyond mirepoix – no need to buy three Costco bags of cauliflower with the aspiration that you'll process it all into cauliflower rice and freeze. Just buy a little extra, and when you're making enough for a meal – toss in the extra and freeze it for later.
Here are some ideas:
Bone broth
Kitchen scraps for bone broth – celery ends, onion skins
Veggies for stews and soups
Fillings for things like stuffed bell peppers, meatloaf
Browned vermicelli for pilaf (I learned this trick in high school from a close Armenian family!)
Mashed potatoes or cauliflower
Quiche or frittata filling (really! you can freeze eggs and all the bits – or just freeze the ingredients without the eggs)
Any veggies that go into a slow cooker or pressure cooker meal
Leftovers of soups and stews for future meals
By freezing extras as I go about our usual cooking, I'm constantly replenishing the freezer without spending much extra time cooking. I can go about my usual soup-making ritual and put up bone broth for other recipes, mirepoix for more soup, veggies for a second batch of soup, and leftover blocks of soup and stews for lunches.
Examples from this week
This week I've made several things that use components I can freeze for future meals. Our freezer was pretty bare, so most of this was from scratch.
Albondigas Soup – mirepoix, veggies, and meatballs can all be made and frozen for future batches. I cook the mirepoix and meatballs for freezing, but leave the veggies (like zucchini) raw.
Meatloaf – since we're grain-free, I use celery, onion, and bell pepper diced finely for the filling – so I double the veggies and freeze the extra for a second meal.
Mashed Cauliflower – I make double and freeze in a mini-loaf pan for later.
Slow Roasted Chickens – I made two chickens and froze half the meat for other meals.
Bone Broth – I used frozen kitchen scraps (onion skins and celery ends) to make this with the roasted chicken carcasses, and then froze the broth into cubes and mini-loaves for other meals.
Creamy Leek Soup – I made double and froze the leftovers into mini-loaves for future no-cook meals.
Cauliflower "Rice Pilaf" – I had the "rice" mixed with diced onion ready in the freezer from a previous batch. I just roasted it in the oven with 2 tablespoons of chicken fat I had frozen from a previous batch of bone broth made from roasted chickens.
Breakfast Sausage Meatloaf – I flash-freeze the cooked slices to pan-fry on the mornings I want this for breakfast. It's MUCH easier than making patties!
Helpful tools
There are a few things that help keep my sanity when it comes to doing this freezer cooking to reduce meal prep method – silicone baking trays and large ice cube trays!
I started with 2×2 cubes for bone broth and mirepoix, and branched out to mini-loaf trays for soups and other liquids. I prefer to freeze things in these trays then move them to freezer bags because there's less chance for the Ziploc bags to get a small knick and leak, and it's easier to grab only what I need instead of thawing a big bag only to use a third of it. Plus, they're easier to organize in the freezer!
Just as important as those silicone trays – the humble baking sheet is another favorite! I use baking sheets to flash freeze things like slices of breakfast sausage meatloaf or anything I don't want to clump together in a bag. Once the items are flash frozen, I just dump them into a freezer bag and they're good to go in the freezer!
I also alternate between using baking sheets and plastic cutting boards for giving a sturdy bottom to those silicone baking trays. The 2×2 cubes hold their own – but larger ones, like the mini-loaves or 9×9, need something stable under them to move to the freezer from the counter.
My one indulgence for this method of freezer cooking has been my FoodSaver – my husband Jeff got it for me for Christmas, because I've wanted one for years to preserve meats from his hunting trips. The bags are thicker and hold up better than freezer Ziplocs, so they're less likely to burst and leak all over your fridge.
I use 2×4 labels to clearly mark what's in what bag, how much, and when I put it up in the freezer. So far my favorite use for it has been to vacuum seal soup and stew leftovers – the 11" bags fit a frozen 9×9 block of stew perfectly!
Go forth and freeze!
I hope this freezer cooking to reduce meal prep method helps my fellow freezer cooking failures save time in the kitchen. It's important to remember what works for one woman, doesn't work for all. Figure out what "system" works best for you – and embrace it! Otherwise you're just wasting time trying to make someone else's method work for you.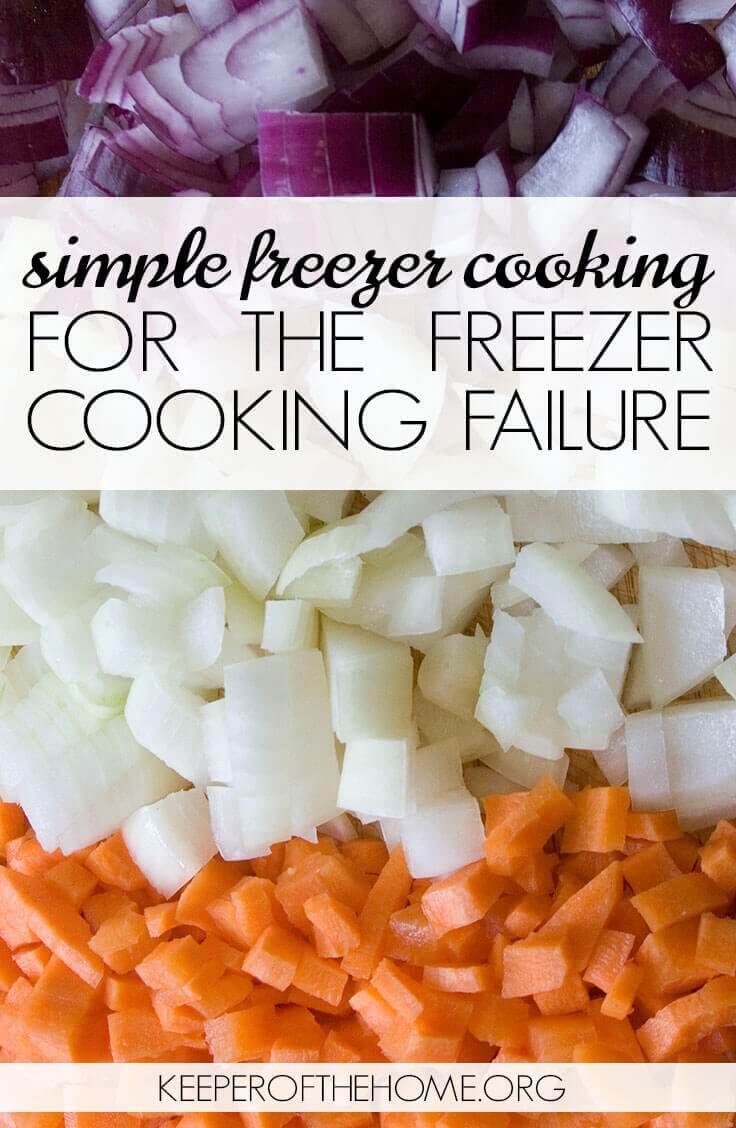 When you use freezer cooking to reduce meal prep, what are the secrets to your success?
Disclosure: This post contains affiliate links. When you buy through our links, we earn a small commission, which helps to keep this site going so that we can continue to offer free and useful content, so thanks!