I love having kids and being a wife and mom. It's the best job I've ever had. But around this time of year, when I have to start thinking about Christmas seriously, I am sometimes tempted to run and hide. Buying gifts for teens is surprisingly HARD! And then multiply it by 6 and you have a sense of what I'm looking at!
You'd think they would each have a list a mile long, but sometimes we have to pull ideas out of them like pulling teeth. Especially the boys.
But what about teaching your children to give good and thoughtful gifts? This is something Mark and I are learning to be very intentional about.
Over the years our approach to Christmas and gift-giving has helped me to learn more about my kiddos, and it has helped them learn more about each other. Our approach has also taught them to pay attention to others and to be creative with gifts.
In our house we have started to focus on giving and our teens make their gifts, put them together, or even shop at flea markets or secondhand shops for neat things.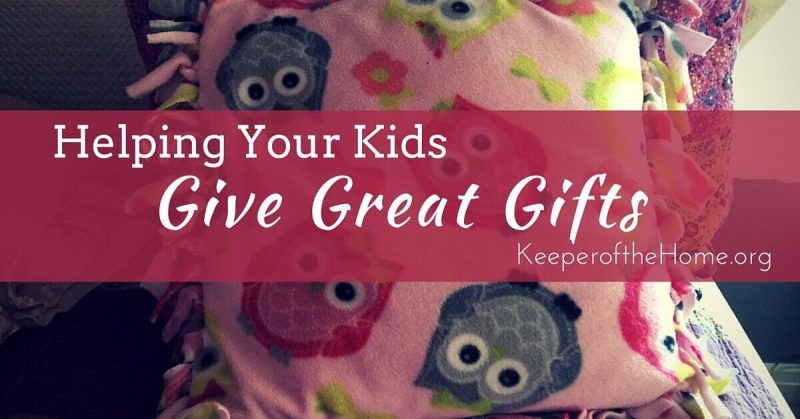 A realization
Three years ago, we realized that Christmas morning was over. We looked around. There were a bunch of gifts, a bunch of boxes, a bunch of paper.
Somehow, the whole experience just felt a bit empty. And it had lasted for what felt like only a few minutes.
The kids weren't really playing with their gifts. They weren't that excited about their gifts once they opened them. We walked away that morning feeling like we hadn't achieved the Christmas experience we had hoped for and that we all deserved.
We certainly didn't have Christ at the center of our experience that day.
Mark and I knew we could do much better for our family. The realization sank in that Christmas had become totally commercialized for us.
Millions of families experience the same thing on Christmas morning. It's a frenzy of unwrapping gifts. Wrapping paper and boxes everywhere. Then everyone goes their separate ways to their rooms. And we are left feeling bereft of the cozy family morning that we imagined and hoped it would be.
Starting a change
When we realized how much money had been spent and that it felt like it was over in 30 seconds, we decided we needed a change.
The next year, we gave our kids notice two months in advance that we were not buying them anything for Christmas. Once we revived them from the shock, we talked with them about how commercialized it had felt the previous year.
We then explained that they had to make each of the gifts they would be giving.
We thought if they made the gifts themselves, with their own hands, the gifts would be made with love and given with love. If they put their own energy and time into making the gifts, it would be more meaningful to give them … and hopefully, it would also be more meaningful to receive them from each other.
Overall, it went pretty well. On the morning of gift-giving, it was a much slower process. Each child wanted their chance to present their gifts. They had put time and a lot of thought into the gifts they gave. Most of them even shared an explanation as to why they chose to make what they did for each sibling.
A lot of love was given and felt that Christmas morning.
Gifts from their hearts
We spent very little money that year, but the enjoyment, pleasure, and gratification was so much higher. The experience lasted throughout the day as the kids kept talking about their projects, how they came up with them, how they made them, and how they kept it a secret! Because they made the gifts from their hearts, the gifts they gave were filled with love, love that was totally felt by the recipients. We felt like we were so close to the real meaning of Christmas.
Last fall, in a desire to learn more about ourselves and each other, Mark had each of us take a test to determine what our love language was. We then had to present what we learned about ourselves to the family at one of our family meetings. I think the kids were all surprised that each of them had different love languages. I don't think they realized that people love differently.
When they learned that each one of them experiences love in a different way, they embraced it. Because of that experience, our gift-giving last year was based all around their love languages.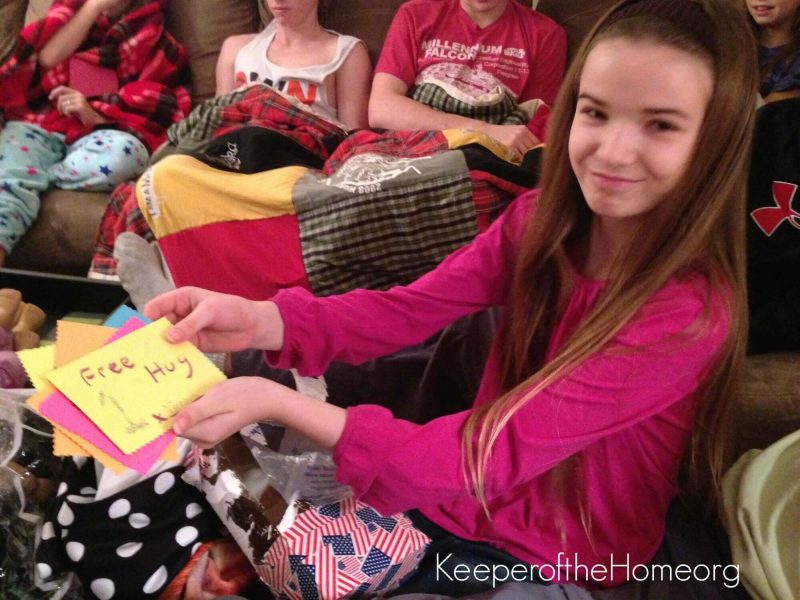 At Christmas, she was thrilled to receive hug certificates!
For example, the siblings who had the love language of acts of service received coupons for service acts, such as a taking care of a chore for their pet. One of them even cleaned out horse stalls for their sister. Another child's love language was physical touch, and they received hug coupons. (That was my favorite!)
Some of the coolest gifts were the letters and poems written to the children who had words of affirmation as their love language. The poem was actually framed, too.
We experienced even more of the spirit of Christmas that year.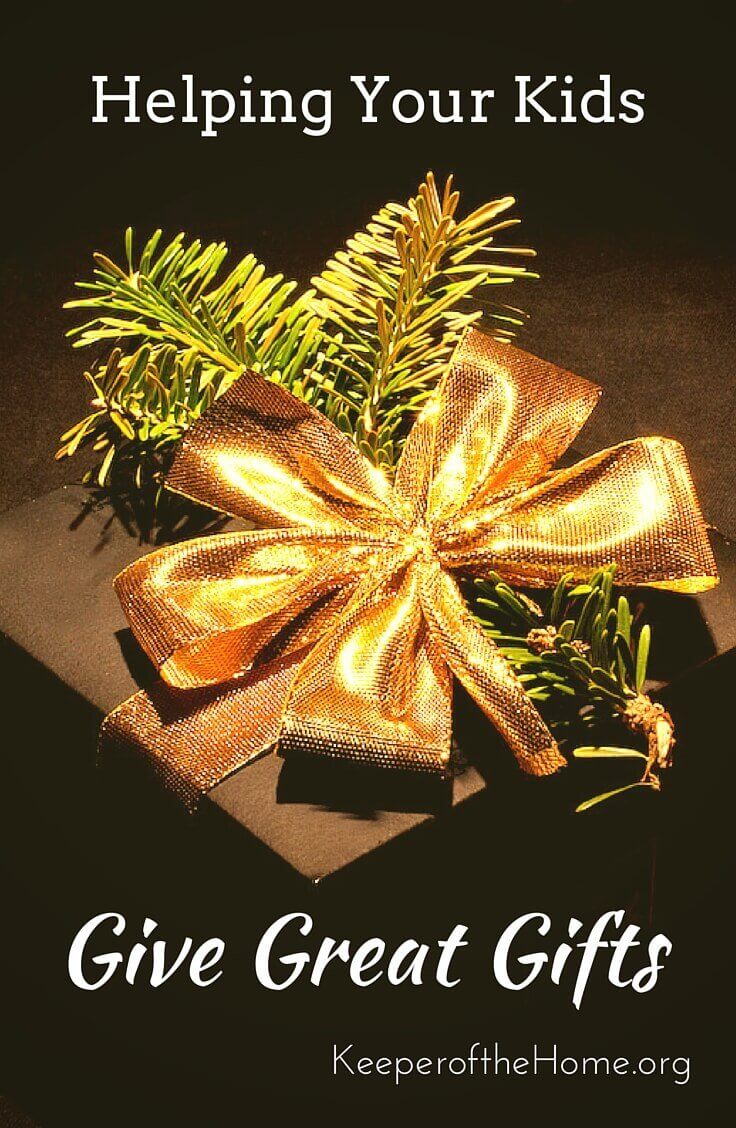 The wisdom of budgeting
This year, we are going to try something different yet again. Because we took out the commercialization piece over the last few years, none of our kiddos have an expectation of receiving lavish, big, or many gifts. This year, we're giving the kids a budget, and based on what they know about their siblings and their love languages, they can either purchase an item or supplies to make a gift that will be appropriate for that sibling.
Some of the kids have been asking for craft supplies, because they think they can extend their budget by making gifts (and even adding their own money, in some cases!). And they enjoyed it the previous years.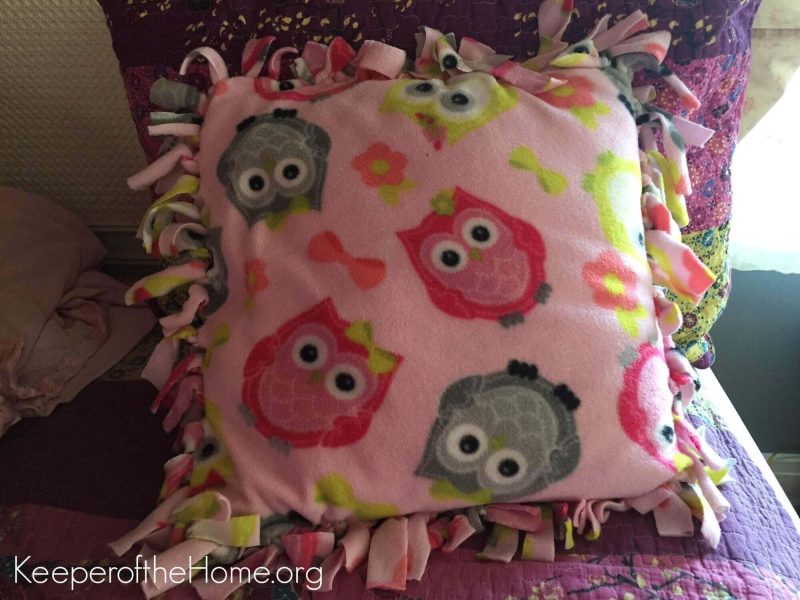 This is a pillow our youngest daughter made.
Part of what we are teaching them this Christmas is to budget and spend wisely as they are getting older. One of the kids is planning to go to flea markets to find the right gifts. He's going to spend a lot of his time doing this, but he's probably going to come up with neat gifts that won't cost a lot of money but that will be meaningful to the recipients.
We also want to add an element of health this year. We want to give them gifts that will help promote healthy living. When I received some Diffusing Mama necklaces for a review and giveaway we are doing soon (spoiler alert), three of my teens immediately wanted to try them out — including one of my boys (there was a soccer ball, and he tried to claim it). They're requesting certain ones, like one with a cat and one with a horse, and they keep trying to borrow mine.
Winter in Indiana means dry skin, so I'll be making some hard hand lotion in some small tins I purchased. I'll use beeswax, tea tree oil, and coconut oil, along with whatever scent is appropriate for each individual person.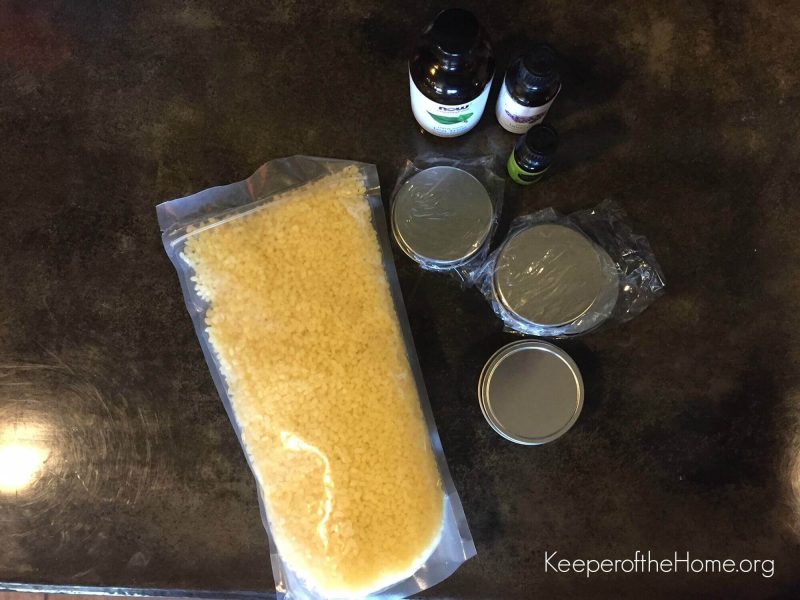 These are the materials I'll be using for the hard lotion: beeswax, tea tree oil, lavender, and peppermint.
My girls are also begging for this milk bath in a bag. At under $10, it's a great gift for many people who might be on your list too.
We are looking forward to having a very fun, meaningful Christmas, in part because it will promote the overall health and happiness of our family, but also because we will have love — Christ himself — at the center of it as we give gifts and remember the individual child who's both receiving and giving.
How do you encourage giving in your family around Christmas? What do you do when helping your kids give great gifts?
For further reading: