What Our Children Are Teaching Us About Being Givers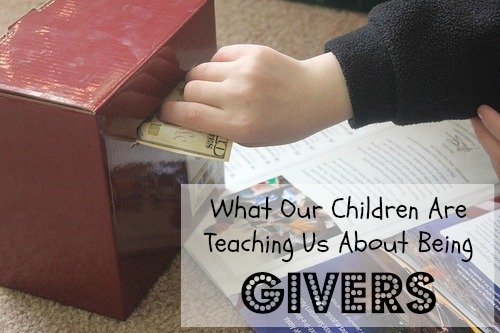 By Crystal Paine, Contributing Writer
Ten years ago, when my husband and I were first married, frugality was a must. If we didn't pinch pennies, we couldn't survive — or at least not without racking up a serious amount of debt and financial trouble down the road.
So we pinched pennies, did without, and prayed that we'd make it until the next paycheck came in. Times were lean, but God was always faithful.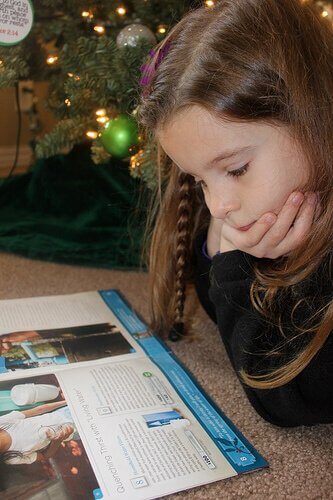 As our income increased, there was the temptation to also increase our standard of living. However, after years of doing without, we found that we were content with living simply.
In addition, frugality has become a means to an end for us. We don't have to pinch pennies anymore, but we continue to choose to live on a strict budget because by stewarding our money well, we're in a position to give to others. The less we spend on ourselves, the more we have to share with others.
Most of all, we've found there is so much blessing in living a life with outstretched arms. When you allow God to pour through you to others — without holding back — He just continues to pour His blessings through you. Truly, you can't outgive God!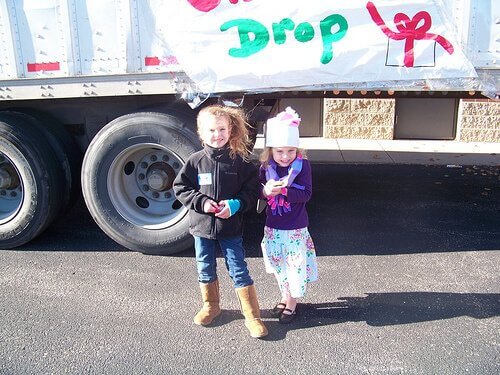 We've sought to model giving before our children, encouraging them from a young age to earn money so they can pay cash for things they want, as well as have money to give to our local church, to those in need, and to bless others with gifts.
We weren't sure if all of our teaching was really sinking in until last year when we were blown away when our then six-year-old daughter said she wanted to invest all of her savings to put together 10 Operation Christmas Child boxes. It was such a joy to see her find so much fulfillment in giving her money away to bless others. And her selfless spirit challenged and convicted us!
This fall, as we were discussing the possibility of what giving project we wanted to do as a family, my daughters hatched a plan — all on their own — to fund a project through Samaritan's Purse. They looked through the Samaritan's Purse Gift Catalog and debated which of the giving opportunities would have the most lasting impact.
After some discussion and number-crunching, they came to us and presented their idea for our family to fund a water project. They created a box to put the money in and they told us that they'd pooled their money and were going to donate pretty much all of their savings, but that they'd need our help to pull off the project.
What could we say? We were dumbfounded and touched at their giving spirits. And, of course, we eagerly agreed to participate.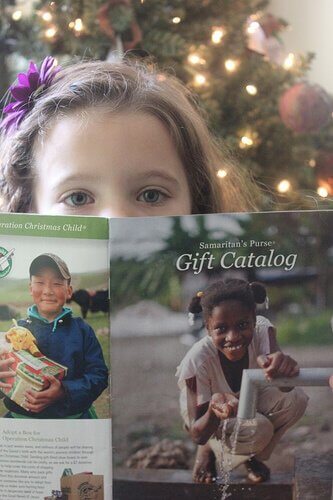 Every week, Jesse and I would contribute from our cash envelopes, whatever extras we could come up with after paying for the necessary expenses. And each week, the girls did extra chores and collected their coins to put into the Water Project Box.
Once a week, they'd dump out all the cash and count it to see how close were to being able to fund the water project. We had so much fun watching them get all excited as we inched closer and closer to our goal. And we were continually inspired to look for additional cash we could set aside for this project.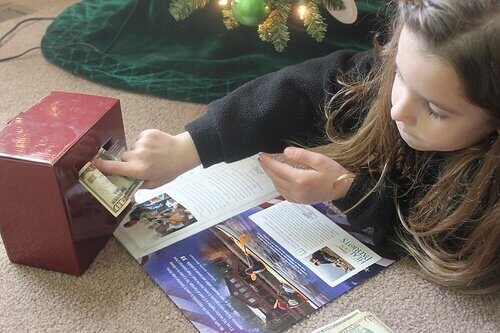 A few days ago, we sat down and counted all of the money and had enough to fund the water project, plus some extras to buy a few flocks of chickens, too. Our children are absolutely ecstatic about this and keep talking about how these things are going to directly impact the lives of families (and maybe a whole village!) somewhere in the world.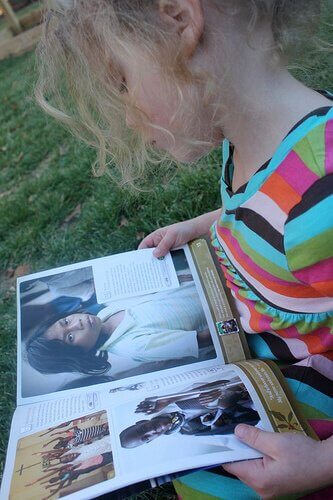 I share all of this not to hold ourselves up as some perfect examples. We're far from that! Our children (and us!) still have the case of the "gimmes" on a regular basis. There are times when giving up things we want is hard. There are also times when sticking to a budget isn't glamorous or fun.
But we're learning, together as a family, that it is truly more blessed to give than to receive. We want to live that out — not just at Christmastime — but every single day.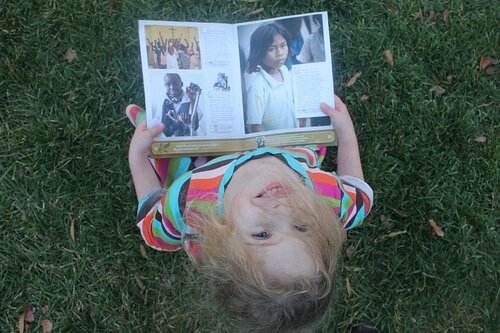 What have your children taught you about being givers?