Naturally Sweetened Chewy Molasses Cookies
It's that time of year where the warmth of my oven brings forth sweet treats and smiling faces.  
My boys and I, coated in flour, sugar and everything sticky, find delight in baking holiday treats. Of course we have our traditional favorites like polvorones, bunuelos, and turron de navidad that my boys always seem to ask for as soon as large snowflakes turn to blankets of snow.
Besides our traditional favorites, we also spend time making buttered sugar cookies to ice and to decorate, along with a gingerbread house that is lifted then eaten – they never do last long.
It's a sweet, sweet time of year where a simple treat can form memories and tradition and is absolutely magical to our wee ones. I enjoy this time with my children – seeing their faces light up at the sight of a risen cookie or the intent look in their eyes as they carefully place their gum drops in just the right spot of their gingerbread house.
It's this special time of year and the joy that I find in baking with my children that I found my inspiration to write my first eBook, Nourishing Cookies for a Healthy Holiday. It has some of my family's traditional recipes along with some of my favorite holiday cookie recipes like this naturally sweetened chewy molasses cookie.
Naturally Sweetened Chewy Molasses Cookies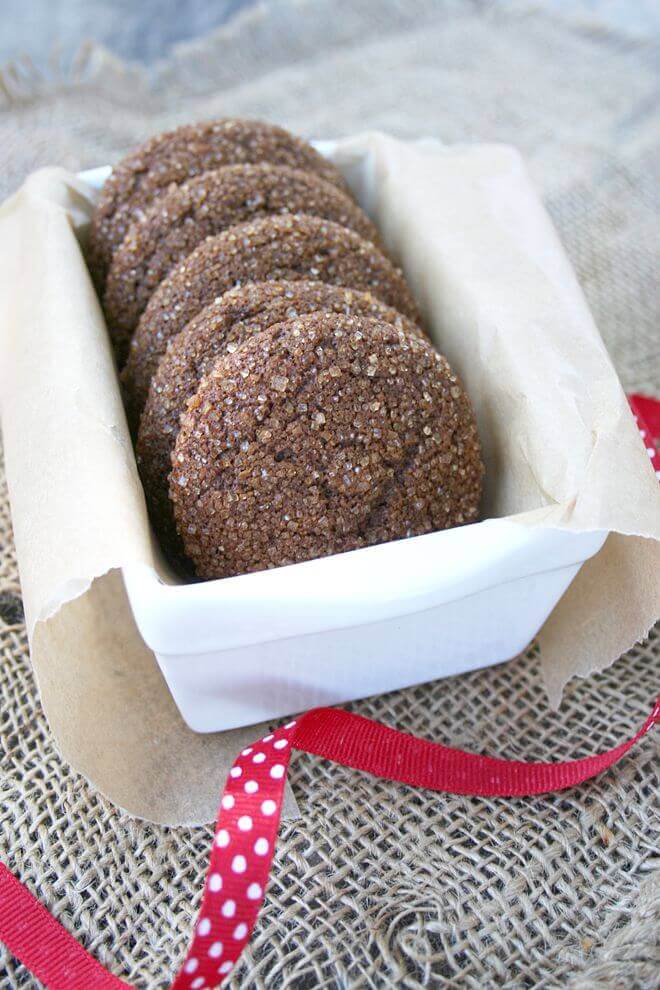 When I bake holiday treats, I enjoy using natural sweeteners as they taste just as great as regular sugar but have nutritional benefits, such as added minerals and vitamins. In my eBook, I give a simple introduction to natural sweeteners that will give you a better understanding of all the different varieties of whole, unrefined sugar.
These cookies have the spices of cloves and ginger and are sweetened with molasses and honey. They are soft and chewy and stay moist for days.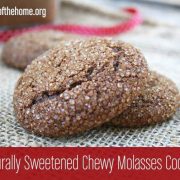 Print Recipe
Chewy Molasses Cookies Recipe
Ingredients
Instructions
In a medium sized bowl, whisk together the flour, baking soda, ground cinnamon, ground cloves, ground ginger, and salt; set aside.

In the bowl of a stand mixer fitted with the paddle attachment, cream together at medium speed the butter, honey, and molasses until light and fluffy; about 3 minutes.

Add the eggs, one at a time, mixing for about 30 seconds each.

Lower the stand mixer speed to slow and incorporate the flour mixture, 1/2 cup at a time, until just combined. Do not overbeat.

Cover the bowl with plastic wrap and chill the dough for at least 4 hours or preferably overnight.

Preheat the oven to 375F and line a baking sheet with parchment paper. Place the turbinado sugar into a bowl.

Roll the cookie dough between your hands into 1" balls. Roll the balls into the turbinado sugar and place on top of the parchment lined cookie sheet, 12 cookies at a time.

Bake for 8-10 minutes. Allow to cool on the baking sheet for a minute or two before transferring to a wire rack to cool completely.
Learning to bake with natural sweeteners takes a bit of time to learn especially if you're starting on a real food journey. I know for me, it was difficult to grasp at first but know that I've transitioned, I can't imagine using refined sweeteners.
Can I ask you? Are you desiring to start feeding your family real, whole foods, but just don't know where to start? Do you wish to cut out processed foods but think the task of switching to foods made from scratch takes too much time or is simply too expensive.
So tell me, what are your favorite naturally-sweetened holiday treats?