Always trying to find new ways to get more nturient-dense foods into my family, I stumbled upon this idea a while back and it has proven to be a winner!
The original recipe came from a fundraiser cookbook put together by my Nana's Sons of Norway group. I've taken that recipe and given it a few "real food" tweaks and we just love it.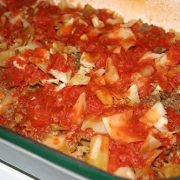 Print Recipe
Cabbage Roll Casserole Recipe
Ingredients
1

lb

ground beef

and if you like, a bit of extra ground liver- see below

3

garlic cloves

minced

1

medium onion

chopped

1

egg

beaten

1-2

cups

cooked brown rice

optional

2

cans/jars

pint or 398 ml tomato sauce, or 1 of sauce and 1 of diced tomatoes

1

small

5.5 oz can tomato paste

1/3

cup

apple cider vinegar

1

Tbsp

raw honey

1/2

tsp

salt

1/4

tsp

pepper

Dash of chili or cayenne pepper

8

cups

coarsely chopped cabbage
Instructions
Preheat oven to 350 degrees.

Fry up the ground beef with a bit of oil, the onions and the garlic. Personally, I like to add a bit of ground liver to this dish as well. You can't even notice it's in there. I pre-cook mine and store it in 1/2 cup amounts in the freezer. Yes, the L is for liver. 🙂

If you're adding rice, mix it in with the beef/onion/garlic mixture now (we leave it out since we're grain free right now, and it turns out just fine without it, but rice is a frugal and nutritious filler, tastes great and would help to make this meal stretch further). Add one beaten egg to the mixture and combine well.

In a bowl or pot, combine tomato sauce (and canned tomatoes, if using) and tomato paste. Stir in apple cider vinegar, honey, salt, pepper and chili or cayenne.

Chop about 8 cups of cabbage coarsely. I find that this is about 1/2 to 2/3 of a large cabbage. I like using green, but purple would be just fine, too.

In a large casserole dish, begin to layer- cabbage on bottom, meat/rice mixture, then drizzle with tomato sauce. Repeat all layers a second time. End with an extra layer of cabbage and sauce on the top.

Cover and bake at 350 for about 1 hour.
You could also add a cup of shredded cheese sprinkled on top. Add the cheese after the casserole is finished cooking and put it back in the oven just for 5 minutes or so, long enough to get the cheese hot and melted.
Serve as is, or top with a dollop of sour cream or creme fraiche. This also makes a nice "sloppy joe" type filling in sandwiches. More commonly, we just eat it as a casserole, along with a slice of homemade bread and butter.
What is your favorite way to serve cabbage?