Green Tomatoes, Mincemeat and Ingenuity: Why I'm Grateful for the Women Who Have Gone Before Me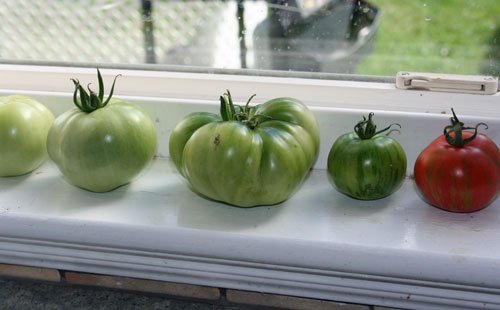 This week I breathed a sigh of thankfulness that I have read the Little House on the Prairie series. That Caroline Ingalls was a wonder, as were so many of the inspiringly creative and brilliant pioneering women who came before us!
Due to poor supports (a lack of foresight on my part), a heavy load of tomatoes and then a rainy downpour, 5 of my tomato plants collapsed the other week. I went outside to my garden after the storm to find them all alive, but in a big, wet heap.
Wet Plants + No Room For Air Circulation = Disease
It's an unfortunate equation, but it's true, as most gardeners can attest to. In my case, my lovely tomato plants succumbed to deadly blight. Even though I picked them all green, brought them inside and wiped them off as well as I could, the blight continued to spread and the tomatoes continued to die. It was painful. A summer's worth of effort and love, and I sat there helpless, watching it go in the compost heap.
And then I remembered… Ma Ingalls and her ingenius "apple" pie. During yet another year in another new homestead, the family had little to show as far as garden harvest, and the green pumpkins showed little sign of ripening. Not one to waste or let a difficulty beat her, Ma decided to turn those green pumpkins into food for her family. She came up with the idea of slicing them, covering them with pie spices, and baking them into an "apple" pie her family raved about.
If she could make apple pie out of unripe pumpkins, then surely I could find a way to save my green tomato harvest. So I began looking through my books… The Little House Cookbook (yes, such a thing exists, and I love it!), Putting Food By, and Preserving Food without Freezing or Canning.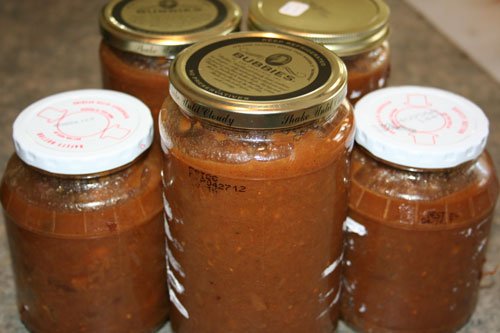 Between them all, I came up with a recipe for Green Tomato Mincemeat (minus the meat), using my tomatoes, a bag of free crab apples my Dad brought from his backyard, beef tallow, vinegar, lemon juice, sugar, spices, etc. I made up a large batch and canned it according to the non-canning guidelines of Preserving Food without Freezing or Canning.
The vinegar and sugar should preserve it just fine. I made 8 pints, which will make us quite a few mincemeat pies or many batches of tarts.
Truthfully, I've never made mincemeat before, and I'm actually not sure that I've ever eaten it, either. My little taste tests while it was simmering told me that it was delicious, though. I was just so grateful to have found a way to save at least some of my tomatoes!
I'm learning to put aside my pickiness and take advantage of the food made available to me, even when it seems easier or more appealing to just allow it to go to waste. Last year it was ruined sweet pickles becoming relish; this year I found a way for us to eat green tomatoes. Who knows what's next!
I'm certain that many of you have gotten creative and found ways to preserve food that would have otherwise gone to waste.
I would LOVE to hear your stories, ideas or recipes for saving food to feed to your families!
**Planning to do some preserving? Need some ideas for how to put away some summer bounty? Take a look through the Real Food Preserve-Till-You-Drop roundup of recipes, links and tutorials for all methods of preserving!**