Grain Free Granola: Super Easy, Use What You Have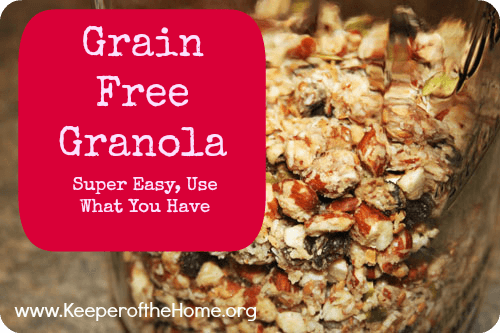 Homemade granola and yogurt with fresh berries is almost perfection-in-a-bowl for me.
During a grain-free stint we did earlier this summer, I quickly realized that I needed an alternative to eggs or breakfast meat or plain yogurt (without grains, breakfast can get boring fast). Could granola still be filling and tasty without the ever-present oat?
To my delight, I realized it could indeed. In fact, I appreciate this granola more in a sense. It's a bit heartier than a regular granola because it packs such a protein and good fat filled punch. That means that I'm content to put a handful on a large bowl of yogurt and I find it very satisfying.
Even better, I can whip this up in literally 5 minutes.
If you had a bird's eye view into my kitchen, you would see that I'm a rebel cook and I prefer to function without measuring cups. I take a bowl, huck a bunch of yummy ingredients into it, stir, and cook. Done. But if that was the recipe I gave you, I may be booed off of Pinterest.
So, here goes… I don't measure very precisely, but I'm going to attempt to give you measurements. The great thing about not measuring too particularly is that you can adapt, adjust and play around. Cooking should be more of an art than a science, anyways. Free free to use what you have to make this work. Try new flavor combinations. Keep it simple when you just need to whip something up fast.
Ingredients You'll Need for Your Grain Free Granola
This isn't a set list, but rather a group of ingredients that I choose from, depending on what I have in the house and what sounds good to me:
almonds
walnut pieces
chopped pecans
sunflower seeds
pumpkin seeds
flax seeds
chia seeds
sesame seeds
dried unsweetened coconut flakes
dried fruit– raisins or currants, or chop up something like apricots, cherries, or mango
your choice of oil and liquid sweetener (more on this below)
Remember that with nuts and seeds, it's best to soak them overnight in a slightly salty water solution, then dry or dehydrate them. This reduces the amount of enzyme inhibitors that they contain, which impair digestion and can make nuts hard on the gut.
I make this a simple process by buying my nuts and seeds in bulk, and soaking several kinds at once. I set out a bunch of bowls on my counter, dump in the various nuts and seeds, fill with warm water and a bit of sea salt, then leave overnight. The next day at some point, I drain them and stick them in my dehydrator for about a day on a low temperature (below 115 F). It honestly doesn't take much effort, and then I have all of my nuts and seeds ready to use whenever I want them.
If you consider it in ratios, you want to have about: 
2 parts nuts (this can include several kinds)
1 part seeds (again, more than one type is fine)
1 part dried coconut flakes (if you like- optional)
1 part dried fruit (single type or mixed is fine)
1 part oil/honey mixture
pinch of sea salt (could go up to 1/4 tsp or slightly more, depending how big your batch is. Go easy the first time or two that you make it so that you don't over-salt)
a splash of real vanilla
For the oil and sweetener mixture, I personally like either: 
1/2 raw honey OR 1/2 maple syrup
WITH
1/2 coconut oil
You could also substitute butter for a wonderful, caramelly flavor, but I use coconut oil to keep it dairy free for one of my little girls.
If you're using a cup for your ratio, you would use 1/2 cup honey and 1/2 cup coconut oil, for example, mixed in with about 4 parts of dry ingredients. To make a large batch, simply double or triple as necessary.
I have also tried using a bit less raw honey and sweetening in part with liquid stevia, to keep the sugar content lower. I honestly can't remember exactly what ratio I did (I probably used only 1/2 or 2/3 the usual honey and then about 15-20 drops of Nu Naturals stevia) and it was still just fine.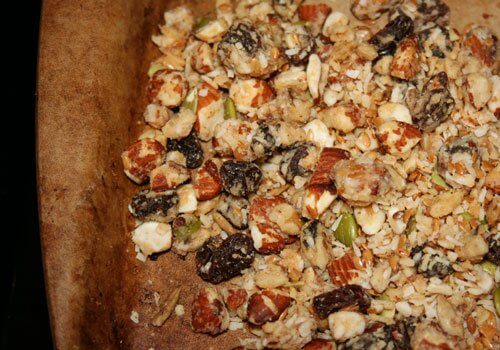 The Oh-So-Intricate Method
1. Pre-heat oven to 325 F.
2. Start by putting a small pot on low-med heat, and adding your honey or maple syrup (or stevia) and oil/butter. You just want it all melted and easy to mix in, but it doesn't need to be cooked at all.
3. I add any harder nuts (like almonds) to the food processor for a minute, pulsing it to create smaller pieces, but not too small (nope, I don't wash it out, just give it a quick wipe to save time). Softer nuts can have just a very quick pulse after the hard ones (just throw them into the mix). Not too long in the processor, or nuts like walnuts and pecans will get ground too finely.
4. Next, I add the chopped nuts and all of the seeds, coconut, and dried fruit to a large mixing bowl.
5. Pour in the sweeteners and oil mixture and stir until everything is well combined.
6. Spread out on a baking sheet (I use my stone one, which I adore). Bake in the oven for about 12-15 minutes at 325 F. If I remember, I take it out once to move things around on the baking sheet, for even cooking, but I have found that this recipe will forgive you if you forget.
My current favorite way to make this is with a mix of almonds and walnuts, whatever seeds I have on hand (I like using lots of chia, plus flax, sunflower and pumpkin), dried cherries together with raisins, and maple syrup as my sweetener. I also think that dried apples with maple syrup and pecans would make a lovely fall flavor. Or go tropical with apricots, mango, almonds, sunflower seeds, plenty of coconut and raw honey. See? It's endless. Mmmm… 
What would you include in your version of this granola? Has anyone else been trying to decrease their grains?