Menu Plan Monday- July 14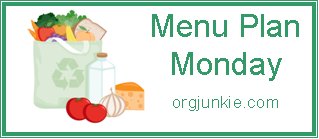 With the heat of summer finally upon us (after a long, cold, gray June), my garden is really picking up! At the moment, we have fresh snow and shelling peas, radishes, parsley, turnips, lettuce, strawberries (well, about 3 of them, to be precise), green onions, and my first zucchini is ready as well! Not to mention the onions and carrots that we could eat if we wanted to, but we've had some store-bought ones we needed to finish off first.
I think my current favorite phrase is "let me just run out to the garden to get some lettuce (or peas or parsley)". Sigh… happiness is a bountiful garden.
In other news, this is the last week that our two students from Taiwan will be with us. Thank you all so much for your suggestions last week of what to put in their bag lunches. Unfortunately, they are picky, picky, picky (and not terribly healthy eaters), so they ended up with a mixture of noodle cups (msg!!!), homemade fried rice (with white rice), and (oh, this is so sad) macaroni and cheese. Let me tell you- it was very difficult to bring myself to buy these foods, let alone serve them!
This week, they will be out and about doing a lot of sight-seeing so hot lunch options are out. Working with some of your suggestions, I decided to do a couple different things. I've got some yogurts, fruit cups, granola bars and some homemade muffins. In addition, I bought some pizza buns, which I will turn into very simple sandwiches (consisting only of the bun, mayo, meat and cheese- this is all they will eat on it!). I also made some white flour individual sized pizza crusts, and will be making mini pizzas for them to eat cold.
Through this experience, I have developed a new respect for mothers whose children go to school. Coming up with creative school lunches and driving back and forth to school twice a day is a bit tiring! I am so thankful that my husband is 100% in favor of us homeschooling! Now, I do have far more legitimate reasons to homeschool than lunches and driving time, but I must say, I've been further convinced these past two weeks that right by my side is where my children need to be!
My menu plan this week (oh yes, that was the point of this post, wasn't it?) is based on using up a lot of what I have. With the fresh garden produce, my abundantly stocked pantry and freezer, and the fact that I spent too much money stocking up at the beginning of the month (and thus have little left to spend), I am trying to do as little shopping as possible for the rest of the month.
Monday:
Breakfast- Pancakes with fruit sauce and whipped cream
Dinner- Ginger-Lime Chicken Legs (on the bbq), quinoa, and garden salad.
Tuesday:
Breakfast- Toast and eggs (smoothie for us- students don't like it)
Dinner- Cream of Tomato Soup (with rice added in), bread, and raw veggies with dip.
Wednesday:
Breakfast- Waffles (the girls like that ones by Aunt Jemima, but mine will be Blender Batter waffles)
Dinner- Beef Fajitas (leftover stew beef sliced thin, fried up with onions, peppers, corn and spices, topped with cheese and sour cream, in sprouted corn tortillas)
Thursday:
Breakfast- Waffles
Dinner- Salmon and spinach quiche (probably crustless, served with bread instead)
Friday:
Breakfast- Toast and eggs (oh, the creativity is astounding, isn't it? Seriously, these are the few main breakfasts my students will eat, so we've been repeating them for 3 weeks!)
Dinner- Bringing Lebanese Potato Salad (based on olive oil and lemon juice with lots of parsley, instead of using mayonnaise) to a goodbye potluck for the students
Saturday:
Breakfast- I'm eating at a morning women's conference- my guess is the family will either have toast and cheese, or maybe the banana spice muffins and zucchini bread I'm making this week
Dinner- BBQ meal- chuck steaks, baked potatoes, and grilled veggies (onions, mushrooms, zucchini)
Sunday:
Breakfast- Baked Oatmeal
Dinner- Chicken Meal Salad
Menu Plan Mondays are hosted by the lovely Laura of Organizing Junkie!