Banana Chocolate Chip Muffins Recipe with Ezekiel 4:9 Flour
I love bananas, and as I've written about before, there are so many things you can do with them… but one of my very favorites is to make muffins… especially banana chocolate chip muffins!
These are a family breakfast favorite and since I make them with freshly milled Ezekiel 4:9 flour, I feel even better about what I'm serving my family. But instead talking about them, let me show you exactly how to make them!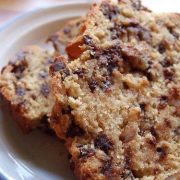 Print Recipe
Banana Chip Muffins Recipe
Instructions
Preheat oven to 400°F. Grease muffin pan.

Measure & toss dry ingredients in large bowl.

Whisk together egg, remaining liquids & bananas in a medium bowl.

Pour liquids into dry ingredients & mix just until well blended.

Use an ice cream scoop to put batter into muffin cups.

Bake for 20 minutes.
What is your favorite type of muffins? Ever made banana muffins like these before?