Day in the Life: Stacy (Preacher's wife and homeschool mom of an 11, 7, and 2 year old)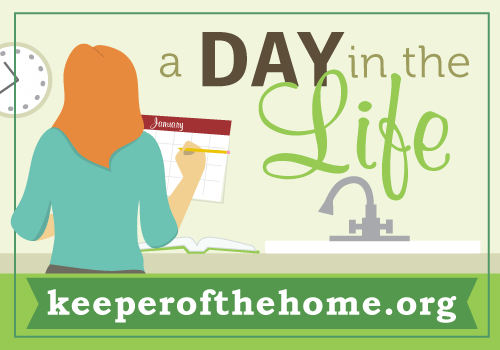 ;
Written by Stacy K, Contributing Writer
I'm a little anxious about this post.
You see, I'd really like for you all to think I have it all together.
But I don't.
There's also the underlying fact that I am a preacher's wife.
Aren't preacher's wives really supposed to have it all together? Whatever "it" is?
The day I am sharing with you is one in which I stayed up too late the night before. I started out on the wrong foot and was quite unprepared for my day. But, this happens often enough to be a legitimate day in the life.
So here you go . . .
Note: We are in the week before officially starting our homeschool year, although we are still doing some school year round. I would like to have completed more school work this day, but as I said, I started out on the wrong foot.
It's 7am and I'm still in bed.
My eyes fling open to the sound of my two year old daughter calling me.
"Mommy. Mommy! Mommy!!!"
I jump out of bed and run across the living room to whisk her from the crib before she wakes her siblings. I'm not ready for everyone to be awake yet.
She tells me she is hungry, so I give her a little yogurt and try to read my Bible while she eats.
I'm hoping to read all of Ephesians, but realize that might be a little ambitious.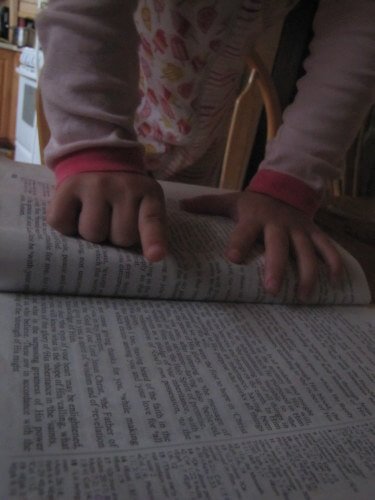 My little girl wants some attention.
I try not to berate myself for sleeping late. It's OK. I am tired.
I manage to get to chapter five,  although I'm not sure I actually took a lot of it in.
I check email. Then set her up with some toys in the bathroom while I have a shower.
We take some mail out to the mailbox and notice it is foggy. This is the normal summer weather on our part of the California coast.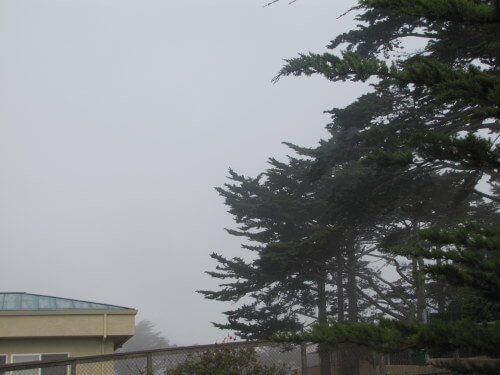 My older two children are waking up now and I get the laundry going and check on my oldest daughter to see if she is still planning to make protein pancakes this morning.
Sadly she is sick. So I leave her in bed and get the batter ready.
My 7 year old son is running around the living room, playing some type of game with his little sister. It is all fun, but a little too loud for my taste.
Everything seems so loud when I don't get enough sleep!
I ask him to be quiet.
He doesn't listen.
I tell him to get out his math and start working on it at the table while he waits for breakfast.
He does.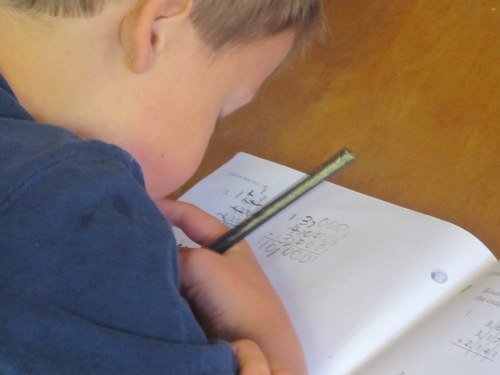 I remember to email my Azure Standard group and remind them that orders are due today.
It's kind of handy that pancakes cook slowly. I can wash dishes, send emails, and discipline my kids all while cooking breakfast.
My math punishment backfires fairly quickly as he gets to a part where he needs help!
My husband comes to help and then asks if I'm making coffee today. I wasn't going to. But I do now. He likes my coffee.
I get the coffee going and continue to flip pancakes. While at the stove I think about what we will have for dinner. Oh yes, I forgot to plan ahead. Hmmm.
I rummage in the freezer and find some humungous steaks.
I put these into the crock pot and figure I'll decide what to do with them later. I can't get them apart and have to put them in with the paper still stuck in the middle. I plan to take that out after they have thawed a little.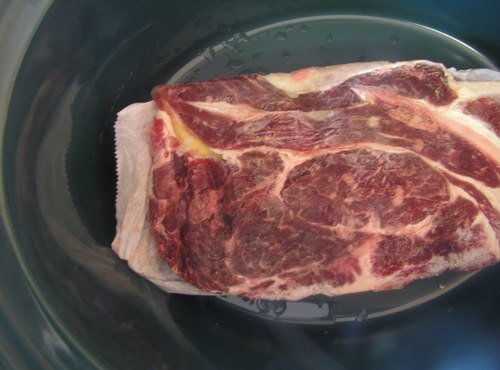 I'm still flipping pancakes and realize I emailed my Azure group the wrong deadline! Order cut off is not today, it's tomorrow. So, I jump back on and email them again.
It seems like a good time to take a picture of the frozen steaks with the paper in between. Surely that will amuse someone.
As I lean over to take the picture, I notice that I forgot to turn the crock pot on!
So I turn it on.
Perhaps all this multitasking is getting to me.
These pancakes are taking forever and I remember why I am so grateful that my 11 year old makes them most of the time.
Finally breakfast is finished and we clean up.
My daughter comes out to eat with us and then helps me order some of her favorite jam from Azure. I take a little break and drink some coffee with my feet up.
The kids practice their piano.
I switch the laundry and start folding while my son works on his piano theory at the table.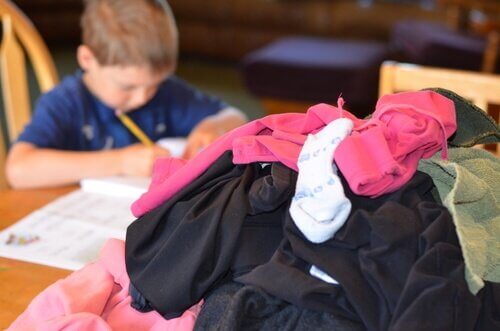 We notice our Blue Jay is outside.
This bird visits us almost every day.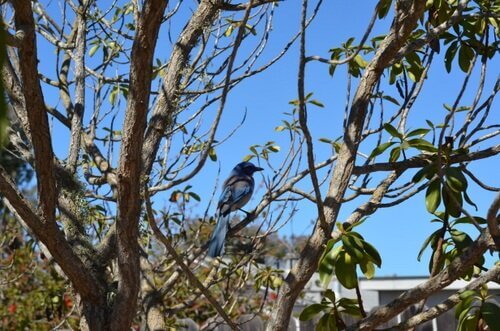 We go outside and lay out peanuts for him.
The sun has come out, so we stay a while.
I tell my son to bring his work outside and we sit on the swing and finish it.
I try to get pictures of the Blue Jay.
Before I know it, it's time to make lunch. We are eating early today since we have piano lessons at 1pm.
I call the piano teacher to let her know my daughter won't be coming since she is sick. My husband says he will stay home with her. This is the bonus of having my husband work next door!
I read a post at Simple Homeschool on my iPod while stirring lunch. We are having spaghetti. The post is about being an introvert and homeschooling. This catches my attention.
While lunch is simmering I go to change the laundry and find that I forgot to turn on the dryer! Oh, yes I did.
My husband comes to have lunch with us. I enjoy having him home for lunch every day.
I pack up the 2 and 7 year old and we head to piano lessons. We take along some cookies we made yesterday and hope to share them with the family who hosts our lessons in their home.
We enjoy our time at piano lessons; I spend the first half sitting in the sun with my two year old  . . .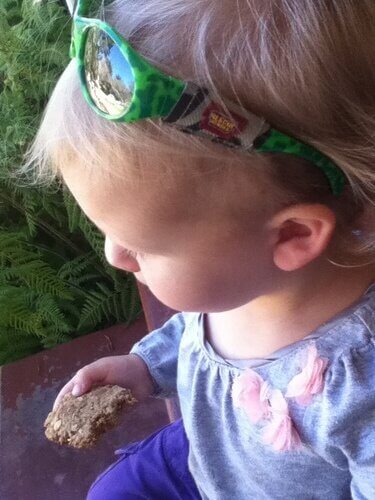 . . . and the second half watching her bounce on the trampoline. Yes, there is a trampoline at piano lessons. My kids love that!
After lessons we run to Whole Foods for peanuts. I want to make peanut butter (I try to keep my mother-in-law well stocked and my kids love it, too). We then head straight home.
Since it's so late, I decide to forgo nap time and put on a video instead.
I throw some green beans in the crock pot and hope they will make a good dinner.
I check in with my 11 year old who is writing and drawing (her favorite thing to do) and then do a 30 minute workout in my bedroom.
I burn 333 calories in just under 32 minutes. Woot!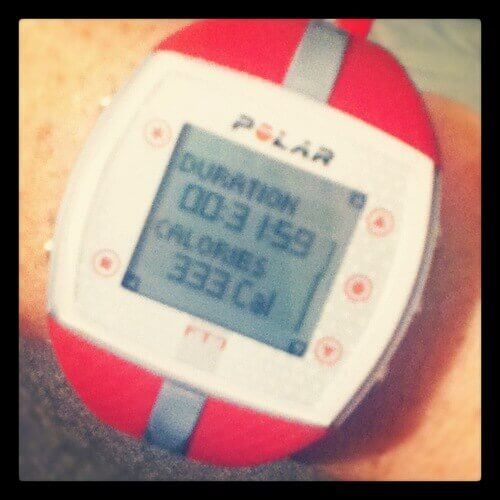 My workout and the video are over at about the same time and we all start cleaning the house.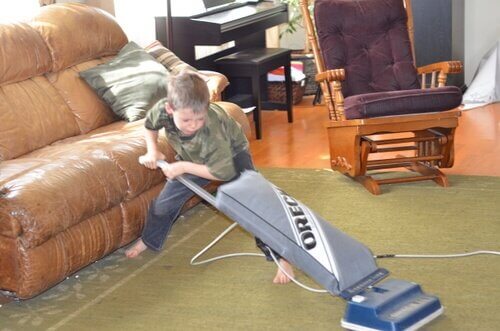 This takes quite a while since I've been fairly slack this morning.
After clean up time is over, we sit on the couch and read stories for a while.
It's then time for dinner, which didn't turn out too badly. I served the steaks with barbeque sauce and green beans and carrots on the side.
Now it's time to quickly clean the kitchen and get ready for Bible class. I usually teach the toddler class on Wednesday night, but since my oldest is sick, we stay home. I get baked oatmeal ready for the morning and send my son to class with his Dad.
While they are away I get the two year old ready for bed. We find an old book that I used to read to the other kids when they were younger.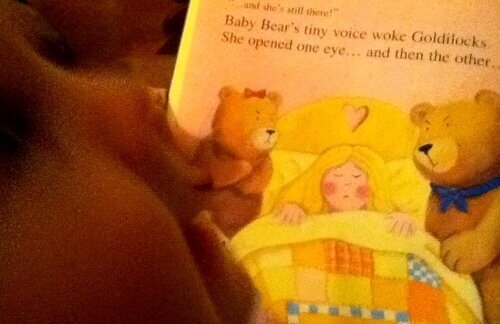 We read it cover to cover. It contains: Goldilocks, The Three Billy Goats Gruff, The Little Red Hen, The Three Little Pigs, and The Gingerbread Man.
She loves it!
I brush her teeth and read her two more stories (which were actually the first two in the book we just read). I then sing "Jesus loves the little children." (She requests it every night). We say a prayer and then she goes to sleep.
Now I can finally have some good one on one time with my oldest. I've been missing her today. She spent a lot of time doing quiet things, but did join us for a while outside and even practiced her piano.
I sit on her floor and chat while folding laundry.
These night time talks are always the best ones.
My husband brings my son home at around 8:15 and then goes back out to finish talking and closing up the church building.
The kids get ready for bed and meet me on the couch for a few chapters of By the Shores of Silver Lake.
They get to bed around 9pm and I head to the couch. I decide I will not write any blog posts today.
My husband comes home and talks to me about Bible class.
I realize I forgot to read the kids Bible stories today! And on the very day I'm recording our activities for a day in the life post.
Sigh.
Am I the worst preacher's wife you've ever met?
Don't answer that!
My hubby and I go to bed around 10:30 and I feel happy with my sweet little family. I hope and pray that even though my children have a highly distractable, random mommy, they will be alright.
Do your days look anything like this? How often do you forget to turn on the crock pot or dryer?