Homeschool eBook Winners and Our Homeschool Plans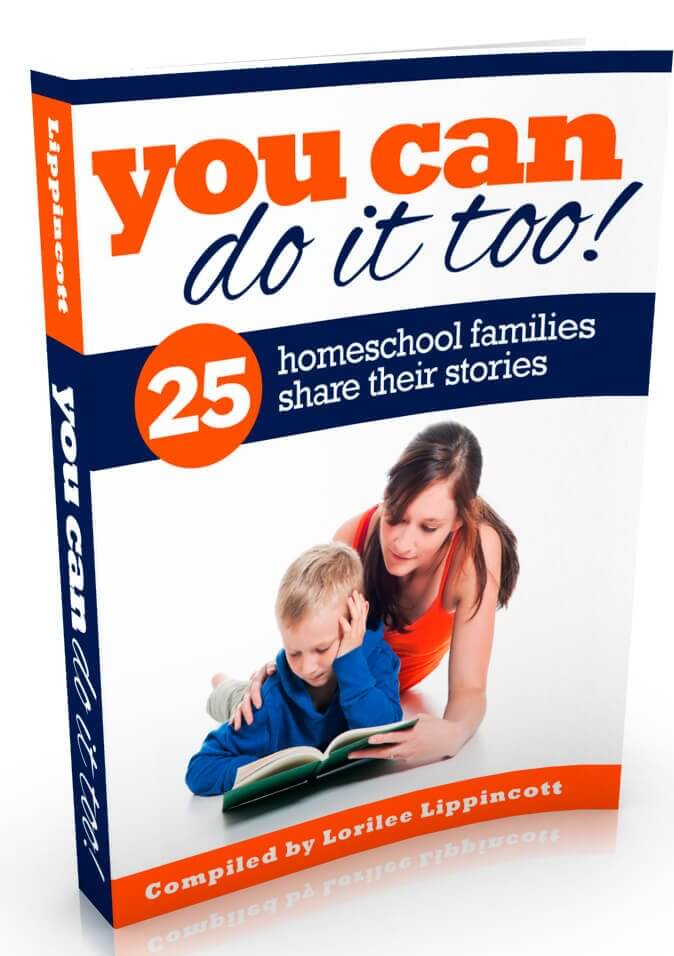 Thought you might want to know the winners of last weeks You Can Do It Too: 25 homeschool families share their stories eBook giveaway:
#14- Kelly said:
I am a teacher turned stay-at-home mom, and the idea of home schooling has always scared me just a little. I have seen it done well….and not so well. I feel as though God may be calling me in this direction, but I have so many questions, just like everyone else. We live in a small town, far from a larger city to draw resources, so I am hesitant but excited to see if this is the way God has for our family!!! Thanks for sharing this resource!
#147- Jessica said:
We have started looking into homeschooling because we want to the best for our daughter and expose her to do much of the natural world that childern miss out on in the standard classroom. My biggest question is how do you find the time to come up with the lessons and activities and teach them while being present with your kids. Thanks!
#133- Diana said:
We homeschool because I want my son to have the best foundation ~ both educational and spiritual. One of the unexpected benefits is how much more *I* have learned since we started schooling! 🙂
Congrats, ladies! I hope you enjoy the book! I've been reading it myself this week and have found it inspiring and helpful as I begin my 4th year of homeschooling. Reading through what others moms have to say helps to re-ignite my passion for homeschooling, and I love learning from how other moms structure their days.
For those who didn't win, you can purchase a copy here. If you missed my post about the book, read it here.
How we really spend our days
Speaking of structuring days, this month we're focusing on "a day in the life" of the women who make up the writing community here at Keeper of the Home. September is a time for falling back into routines, deveoping new schedules and habits for the school year, for getting organized after lazy/fun/chaotic days of summer.
I thought it may be helpful for you to read about each of our very different days. Amongst the writer here we have moms with 1 or 2 young children, moms who work part time, moms who homeschool and some who don't, moms of many who are juggling the needs or 8 or 9 children.
I think you will each find someone whose current season of life relates to your own, as well as those who you can learn from. I also hope you can get to know each of the writers a little better as you glimpse into their lives. We'd love to hear more about your everyday life in the comments on these posts as well!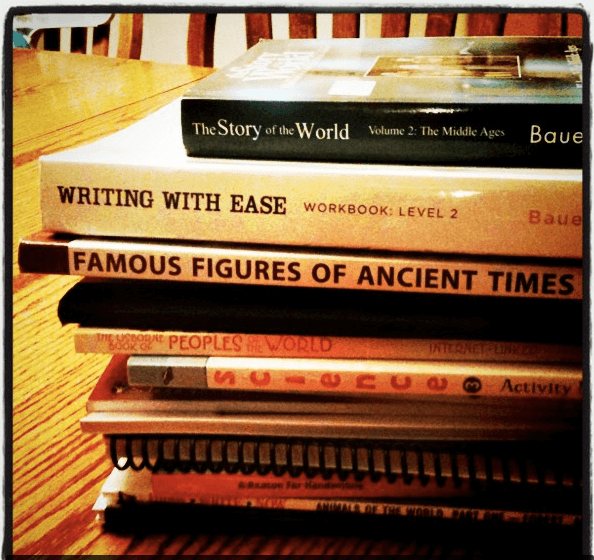 Back to the books in our home
We are also switching gears and heading back to the books for the fall. Starting next Monday, we'll be entering into another blessed year of home educating and I can't wait.
Here's a little look at what we'll be doing this fall and winter:
Abbie (almost 8 years old) 
Long Story Short. This is a children's devotional that will take us through the Old Testament. We began last year and the kids all enjoyed it a lot.
Teaching Textbooks 3 (this is new to us, after 3 years of Math-U-See, but she's been trying it out and so far she LOVES it)
Story of the World (Book 2- Middle Ages)
First Language Lessons (finishing Level 2 and starting 3)
Explode the Code (currently on book 5)
A Reason for Handwriting Book C (intro to cursive)
Spanish language (using The Easy Spanish- Junior Level so that all children can participate)
Lots of read alouds, plus independent novel and non-fiction reading
Bob Jones Science 3 (honestly, I'd rather something more interactive like Apologia, but this year I needed simple and independent)
Our World– this workbook covers world geography in great detail. We'll learn the continents, countries and capital cities, as well as oceans, major rivers and mountains, and even world records (like highest waterfall, longest river, largest dessert, etc.).
Usborne's Peoples of the World. This will complement the Our World workbook, as we'll study various people groups when we reach that part of the world in our geography studies. We'll also use this to help us pray for each of those groups.
Continuing with piano and drum lessons (it's nice to have a Daddy who runs a music school), she'll be practicing both daily as well as working on music theory.
I'm working this year at helping Abbie to be more independent in her studies and to be able to complete checklists each day. We started this skill last spring and she was definitely growing in independence and responsibility, but of course, it's something that takes time to really develop.
I'm also planning to make time to take her out by myself once every couple of weeks, where we'll work through a Bible study or a book about Biblical womanhood together. Sort of a mother-daughter discipleship night. I'm still looking for a good resource to use, so if you know one, please share in the comments.
Caden (5 years old) 
Long Story Short (all children do circle time/devotions with me, where we read the Bible and our devotional book, pray together, work on memory verses, etc.)
Get Ready for the Code Book A-C (early phonics/printing)
The Easy Spanish (same as the oldest– even the 3 year old will join us in this)
Plus all the regular art and crafts, math manipulatives, reading aloud, outdoor time and nature study, etc. that make this age lots of fun. We also like to come up with interesting activities based on books we read, sort of like an informal version of Five in a Row.
The 3 year old and 6 mth old are just along for the ride. I'm still figuring out this whole keep-the-toddler-entertained (and out of trouble) thing while teaching the older ones!
What are your plans for this school year?