Watermelon Lemonade Ice Recipe
Growing up, ice cream was always available as a treat. Looking back, I feel my mom must have bitten her tongue many a time as my sister and I would bat our little eyes and say pretty please to our dad knowing that he could never say no! He loved ice cream as much as we did 😀 and still does…even though he lives several states away, anytime we have a celebration for a birthday or sporting event or even just the completion of a hard class, you can bet that he will go find a nearby ice cream shop, get a giant scoop and TAKE A SELFIE… Yes, picture this, my 70-year-young father taking selfies of himself eating ice cream and sending the images to our teenagers to share with them that he has joined in their celebration! You can bet that this is well received by the kids and they can count on any time spent with Papa including a trip to the ice cream store! Knowing that Dad always treats them to ice cream, I make sure that within our home our sweet treats include those that have a healthier vibe! This watermelon ice is a sweet example of a healthy summer dessert alternative that any mom can feel good about serving her family.
This recipe is an easy healthy summer dessert is frozen ice: here's a recipe for watermelon lemonade ice, sure to refresh and delight.
When summer heats up, no homemaker wants to use the oven any more than she has to.
That might mean that you bake less cakes and cookies than you do the rest of the year, but it doesn't mean that you have to give up dessert until September.
Keep your kitchen cool and enjoy cold desserts instead! Make chilled panna cotta, popsicles, and of course, homemade ice cream (even without a machine!).
Cold desserts are perfect for a laid-back summer because you can make them ahead of time and then pull them out of the fridge or freezer whenever your family is in the mood for an after-dinner treat.
One of the easiest frozen desserts you can make is a fruit ice. Although some ice and sorbet recipes require gelatin, all you really need for an easy version are two ingredients–fruit juice and sweetener! (Or sometimes fruit, water, and sweetener, depending on the fruit.) The sweetener is important because the sugar helps to keep the ice softer rather than rock-solid. Plus, foods taste less sweet when they're frozen, so adding extra sweetener will help to compensate.
Here's a simple recipe for watermelon lemonade ice that you can prep in no time…and later enjoy on the porch or poolside with friends.
Happy summer!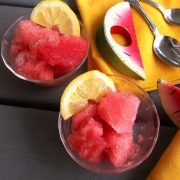 Print Recipe
Watermelon Lemonade Ice Recipe
Ingredients
5

cups

cubed

de-seeded watermelon (about 1/4 of a large watermelon)

1

cup

lemon juice

3-4 lemons

1/2

cup

sugar or raw honey
Instructions
Heat the lemon juice in a sauce pan over medium-low heat. Add the honey and stir to dissolve.

Put watermelon and lemon juice in a blender; liquefy.

Pour watermelon mixture into a square 8x8 metal or glass baking dish, or into a bread loaf pan. Cover with plastic wrap and freeze until solid, about 4 hours.

10 to 15 minutes before serving time, remove the watermelon ice from the freezer to let it soften. Scoop and serve!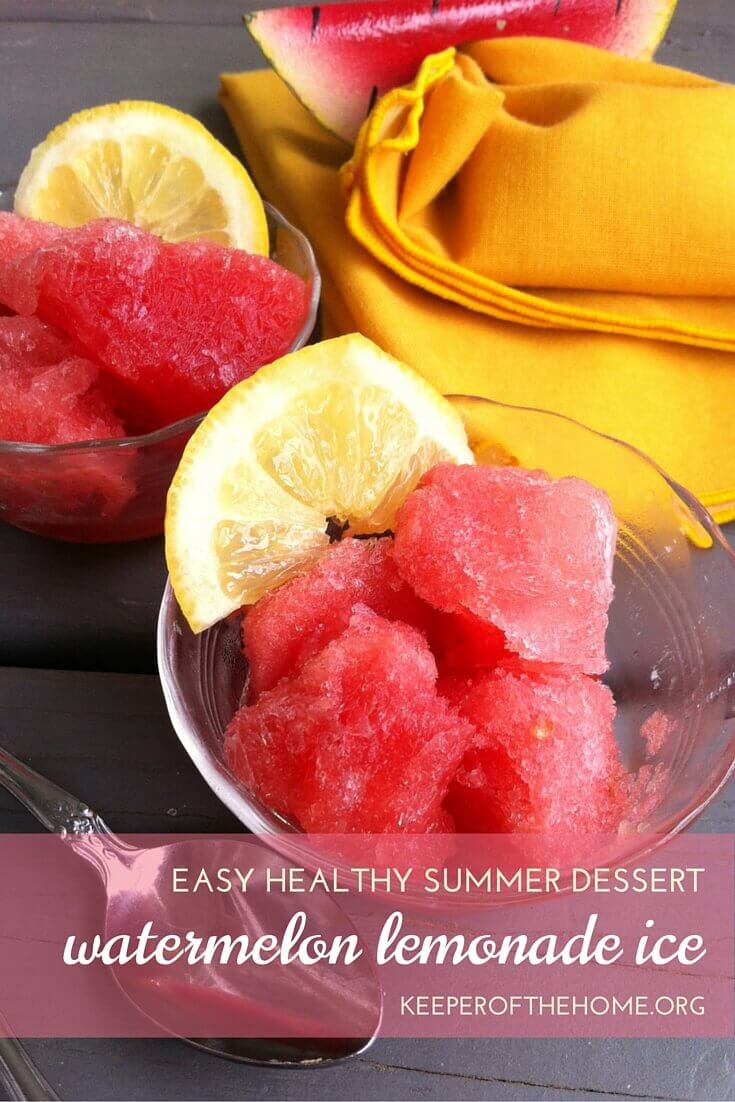 What are your favorite easy healthy summer desserts?