Green Tea Panna Cotta: The Easiest Summer Dessert You'll Ever Make
By Kresha Faber, Contributing Writer
Summertime is no time to be cooking in a hot kitchen.
It's also a time when we want things easy. I'm not saying we're lazy – I'm just saying I'd rather be playing a board game with my kids or enjoying the sunshine with a good book than coming up with new recipes or laboring over supper. (And I LOVE  to cook – like, serious LOVE LOVE LOVE, so that's sayin' sumthin'.)
That's why I love panna cotta, the easy Italian dessert that takes roughly 5 to 10 minutes to pull together. It's simple, elegant, and the kind of dessert that makes you feel special just because you get to be fancy for no reason at all. Best of all, it's actually a nourishing dessert.
[Tweet "Between the cream and the gelatin, panna cotta is both brain-food and soul-food."]
(I recently gushed about the latest research about the benefits of gelatin. It's a fascinating part of our diet, really, and not just because it makes things jiggly. In case you're wondering, here's where to buy grass-fed gelatin.
)
The addition of green tea in this version also adds a dash of antioxidant power to the dessert, but since matcha (green tea powder) is expensive, you can skip it if desired and add in a small splash of vanilla extract instead to make vanilla panna cotta. Delightful either way. 🙂
(Do you love matcha too? Due to its price, I use it sparingly, but prize it highly. It sometimes shows up in my house in Matcha Shortbread, in ice cream, or as a natural food coloring. Stephanie also adds it to smoothies – yum! – or drinks it as a nourishing pick-me-up. If you can't find it in your area, you can find it here
.)
And if you don't like green tea or just want to play around with flavors, you can use my basic panna cotta recipe as a foundation to make any flavor you want.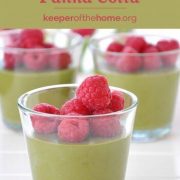 Print Recipe
Green Tea Panna Cotta
Ingredients
• 1 1/2 cups whole milk

• 1 1/2 cups heavy cream

• 3/4 cup evaporated cane sugar

honey, or maple syrup

• 2 tablespoons matcha powder

• 1 1/2 tablespoons unflavored gelatin
Instructions
Place 1/2 cup of the milk in a small, heavy-bottomed saucepan and sprinkle the gelatin over. Let sit for 5-10 minutes, then heat very gently over low heat just until the gelatin is dissolved. (Dip your thumb and forefinger in the warm-ish milk and rub them together. You won't feel any granules when they are fully dissolved.)

Meanwhile, pour the remaining milk, the cream, sugar, and matcha in a blender. Blend until very smooth, then with the motor running, pour in the gelatin-milk mixture.

Pour immediately into a container that can hold at least 1 quart of liquid (the shallower, the better) OR multiple small containers and place in the refrigerator. Let sit for at least two hours to firm up.
Notes
I like to eat the panna cotta directly out of the container with a spoon, but if you want to unmold them for a presentation, grease your containers with a very thin sheer of butter before pouring in the panna cotta.
 Disclosure: This post contains affiliate links. When you buy through our links, it helps to support this site, so thanks!