A Day in the Life: Kelly, Meal Planner and Mom of Two (13 and 11)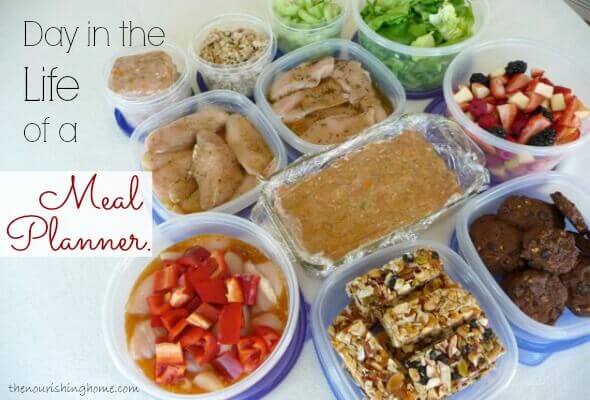 By Kelly, Contributing Writer
I have to be honest, there really isn't a typical day at our house, other than one of my favorite days of the week – Meal Planning Prep Day!
That's the day I spend some time prepping meals for the week ahead. Because frankly, if I didn't, getting a homemade healthy meal on the table just wouldn't happen!
You see, I'm really no different than most moms trying to run a busy household –  I struggle with keeping all the balls in the air between caring for my family, church ministry, cooking meals, managing household chores, grocery shopping, carpools, driving my kids to all their activities and working part-time as a freelance healthcare writer and blogger … whew! I'm getting tired just writing this!
That's why I have to plan. Really. I have to! I know my weaknesses and one of them is my propensity to try to do it all without managing my time well.
"If you fail to plan, you plan to fail" is definitely a motto I can relate to. Because when I spend time meal planning and prepping for the week ahead – not only does everyone enjoy healthy home-cooked meals, but my stress level goes down tremendously, and it helps me to be a much better steward of our food budget!
And there's lots of ways you can plan to prep ahead, whether it's scheduling a chunk of time in one day, or making a list of daily prep tasks, like my friend Tiffany … however you opt do it, prep time is always time well spent!
Day in the Life of a Meal Planner
It's 6:30 a.m. and my eyes open. I'm not a spring-out-of-bed kind of person. I like to hunker down in the covers and pray about my day ahead. I realize as my eyes open again that I completely drifted off. So sorry, Lord (spirit is willing, flesh is weak)!
After a quick kiss on my hubby's forehead to wake him up, I get up and get dressed. It's 7:30 a.m. and my awesome 5th grader appears with the puppy close behind. I chuckle to myself because our pup always has the same reaction – it's like he hasn't seen us in a year – his little behind is waggling a mile a minute. (We should all greet each other with such enthusiasm!)
We head downstairs, walk the dog, feed him, and I put on the tea. Soon my amazing 8th grader appears. More tail wagging (pup) and happy greetings from all, as I start breakfast.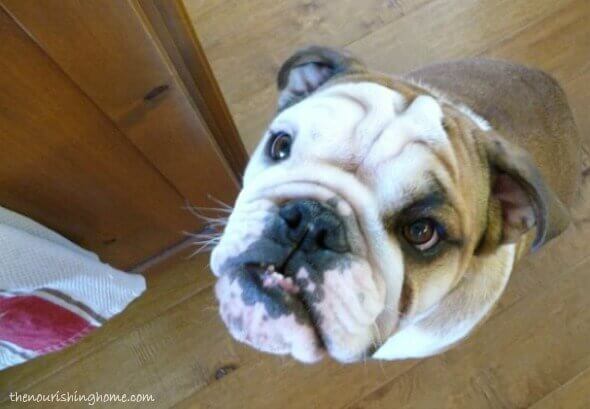 It's a just quick bite since today my hubby is out the door early for a work-related event. And of course, it's my Big Day – Meal Planning Prep Day! The boys make themselves scarce for fear I might ask them to help. Seriously, I'm not kidding!
But … It's Saturday. They're boys with big plans of their own for their day off. I can't blame them for high tailing it out of here. But look at that sweet little face that stays right alongside me. How can I complain?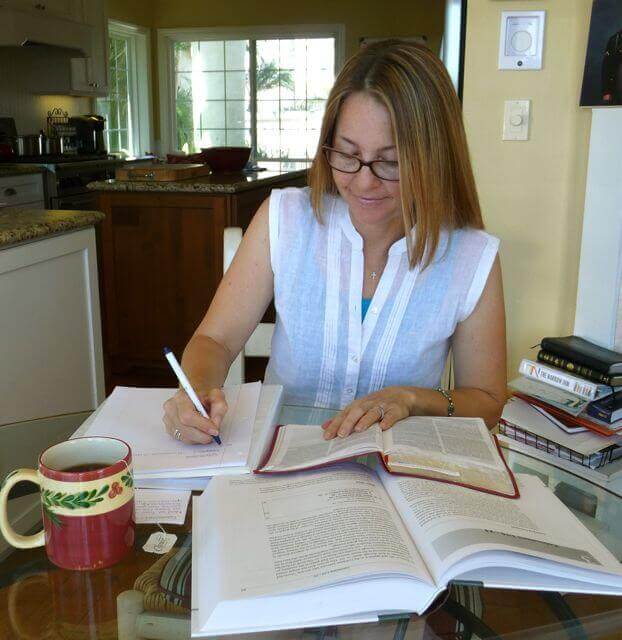 It's 9:00 a.m., and I definitely try to start each day with time in God's Word. Right now, I'm studying the book of Colossians because that's the focus of our church's Marriage Ministry. Since my hubby and I are small group leaders, we want to be diligent in diving into this amazing book, so we can better serve our group. We absolutely count it a blessing to serve the Lord through leading and loving our small group!
It's now 10:00 a.m. and my goal is to see how much I can get done in 2.5 hours. That way, I can clean up and get lunch on the table by 1:00 p.m. So the first thing I do is grab my meal plan, and then start pulling out ingredients that I can prep for the week ahead.
One of the things I've discovered is – it's all about timing! I can get so much more done if I schedule a set amount of time and then organize the tasks to make best use of that time.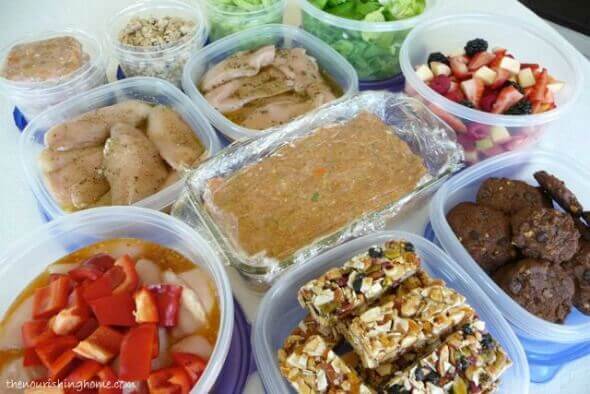 This morning, my goal is to accomplish the following tasks based on this week's meal plan in 2.5 hours or less:
• Cut three-pounds of chicken breasts and place them into marinades
• Take three-pounds of ground meat and use it to prep a meatloaf, veggie burgers and tacos
• Cut lettuce and cucumbers for salad
• Make a fruit salad
• Bake cookies and two different snack bars for lunchboxes
(Sidebar: Having older children makes it much easier for me to prep now than it did when they were really little. When they were infants/toddlers, I needed my husband's help to entertain them if I wanted a good block of prep time. But I also learned to grab little chunks of time here and there when they were napping. When they were preschoolers and young school age, I regularly brought then into the kitchen alongside me to do quick tasks. So if a 2-hour "prep day" won't work for you, I just want to encourage you that there are other ways to still get some prep time in such as making a daily to-do list.)
Baking Bars and Cookies (30 minutes)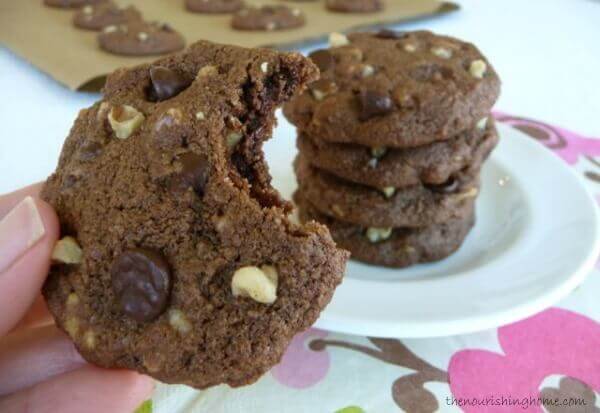 Because it's been crazy-hot in the afternoons here in Southern CA, I get that oven on now, while it's still cool and before we experience another brown-out (yep, those are fun!).
I quickly get two batches of Fruit & Nut Bars into the oven. And while those are baking, I make the Double Chocolate Chip Cookie dough and place rounded spoonfuls onto the baking sheet. Once the bars come out of the oven, the cookies go in.
Making Marinades & Cutting Chicken (30 minutes)
I've got 10 minutes until the cookies are done, so I start making the three different marinades for the chicken. BEEP! Cookies done. They come out and rest on the stovetop, too, with the bars to cool. I put the next sheet of cookies into the oven, and now it's time to cut the chicken breasts.
But first, Frankie (our pup) needs a potty break … as I'm chatting away with a neighbor while Frankie enjoys some outside time, I realize I completely forgot about the cookies in the oven. Yep, you guessed it – I burned the second sheet of cookies. Ugh! Well, at least we have a dozen good ones. That'll have to do!
Back to the chicken … I need one pound cubed for my Crockpot Sweet & Spicy Chicken recipe and I need two pounds cut into strips and divided for my Easy Grilled Herb Chicken and Balsamic Chicken recipes. I place the chicken into individual freezer-safe containers, add the marinades and seal them up. These go into the freezer, along with the cooled cookies and bars, so they can begin to freeze as well.
Ground Meat Magic (30 minutes)
Now it's time to tackle the ground meat. I heat up a large skillet and brown a little less than a pound of the ground meat for use in tacos next week. The browned meat goes into a container and is placed in the fridge.
Then, I wipe the skillet out and quick-chop the veggies needed for my Turkey-Veggie Meatloaf and Turkey-Veggie Burger recipes. I'm going to make these together since both recipes share the same base – ground meat, sautéed veggies and seasonings. Once I have the base completed, I form four burger patties. These get individually wrapped and placed in a freezer-safe container. The rest of the meat base is used to prepare the meatloaf. Then, I place the prepped meatloaf and burgers into the freezer.
Wrangling Boys and Produce (20 minutes)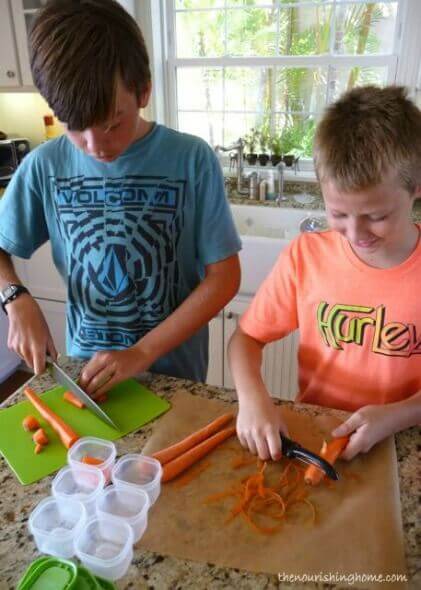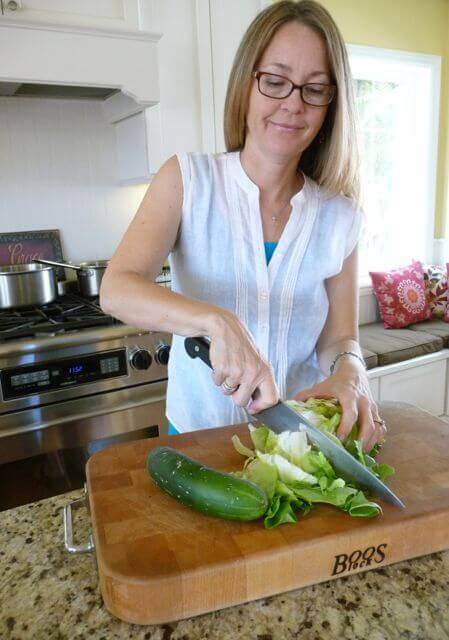 Remember the part about everyone skedaddling? Well, now's the time I reel those busy boys back into the kitchen to have them help prep the sides for their lunches.
While they peel and cut carrots for their lunchboxes, I head to the freezer and pull out the semi-frozen bars and cookies. I set those aside for a minute, while I chop lettuce and cucumbers for dinner salads. Then I make a quick Honey-Lime Fruit Salad.
(Do you sometimes think that bloggers' kids must be those ideal angelic kids because you always see pictures of them smiling? Yes, my kids are completely wonderful, well-behaved, helpful boys that are a real joy to be around – most of the time! But let me assure you, they are not perfect angels. Today was such a day … lots of attitude at first when I asked them to come help, thus the title, "wrangling boys." LOL!)
Snack Prep Time (15 minutes)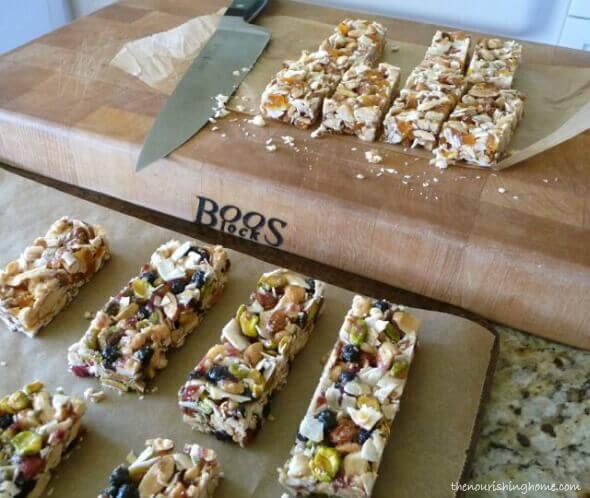 When it comes to prep time, the hardest part for me personally (besides washing dishes) is trying to have some level of self-control to not eat what you're prepping or cooking, especially when it comes to snacks. I'm starting to think I was a little naïve to leave packing up the snacks until the end of my prep session – it's lunchtime and my will power is nill! So after cutting up the snack bars, I eat one while I wrap up my prep time. But hey, it's healthy, so all's good, right?
Dishes … Oh, Joy!
It's now 12:45 p.m. and my prep time is complete. I went over on time, but that's okay – everything got done and no one was injured in the process. (Although I did lop off part of my fingernail cutting up a red pepper, but it really wasn't my fault – I looked down for a split second to tell the pup to stop licking me and the next thing I knew – fingernail gone! Note to self: Do not look away while using a knife!)
So … now it's time to wash-up that mound of dishes with a smile on my face! I have a little poem next to my sink called "Thank God for Dirty Dishes." It reminds me to be thankful that I have dirty dishes to wash, because that means I have food on my plate! (Now that is something to be joyful about!)
Rest of the Day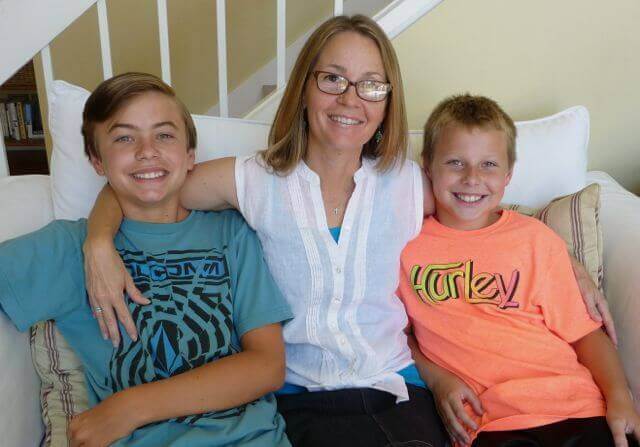 After enjoying a simple lunch of leftovers, the boys and I plop on the coach to watch a couple of episodes we DVR'd of our current favorite TV show – which just so happens to be filmed in Canada (Stephanie would be so proud!). Although watching TV is not my personal favorite, it's a sure-fire tactic for getting some quality snuggle time in with my boys!
My hubby, a.k.a Dad, arrives home just in time for us to all get ready for church – our favorite part of the day! Our church offers Saturday services, and although it seemed a little odd at first (we were first-service Sunday people for years), we absolutely love it now!
This week after church, we are grateful to share a meal with our mentor couple from our church's Marriage Ministry Group. We scheduled time over dinner to plan for the soon-to-start year ahead. Our mentor couple is such a blessing. They've been married for over 35 years and bring such wisdom to our group.
Then it's back home for some family time – we hang out, do a family devo, laugh about the puppy's antics and enjoy a snack. At 9:30 p.m., we tuck the kids (and pup) in bed, say a prayer with them, and then my hubby and I collapse into bed to reconnect and relish some alone time. We pray together just before closing our eyes. Thankful for another blessed day!
Do you have a Meal Plan Prep Day? If so, what tasks do you typical tackle during your prep time?