Grain-Free Dehydrated Apple Pie, Sweetened with Molasses
It seems like so long ago now, but the apples I used to make this pie were picked from my father's apple tree during our visit in August. It was the last day of our week long visit, so full of wonderful memories of seeing my father carry my sons on the same shoulders I once rode upon and the meeting of my brother's first baby.
That bittersweet day that ended our vacation also saw bags upon bags of apples being picked. We must have eaten our way through 1/4 of them in the first few days and by the end of the week I was dehydrating tray upon tray of them. All totaled we ended up with over a gallon of dehydrated apple pieces.
Those apple pieces have been eaten as snacks and in oatmeal, but on a cold January day when no fresh fruit could be found pie just seemed right. With all of the foods we eat for winter wellness, a treat now and then really hits the spot.
After a bit of research I found that you can, in fact, make a very good apple pie using dehydrated apples.
This pie is made grain-free through the use of almond flour in the crust. The filling is refined-sugar free, sweetened with just a touch of molasses for a deeply warming flavor. When we were out of fruit and honey and just about everything else after two months of living off the foods put up from the harvest, this pie really hit the spot.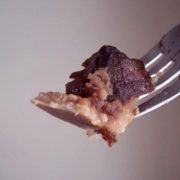 Print Recipe
Grain-Free Dehydrated Apple Pie Recipe
Instructions
Preheat the oven to 400 degrees.

Make the crust: Combine almond flour, cinnamon, and sea salt in a medium-sized bowl. Pour over melted coconut oil and mix until combined. It should be a crumbly texture. Press this into a 9" pie pan and poke all over with a fork. Place in the oven and bake for 10-12 minutes or until just golden brown. Remove and set aside while filling is made.

Make the filling: Add apples and water to a saucepan and turn the heat on to medium. Bring to a simmer. If you are having a hard time keeping the apples below the water you can place a clean plate on top. Simmer the apples and water for 10-20 minutes, or until apples are tender and have rehydrated. Turn heat down to medium-low and add molasses, sea salt, and cinnamon. Simmer until the filling has thickened nicely. It will not be baked so be sure it is thick enough to stand up in the pie shell.

Pour the filling into the pie crust and let stand until room temperature. Serve warm or refrigerate.
Notes
You could substitute honey for the molasses if you are so inclined.
Have you ever made a pie with dehydrated fruit?