Herbal Honey: A Sweet Holiday Gift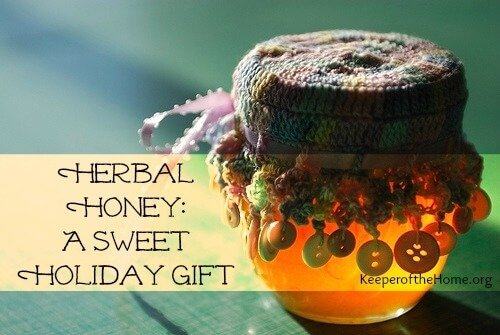 Written by Meg, Contributing Writer
With the holidays nearly upon us, I know many of us are already thinking of the many gifts we are preparing to share with others this season. If you're like me, you also have the burden of wanting to share with those around us, but feeling the pinch of a tight budget. Today I'm going to share one of my favorite ways to ease the burden, and sweeten your holiday gift-giving.
Flavored honey is among the easiest and most delicious herbal treats. While I am only sharing how to make sage and cinnamon honey, there is no limit to what you can use.
However, please make sure whatever you use has not been sprayed – it doesn't necessarily need to be organic. The most frugal option is herbs that you've grown in your own garden, but I have yet to meet a gardener who wouldn't gladly share a few sprigs from their plants.
I'd like to apologize for the quality of the video – I wasn't able to locate our videocamera, and we had to make do with our regular camera. I'm also speaking quietly, due to the 3 sleeping babies in the next room. 🙂
A few details I forgot to mention:
If you'd like to remove the herbs from your flavored honey, and you haven't left them in large enough pieces, you can re-heat the honey gently, and strain to remove the plant material.
If you'd like to make the vanilla honey I mentioned at the end, you don't need to use an entire vanilla bean for just one cup of honey – it makes it very potent! If I'm using a whole bean, I usually use at least 2-3 cups of honey, and it flavors it perfectly.
You can also tie raffia around the neck of the jar before giving as a gift, although we recycle our old spice jars for our herbal honey gifts. They are the perfect size to tuck into a gift basket for a hostess gift, as well as for a stocking stuffer for the herbalist on your list, paired with a jar of your favorite tea blend.
In case you didn't notice… I like honey on toast! My husband pointed out the number of times I let you all know that… but it really is very good on many different things – not just toast! 🙂
Enjoy!
What types of foods and edible treats do you like to make and give as gifts?

Image by Theresa Thompson